Fania Records' Founding Fathers
Courtesy of Fania Records
By the mid-1960s, the boroughs and inner-city barrios of New York City were a hotbed of cultural change and musical expression. For decades, young Latino musicians had migrated to the city, bringing the music of their homelands, then fusing it with other cultures in the city. It gave rise to a brand-new sound called salsa.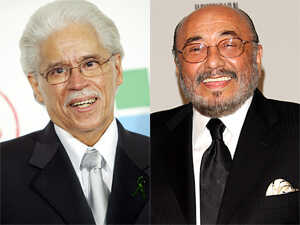 One record label came to epitomize this new music, transforming it to a global movement: Fania Records.
The Fania label was founded in 1964 by Italian-American lawyer Jerry Masucci and Dominican-born musician Johnny Pacheco. Pacheco and Puerto Rican-American pianist Eddie Palmieri, both considered legends of salsa, recently joined Latino USA's Maria Hinojosa to talk about the rise of the label and their music.
When Pacheco arrived on the New York music scene in 1959, mambo-mania was sweeping across the U.S. Major record labels capitalized on the fad, and soon records of band leaders like Perez Prado and Machito could be found in the homes of most Americans.
But in spite of the attention, Pacheco and his fellow musicians were often barely making a living. He says he started Fania as a means of guaranteeing musicians income from record sales. "It was just getting royalties," he says. "[Before Fania], we were selling records, and the money wasn't coming in. [Record companies] were spending money like it was going out of style, and that really ticked me off."
But Fania wasn't just a record label — it was an institution, run like a family, according to Pacheco. It offered recording opportunities to the many talented but unrecognized salsa musicians throughout New York, as opposed to the major labels who were afraid to spend money marketing them. "And unfortunately, we don't have a company like that now," Palmieri says.
Pacheco started Fania with only $2,500, but the business grew quickly, inking future legends: Hector Lavoe, Celia Cruz, Ray Barretto. In 1968, Pacheco recruited a supergroup of musicians — the Fania All-Stars — and a few years later, they were playing sold-out shows at Yankee Stadium of exclusively Latino music. According to Pacheco, it was the combination of a historical moment and efficient business practices that allowed Fania to grow.
"Every cent that came in, we put it back into the business," Pacheco says. "And we started signing people."
Fania was also known for emphasizing the African roots to its various Caribbean-American musical styles. For example, Pacheco's song "Acuyuye" was inspired by a children's chant he heard while visiting Africa. And the Fania All-Stars performed alongside the 1974 Muhammad Ali-George Foreman boxing match in Zaire, billed as the "Rumble in the Jungle."
"Well, something happened that really moved me," Pacheco says. "'Cause I was in Africa about seven or eight times before we went to Zaire. And the plane was full of entertainers. But the honcho that was there was James Brown.
"So when we landed in Africa, he wanted to be the first one out of the plane. So he comes out of the plane to go like this, 'My peoples! My peoples! My lovely people!' And there have been 5,000 Africans. And they went past him, and they started chanting, 'Pa-che-co! Pa-che-co!' They went bananas."
Despite its roots in Africa and the Spanish-speaking Caribbean, Pacheco describes the salsa movement as a specific byproduct of New York.
"It is Cuban music," Pacheco says. "But the thing is, like, the idea came because we had Puerto Ricans, Cubans, Dominicans in the Fania All-Stars; two Jews and an Englishman. And when you make a salsa, you have different condiments. I said, 'This is perfect to cook a salsa.'"
Related NPR Stories
Web Resources