Journalist Perspectives on Five Years in Iraq
Listen to this 'Talk of the Nation' topic
Photo and audio courtesy of ABC News
'Another incoming round. Very close.' Koppel embedded with the troops.
'There is no secret about the 3rd Infantry Division's ultimate destination,' Ted Koppel reports.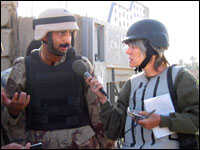 'The wind whipped through Baghdad.' Garrels reports from the city in 2003.
'This is our new life story.' Garrels talks with Iraqis about civilian killings.
'I would not wish to be anywhere else.' John Burns describes reporting from Iraq.
'Robbing the foreigner is a big industry,' Burns explains.
It has been nearly five years since the 2003 invasion of Iraq. In addition to the military and civilian lives lost in that time, the Committee to Protect Journalists reports that 127 journalists and 50 media support workers — drivers, fixers, guards and interpreters — have been killed during the conflict as well.
Iraq has changed dramatically in the last five years for journalists covering the war. When foreign correspondents arrived in 2002, they could stay in hotels in downtown Baghdad. Although they had government minders, reporters could walk along city streets. But after the siege of Baghdad, the city changed; the Palestine Hotel, used by many journalists, was hit by two rockets launched from a mule cart. Reporters were kidnapped and killed. Iraq was redrawn along sectarian lines.
As the five-year anniversary of the war approaches, host Neal Conan talks with four reporters who have covered the war extensively:
In 2003, Anne Garrels, NPR senior foreign correspondent, was one of 16 U.S. journalists to remain in Baghdad during the initial phase of the war. As U.S.-led forces advanced on the city, Garrels reported back with reactions from the streets.
John F. Burns of The New York Times, traveled to Baghdad in 2002 and served as Baghdad bureau chief until 2007. For the last five years, his articles and stories have provided Americans with comprehensive coverage of the war.
In 2003, Ted Koppel, then the anchor of Nightline from ABC News, embedded with the 3rd Infantry Division in Kuwait. In April, he accompanied several thousand soldiers as they crossed the Euphrates River into Baghdad. The footage of him, wearing a helmet and a flak jacket, gave television viewers a glimpse of combat few had seen before.
Hoda Abdel-Hamid, has reported on Iraq for the last five years, first as a producer for ABC News, then as a correspondent for Al Jazeera English. She has covered Anbar, Tikrit, and Northern Iraq.
More on Reporting from Iraq
More with Ted Koppel
More with Anne Garrels
More with John F. Burns
More on Al Jazeera English