Albee at 80: Still Asking the Big Questions
Albee at 80: Still Asking the Big Questions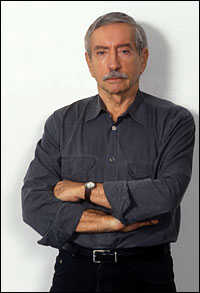 Truman Moore/Time & Life Pictures/Getty Images
More from Edward Albee
The playwright talks at more length about the script-development process, about how he conceives his characters, and about that famous (nonexistent) child in Who's Afraid of Virginia Woolf?
On Getting a Play Ready for the Stage
On Writing Characters, Not Roles for Actors
On George and Martha's Imaginary Child
'Letter to an Audience'
The program for Albee's latest play contains his "Letter to an Audience." It's both thoughtful and mischievous — and you can hear him read it below.
'It's About Two Hours, Including Intermission'
From the Plays
Marian Seldes won a Tony Award in 1967 for her performance in A Delicate Balance; Bill Irwin won for his performance in the 2005 revival of Who's Afraid of Virginia Woolf? Here, they read passages from two other landmarks in the Albee canon.
Marian Seldes Reads from 'Three Tall Women'
Bill Irwin Reads from 'The Goat, or Who Is Sylvia?'
Note: Some passages will be disturbing to many listeners.
When Edward Albee's newest play, Me, Myself and I, opened at Princeton's McCarter Theatre in January, the first page of the program featured the playwright's "letter to an audience."
"I tend to become uncooperative — and occasionally downright hostile — when people ask me what my plays 'are about'," Albee writes. "Especially the new ones."
Spirited, opinionated and brutally honest, Albee has been challenging, engaging and at times confounding audiences — and critics — for 50 years now. He's written well over two dozen plays since he first burst upon the scene with The Zoo Story, an unsettling and ultimately shocking encounter between two men in Central Park.
But, says Albee in that letter, "confounding" is in the eye of the beholder:
My plays are infrequently opaque, only occasionally complicated (though now and then complex) and can be enjoyed to their full, unless you bring to the theatre with you the baggage of predetermination — "a play must go like this!"
His recommendation?
"Pretend you're at the first play you've ever seen — have that experience — and I think 'what the play is about' will reveal itself quite readily."
Ben Brantley, chief drama critic of The New York Times, says Albee is "without peer among American playwrights."
"Certainly of his generation," Brantley says, "but I would say period."
Among living dramatists, Brantley says, no one else takes the grand themes Albee does.
"I'm not talking about questions of politics or immediate topical issues," Brantley stresses. "Edward Albee asks questions — the most basic existential questions. He confronts death, he confronts sex with, I think, eyes that remain very wide open."
'A Different Writer Every Time He Sits Down'
If you ask the playwright where his plays come from, he bristles.
"Everybody's brain is differently wired," Albee says. "Some people are playwrights. Some people are axe-murderers. Now, that is because of certain twists in the cortex. That's where creativity comes from. That's it. We are not 'inspired'; if we are a playwright, our brain takes the experience that everybody else has and turns it into a play."
Actor Bill Irwin has starred in Broadway productions of two Albee plays — 2002's wildly controversial The Goat, or Who Is Sylvia? (in which a star architect falls profoundly in love with, yes, a goat) and most recently the 2005 revival of the domestic-terrorism drama Who's Afraid of Virginia Woolf?
"Edward's a different writer every time he sits down," Irwin says. Then, a clarification: "He's actually not; he's the same guy, with these same concerns and motifs and preoccupations. But he'll set himself these whole different notions, like, 'This time I'm not gonna allow this and I'm only gonna do this.' And then next time he sits down: 'Um, different set of rules.'"
Those "concerns and motifs and preoccupations" come down to one thing, says Albee — who, when he gets around to talking about that one thing, actually uses the dread word "about."
"You know, if anybody wants me to say it, in one sentence, what my plays are about, they're about the nature of identity," Albee finally says. "Who we are, how we permit ourselves to be viewed, how we permit ourselves to view ourselves, how we practice identity or lack of identity."
From a Difficult Childhood, Art that Aspires to Be 'Useful'
Albee's inquiry into identity comes from a deeply personal place. He was adopted, as an infant, by Reed and Frances Albee — his father ran a chain of vaudeville theaters — and his relationship with them was chilly.
"These people who adopted me, I didn't like very much — and they didn't like me very much, I don't think," Albee acknowledges. "We didn't belong in the same family."
But it did become grist for his mill. Marian Seldes has been in several Albee plays — including Three Tall Women, a play all about Albee's adoptive mother. Seldes says that, as an actress, she appreciates Albee's precise, grammatically expressive language. The punctuation, especially.
"I feel it's like a piece of music, a musical score," Seldes says. "If you allow it to go into you, as you would if you were going to sing, you would follow what he suggests."
Regardless of the style and the language of each play, Albee displays a rigorous clarity of purpose, says critic Ben Brantley.
"I think he believes that theater should hold up a mirror to society," Brantley says. "But not just a mimetic mirror — not just to show us what we have, but to show us what's beneath, what's to the side. To force us to look at things from another perspective."
Exactly, says Albee.
"All art should be useful," the playwright insists. "If it's merely decorative, it's a waste of time."
Art requires the audience's time, after all. And "if you're going to spend a couple of hours of your life listening to string quartets or being at plays or going to a museum and looking at paintings, something should happen to you," Albee says.
"You should be changed. But most people don't want to be changed. They want to have an 'escapist' entertainment. The whole notion that that which is entertaining must be empty is preposterous."
Albee is currently directing an off-Broadway revival of two of his earliest one-acts, The Sandbox and The American Dream. And he says he's been thinking about a new play. Just don't ask him what it's about.
"It's called Silence, yes. Yes. That's all I will tell you, at the moment, about it."
Web Resources