It Isn't Rocket Science: How Best to Board a Plane
It Isn't Rocket Science: How Best to Board a Plane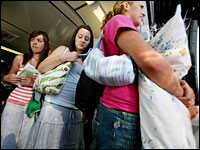 Frustrated by how long it takes to board a flight? Join the club.
But the frustration of one traveler, Jason Steffen, has led to a theory for the most efficient way to get passengers onto a plane: The key is creating space in the aisle to allow passengers to stow away luggage in overheard bins.
Steffen's study also yielded another potentially surprising finding: that boarding passengers randomly is significantly faster than the traditional method of simply boarding them from back to front.
Steffen, an astrophysicist at the Fermilab Center for Particle Astrophysics outside Chicago, has submitted his paper "Optimal Boarding Method for Airline Passengers" to the Journal of Air Transport Management.
He found that lining up passengers whose seat assignments are two rows apart and boarding them from the back of the plane to the front — then repeating for the other rows — is the most efficient way of getting passengers onto a plane.
At the root of his theory, Steffen says, is his finding that boarding passengers spread apart by two rows allows them enough space to put their luggage away at the same time — and then to sit down at the same time.
He notes that it does improve efficiency if passengers in window seats board before passengers in middle or aisle seats — although the single most important factor remains having multiple passengers putting their bags away at the same time.
Steffen explains to Melissa Block how he used an optimization algorithm to form his conclusions and why, ultimately, limiting the amount of carry-on luggage — though impractical — would be the most efficient way to decrease boarding time.