How Do You Transport a Burning Olympic Torch?
How Do You Transport a Burning Olympic Torch?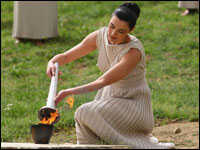 Usually there are cheers as the Olympic torch begins its historic relay. But Monday there were also jeers when the flame set off on its around-the-world journey to the August games in Beijing. Olympics historian David Wallechinsky says protests over China's human-rights record are complicating an already amazing feat of keeping a flame alive on a more than 150-day journey touching each of the continents. This year, organizers are attempting to take the icon to the top of Mount Everest.
Wallechinsky says officials light the flame using a parabolic mirror and the heat of the sun. It's a ceremony that takes place in a sacred grove in Olympia, Greece, where the ancient Olympics were originally held. The first runner appears — always a Greek — and after the torch is lit, he or she begins the epic relay.
But when the flame moves long distances, Wallechinsky says, it travels by private plane.
"They have a miner's lamp — but a very sophisticated, high-tech one — that allows the flame to stay lit. Just to be on the safe side, they also have a backup flame," he says.
Bad weather and poor timing necessitate the backup, Wallechinsky says. Or a runner will take too long to run a segment, and the fuel for the flame in the torch runs out.
"And, boom," he says, "they've got the backup flame and they'll race the torch over and relight it."
Wallechinsky says the drama this year is more profound than the usual urgent flame relighting. Tibetan activists interrupted the ceremony on Monday and protests are expected to follow the torch all the way to Beijing, home to both the Games and China's communist government.
"This is the first time that the Olympics have been hosted by a dictatorship since 1980," Wallechinsky says. And whereas the boycotting of those games 28 years ago funneled anger away from Moscow, this year, those with complaints are going face to face with Chinese representatives.
"This is really the first time we're seeing the possibility of major and continuing protest," he says.
Related NPR Stories