China Alters Its Role in World Economy, Diplomacy
China Alters Its Role in World Economy, Diplomacy
The first of a seven-part series.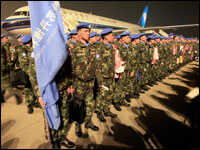 Teh Eng Koon/AFP/Getty Images
Series Overview:
China's Influence
Every day seems to bring a new statistic about China: It has become the world's third-largest trading nation, it has the most cell phone subscribers in the world and it emits the most carbon gases.

Some media refer to this growing influence as the rise of China. Chinese people see this as their country's rightful return to the dominant position it occupied in Asia for much of the past two millennia. Read more about NPR's seven-part series exploring China's role in the world.
Anyone reading the headlines these days can see that China's growing influence is being felt across the globe and in all areas of life. Much of that increasing involvement comes through the world economy.
After years of attracting foreign investment, China is now investing overseas itself, prospecting for new markets and raw materials for its intensive economic growth. In the process, it has taken on new risks, responsibilities and a national interest beyond its own borders.
One overseas entrepreneur is Jacob Wood, born Hu Jieguo in Shanghai, who has spent the last 30 years building an African business empire called the Golden Gate Group. It includes hotels, restaurants and construction and real estate firms. Golden Gate employs 20,000 people, most of them Nigerians.
Wood enjoys the status of an honorary Nigerian chieftain, which came in handy last year, when kidnappers seized several groups of Chinese oil workers in Nigeria. Wood used his honorary position to help negotiate for their release, and he suggested that oil companies try adopting corporate responsibility.
"We tried to help them," Wood says. "But also we tell them, you know, for next time what they should do, right? We should do more ... community jobs. Build schools, build hospitals for them. Like everybody love you. Not like people feel you come here just to take oil."
Getting Involved
China's new role overseas is changing its long-stated policy of noninterference in other countries' affairs.
In the past, "Whenever the issue of peacekeeping came up, China would either not participate or abstain," says Wu Jianmin, who served as a junior diplomat at the United Nations in 1971, when China had just retaken its U.N. seat from Taiwan. "We felt that peacekeeping did not fit our idea of nations minding their own business."
Now, Wu notes, China has 8,000 peacekeeping troops overseas. The message seems to be that it's now acceptable to interfere in other countries' affairs, as long as there's a United Nations mandate.
"We are a part of the existing international system," Wu says. "We are its beneficiaries. The international system is evolving and we are participating in it and constructing it."
Analysts say China is gradually becoming more responsive to international demands to put diplomatic pressure on authoritarian regimes such as Sudan, North Korea and Myanmar (still referred to by many as Burma). China's special envoy on Sudan's Darfur refugee issue, Liu Guijin, recently responded to foreign criticism that Beijing is shielding Khartoum from censure.
"China's basic policies on the Darfur question are not substantially different from those of Western nations," he said. "We agree that the international community should speak with one voice and exert equal influence on the Sudanese government and rebel forces ... or, as Western nations prefer to say, exert pressure."
Downplaying Capabilities
Western governments are far from satisfied with China's contributions on the Darfur issue. Foreign Minister Yang Jiechi recently said that China would shoulder more responsibility for world affairs, but he cautioned that this was not just to please specific countries.
"Frankly speaking, China, as a developing country, cannot undertake a level of obligation that goes beyond its capacity," he said. "I would like to emphasize that we are not taking international responsibilities to serve the interests of certain countries."
Even the downplaying of its capabilities has become a part of China's foreign policy.
Jin Canrong, an international relations expert at People's University in Beijing, says that China portrays its relations with other countries as a win-win game and aspires to wield power humbly. But Jin adds that as China becomes more powerful and confident, these pledges are coming under increasing criticism.
"One direct cause for this is Taiwan's pro-independence provocations," he says. "People on the mainland think: 'We've been putting up with these troublemakers for too long, we ought to just whack them.' There are others who say there's no point in downplaying China's capabilities when everyone knows what they are."
China's government has quietly ditched the official term "peaceful rise" to describe its re-emergence as a major power. Critics say that sticking to this description would limit China's options. Other skeptics point out that such a peaceful rise has no precedent in human history.
Related NPR Stories