Barefoot Guy Swears Off Shoes Forever
Barefoot Guy Swears Off Shoes Forever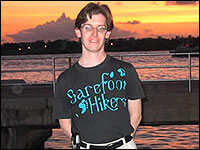 The human foot has 26 bones, 33 joints, 250-thousand sweat glands and more than 100 tendons, muscles, and ligaments. Some people decry cramming all of that into shoes. They are "barefooters."
Chris Roat advocates barefoot living — going shoeless in every kind of weather and on every kind of terrain. Roat runs a website devoted to barefoot hiking and belongs to the Society for Barefoot Living. The society promotes the right to live sans shoes, whether you're climbing a mountain or strolling into a restaurant.
"For me it was just more natural and comfortable," Roat says. He says he started going barefoot in the mid 1990s, when he was going to school in Florida. "I had gone barefoot a lot on vacation, while vacationing at the Jersey shore. I was always impressed by the people who would go barefoot everywhere ... even on the hot pavement or on the boardwalk at night."
Roat says going barefoot is healthier than wearing shoes. He argues that our feet are generally able to manage direct contact with sharp objects or rough surfaces. Barefooters get a range of responses in public places like restaurants, he says, depending on the personal prejudices of the staff.
He says he tries to avoid offending families, donning shoes when necessary to keep from making them uncomfortable. Now a Philadelphia resident, he says he has even shoveled snow in his barefeet. "The last time it snowed, I started out with my sandals on," he says. "About five or 10 minutes in, I decided my feet were too hot and I took them off."