From Source Restaurant to 'Cosmic' Commune
From Source Restaurant to 'Cosmic' Commune
The Source Series
In Part I, we are introduced to this unusual community.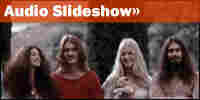 Second in a three-part series.
On Los Angeles' Sunset Boulevard in the 1970s, a natural foods restaurant called The Source launched a new way of life for hundreds of people.
Founded by ex-Marine Jim Baker nearly four decades ago, the restaurant quickly drew Hollywood's creative elite; John Lennon, Warren Beatty and Paul Mazursky were regulars. Other young men and women from across the country flocked there in search of something "cosmic," and many never left.
Baker employed an array of long-haired men and women as servers and cooks. Regardless of position, they made the same amount of money.
"There was no hierarchy," a former employee recalls.
Before and after hours, in meditation classes, Source employees were becoming a spiritual family.
Eventually, around 30 staff members and regulars moved into a mansion together in Griffith Park. In their first year at the "Mother House," the family expanded to nearly 200.
Baker, too, was transforming, from his old self to spiritual leader Father Yod. It was the dawn of a new way of life.
In the second part of this series, Jennifer Sharpe explores this transformation.
In part three Wednesday, the Source family reunites.
Book Excerpt: How the Source Made Money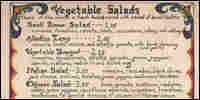 Related NPR Stories
Excerpt from Chapter Four of 'The Source: The Untold Story of Father Yod, YaHoWa13 and the Source Family' by Isis Aquarian with Electricity Aquarian.
In December of 1970, when Jim was leaving for India with the Yogi, The Source was in bad financial shape. Although business was booming, the place was disorganized, and the debt was so high that Father said he didn't expect the place to be open when he got back. He told Bob that the sheriff would probably come while he was gone and put a padlock on the door. Robin and Damian worked 24/7 in an effort to turn it around so that this wouldn't happen. Damian reorganized the operations, and Robin worked her charm in talking all of the vendors into extending credit to the restaurant.
* * * * *
Bob/Damian: The last thing Father did before he left for a while in December of 1970 was make me manager. The restaurant was $10,000 in debt at the time, and he went through everything with me: how to handle the money, the ordering, employees, etc. Basically, he passed on to me his knowledge, and I followed everything he said to the best of my ability. When he came back three months later, the $10,000 had been paid off, and we even had just a little money in the bank account.
He said, "How did you do it, son?" And I said, "I did it exactly the way you told me to, Father." And he went out to Bob Smith Volkswagen and bought me a brand new $2,500 Volkswagen van with the bed in the back and the wheel in the front, the first time I'd ever seen a cassette player. He drove it up and handed me the keys, and I said, "What's this?" And he said, "This is for you for work well done." This was the start of the fleet of vans for the Family.
* * * * *
Not only did Bob and Robin pull The Source out of debt, they established a Family bond among all who were working there. Father made Damian vice president of The Source Corporation. The Source restaurant later went on to be recognized as one of the most successful in Los Angeles, making $500,000 in one year in 1974, a great deal of money for that time.
Father had been in India for about three months. While there, he had some powerful epiphanies that changed his ideas about Yogi Bhajan and the path he was following. One day, he witnessed a man approach the yogi for his help in a dire situation. The Yogi said he would return to help him the next day. But as the next day passed, the yogi never went to help the man. This caused Jim to reassess the way he saw Yogi Bhajan. Then, as he was crossing the Ganges on a boat to Kathmandu to acquire some Sacred Shin (hashish), he was wearing his Sikh headdress, and an Indian man on the boat asked him if he were a Hindu or a Sikh. After a profound pause, he suddenly threw his headdress into the river and said: "Neither a Hindu nor a Sikh shall I be, for my soul is universal and free!"
Many of the people on the boat fell at his feet and saw him as a holy man and followed him until he left India.
The India trip gave Jim a fresh view. He clearly recognized that his lifetime quest was to find the perfect father figure. As he had evolved and his consciousness had grown, his desire had shifted from finding a flesh father figure to a spiritual father. Many had made the proclamation that the next great spiritual leader would come from the West. This intuition was buttressed within the foundations of the United States by the Freemasons, and Father strongly believed as those founding Freemasons did, that this spiritual leader would be destined to come from the West. Father saw Yogi Bhajan as the most powerful spiritual figure of his time, a leader who was from the East but who had come to the West, and he had hoped that Yogi Bhajan would fulfill this epic role for him and for Western civilization. But it was becoming clearer to him that, as the Yogi had told him, this role was not his destiny in this lifetime. Jim began to distance himself from the Yogi as "the Father."
Jim returned to Los Angeles a changed man. He began to teach meditation and spiritual knowledge in The Source parking lot on Sunday mornings, and his students quickly doubled and tripled in size. Jim had been using the Sikh chant, Eckankar Sat Nam Siri Wha Guru. Then he began chanting the Western affirmation from The Science of Being: "One God creates, constitutes, governs, sustains and contains all. His name is life, mind, truth, love, and spirit. I am his soul—his soul and I are one."
Soon after that, in March 1971, his book Liberation came down, which included the ten Aquarian commandments and other pronouncements. Robin sat and typed it as it came down and Sunflower proofread it; it was finished within ten days. Jim couldn't find a publisher, so he published it himself. He handed everyone in the Family a copy. Father later sold them at the restaurant for $1.
Liberation was initially dedicated to Yogi Bhajan: "To my beloved Father and the last of the great Masters. The dawning New Age will have every flesh father be an Earthly Spiritual Father, ending the necessity for a middle man between man and God!"
At this time, Jim began to see that he would have to fulfill the role of spiritual father for the dawn of the Aquarian Age and his new Family. Amazingly, many of the souls who would make up the Family came to him, as if on cue, with their own tales of visions or uncanny synchronicities that led them to their "earthly spiritual Father" and The Source.
* * * * *
Yahavah: On a Monday morning, I was passed out on my balcony, where I had slept all night under a cold New York sky. I heard the phone ring but didn't have the power to go answer it. Fifteen minutes later, my girlfriend showed up with a suitcase. She packed me a small carry-on and took me to the airport. I said: "But I am married, and my husband will be sad." She said, "You are lost and you need a change."
She had two tickets that her father, the ambassador from Romania, had bought her so that she could fly to L.A. to be with her boyfriend. She needed a companion and decided I was it. She was only 17 and I was 27, but we got along well. Her boyfriend was my husband's best friend, but I was not doing well at all with my husband at this time. We were lost in sex, alcohol and drugs, and I was going to the dogs and she knew it.
My soul then let her take over my physical reality, and that same night we slept in this awesome mansion in Laurel Canyon. I walked to The Source that morning for my first L.A. breakfast. It was the most delicious breakfast I had ever had. For the first time in my life I did not have stomach pain after a meal. I was suffering from an ulcer and also had asthma. It was bad.
I came back to The Source religiously every morning for a time and always had the same thing because that was all I could afford to eat. I had the carrot, beet, and sprout salad with a bun.
A strange thing happened at the mansion I was living in. I was tripping one evening on a picture of a dog that was hanging in front of my bed, and then Jim Baker's face came through it—it was so clear. He was sending me waves of comfort and peace because I was tripping all alone and was totally freaked out. I was comforted and went to sleep but never could forget His face.
Six months later I met this girl who was living two doors down from Frank Sinatra's house in Beverly Hills. We got up every morning at 4 a.m. and we chanted together in front of an altar. She would go back to sleep after, but I was too awake and could not sleep any more. She let me drive her new Jaguar, so I would go up by Frank Sinatra's house and watch the sunrise. It was such an amazing view.
On one blessed morning, I drove by The Source at 5 a.m. and heard a choir of angels singing "YOD HE VAH HE" to the tune of the Israeli Anthem. I had just come from Israel about three months earlier and was immediately reminded of my ancient Jewish heritage. My grandfather was a well-known rabbi in Casablanca, Morocco. I studied Hebrew since the age of two and finished my elementary school in the Hebrew language and French. I moved to Israel when I was 15 and lived there for 10 years. It's where I met Daniel, my first husband.
I stopped my car, trying to figure out what I just heard, then I saw a group of angels standing in golden sun rays singing with all their might. Their bodies appeared completely translucent in the night, as if they were all in golden white clothes and had golden white long hair: men, women and children. I could not make this apparition real. I thought I was really tripping. I must have stayed liked that for a couple minutes until some guy came to my car window and started banging. I finally woke up from my trance and went straight to The Source parking lot and parked there.
I was greeted by two giants, Pythias and Starman. They told me that I would have to wait until they broke up from their meeting and started their morning routine at The Source then I could come and ask my questions.
Father was surrounded by women, men, and children. Everyone there was so charismatic; it seemed almost impossible to be near so much love and beauty. But something stronger than my mind kept me there. I asked Father how I could be part of all this energy. He told me that I would have to get up every morning at 3 a.m. and chant "Yod He Vah He" for one hour daily and come back after 30 days. Then I could be part of it.
I barely spoke English, but I told him in my half-French, half-English that I would do that and come back. I left with my heart swollen with joy, excitement, adventure, and passion for my newfound reality.
P>But destiny would have it differently. On my way back home to Beverly Hills, my car rolled at a stop sign and touched an old woman's car. She saw that I was driving a Jaguar and wanted compensation for hitting her. I did not have any money or insurance so my girlfriend Debbie had to pay for it. It made her mad, so she kicked me out of her house. That was bad for me, because I did not have a car, money, or a place to stay.
She gave me $250 and sent me to Santa Monica to stay with one of her friends. The same day I bought a Mustang, and the next morning went to The Source at 3 a.m. for meditation. But I got lost and eventually reached The Source parking lot at 4:30 a.m., but they had started already and would not let me join them.
I sat in my car just watching the whole thing with tears of both frustration and joy, and I swore to myself that I would leave my house at midnight the next night so that I could be there for morning meditation. I finally arrived the morning of the third day on time. I took part in the morning rituals and was blown away, flying higher than with any drug or lovemaking I had ever felt. These loving people giving me so much love and light were amazing. I felt like I was in the midst of angels in paradise.
After the sunrise, we all went and sat outside of the restaurant. I felt compelled to be close to YaHoWha and to never leave him no matter what. I started crying and told him that I could not live one more day without the feeling I felt this morning and asked if I could join the Source Family sooner than 30 days. He sat me on his lap, looked me right in the eye and asked me: "WHO AM I?" I said: "YOU ARE MY FATHER!" He said aloud so that everyone could hear him, "YOU ARE MY DAUGHTER; WELCOME HOME."
He held me against his heart very tenderly and said that I could move in right away. I cried a river of joy and ecstasy. I have never stopped feeling that feeling, and even now I laugh and sing and live like a river of life flowing through Heaven.