Tibetan Sovereignty Has a Long, Disputed History
Tibetan Sovereignty Has a Long, Disputed History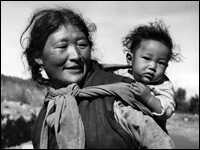 Protesters this week have dogged the Olympic torch on its way to Beijing for the 2008 summer games. Over and over, they shout, "China out of Tibet! China out of Tibet!"
Many Tibetans believe China stole their independence more than 50 years ago, when the communist government staked what it calls a rightful and sacred claim on the tiny mountain nation.
As the protests continue, the Dalai Lama — Tibet's spiritual leader, arrives in Seattle on Friday for a conference on compassion. The Dalai Lama lives in exile in India. He says he does want more autonomy for his homeland but insists he's not seeking full independence from the Chinese government. Chinese officials accuse him of encouraging recent demonstrations against Chinese rule in Tibet — the largest and the most sustained in almost two decades.
The conflict has deep roots, says Robert Barnett, director of the modern Tibetan studies program at Columbia University and author of Lhasa: Streets with Memories.
China and Tibet tell the story differently. Chinese leaders used to say their claim on Tibet dates back a thousand years. More recently, reports Barnett, the date it to the 13th century. Tibetans disagree. "Tibetans ... say there were relations between the two, quite close relations, but that Tibet never lost its independence," he says.
Tibet has never been considered independent by major players on the world stage, Barnett says. Tibet did declare itself independent in 1913, along with Mongolia. Back then, China was in the middle of a civil war. It then fought off invasions by Japan. The question of Tibet went on the backburner. "The Chinese say they were just busy," he says. "They were unable to deal with that and they don't accept it legally."
Barnett reaches back to 1903 for a key moment in the Tibetan saga. That's when the British forces crossed into Tibet, killing about 4,000 people in the process. "It was really a shameful episode," he says. "The British had no reason to invade Tibet. ... They suddenly made Beijing worried about its back door." Worried that Britain would start carving up its territory, in 1910 the Manchu Dynasty decided to invade Tibet and call it a province.
Before then, Tibet has been a protectorate, with a Chinese governor. The Manchu Dynasty collapsed, and Tibetan soldiers drove the Chinese out. Barnett says China "never forgot that bloody wound." That's why the Chinese began making such a direct claim on Tibet.
As the Chinese empire was replaced by a modern state, Chinese nationalism became a cultural force. "The Communist party came to power in China by saying we had been humiliated for 150 years by the western powers in China and we're never going to let that happen again," Barnett says. "The Tibet issue directly challenges that kind of basic notion of what it is to be Chinese."
In 1951, Barnett relates, China "forced" Tibet to sign an agreement recognizing that Tibet is part of China. The Dalai Lama has lived in exile since. Now Tibetan activists and their allies are calling for China to leave Tibet entirely — even as the Dalai Lama maintains he's not seeking full sovereignty for his native land.
Barnett says the Dalai Lama is seeking a relationship with China that would give Beijing control in the arenas of defense and foreign affairs. The professor describes those terms as in keeping with the 1951 agreement. "But, of course, China now won't allow any vagueness," he says. "That's really what's happened."
Related NPR Stories