Fuel, Food Demand Raise Corn, Soybean Prices
Fuel, Food Demand Raise Corn, Soybean Prices
It wasn't long ago that farm country was full of hard luck stories, but now alternative fuels are creating higher demand for corn, and world food demand has wheat and soybean prices way up. Charles Speiker, a farmer in New Hampton, Iowa, talks about the impact on his business.
LYNN NEARY, host:
For some farmers these are the best of times, or nearly so. Alternative fuels are creating higher demand for corn and world food demand has wheat and soybean prices way up. It wasn't long ago that farm country was full of hard-luck stories.
We called one corn and soybean farmer, Charles Speiker, in New Hampton, Iowa, to see whether things are turning around.
Mr. CHARLES SPEIKER (Corn and Soybean Farmer): Oh yes. It's the first time it's been looking this good for us. But it's a bubble I feel that won't last forever.
NEARY: You're not trusting it then, you're saying.
Mr. SPEIKER: I think the whole thing driving this thing is energy. Everything we do in farming and in this county has to do with energy. Everything we get -toilet paper, bananas, fertilizer, corn, all that stuff - has to be moved by semis and that all costs money.
NEARY: Now, I understand you have two sons working with you. Is that right?
Mr. SPEIKER: Well, we're kind of we work together but they each got their individual operation.
NEARY: Because there was a time when, I think, a lot of people were leaving farming and maybe the sons of farmers were heading off looking for other work because it was so tough to farm. Are we seeing a reversal of that trend?
Mr. SPEIKER: Well, I wouldn't say it's a trend right now. Maybe it will be. There's a lot of people who want to maybe come back. But for a young man to get started farming now is almost impossible unless he has a relation or somebody to help him get started back in, like I'm doing with my boys.
NEARY: So, even with getting better prices on your crops it's still not easy, it sounds like, down on the farm.
Mr. SPEIKER: The reason we're getting better money for our crops is the world has exploded and there's more demands. And right now we're running a little short. Ethanol has something to do with it but not the whole thing.
China is really coming on to be a strength in the world. India is also coming on - they're buying a lot of fertilizer and trying to raise better products for their people. Speculators are driving this - right now, I feel, corn is way higher than it should be. Same way with soybeans, and it's having to do with fear. And in another year we could see this turn and go too far the other direction too. And it always will. There's nothing go straight up.
NEARY: So you don't really know how long this bubble might last.
Mr. SPEIKER: We've got this year, should be all right; next year should be questioned; '10 we could be in trouble. If they drive this corn too high, we're going to lose our demand worldwide and we take away the demand and then pretty soon you've got a surplus. It's just a vicious cycle like.
NEARY: Charles Speiker is a farmer in New Hampton, Iowa. Mr. Speiker, thanks so much for talking with us.
Mr. SPEIKER: All righty.
(Soundbite of music)
NEARY: You're listening to NPR News.
NPR transcripts are created on a rush deadline by an NPR contractor. This text may not be in its final form and may be updated or revised in the future. Accuracy and availability may vary. The authoritative record of NPR's programming is the audio record.
Ethanol Demand, Prices Boost Farm Communities
Ethanol Demand, Prices Boost Farm Communities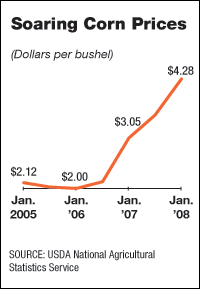 While much of the country frets about falling real estate prices and a slowing economy, parts of rural America are experiencing the exact opposite. In the Corn Belt of the Northern Plains, the growing demand for ethanol and record commodity prices are helping some small agricultural communities flourish.
Northwest Iowa is corn country. Farms covering tens of thousands of acres roll gently across the undulating landscape. Even now, in winter, cornstalk stubble pokes through the snow.
The price of corn has more than doubled in the past two years, and places like Galva, Iowa, are benefiting.
Part of the reason for the run-up in corn prices is the almost insatiable demand from the region's ethanol plants. At Quad County Corn Processors, dozens of tractor-trailers arrive each day.
The golden kernels spill from the bellies of the trucks into the plant's receiving pits.
"We grind about 32,000 to 33,000 bushels of corn a day," says Mike Jerke, the general manager. "The plant runs 24/7. We are running all the time."
This plant opened in 2002. Each month, it converts nearly a million bushels of corn into almost 3 million gallons of ethanol.
For decades, this was just farm country. Galva has a population of less than 400 people. And it's still predominantly an agricultural community, but Jerke says biofuels are transforming this part of Iowa.
In addition to the ethanol plant, a dry-ice facility has opened, and a biodiesel plant and soybean-crushing facility are under construction nearby.
"It's really changed agriculture," Jerke says. "It's just one of those quantum shifts in how things happen."
A few miles west of Galva, Brian Friedrichsen runs a 2,400-acre farm with his brother and sons. The Quad County ethanol plant is cooperatively owned by several hundred local farmers, and Friedrichsen is one of them.
Buoyed by mandates for ethanol use and a federal subsidy of about 51 cents a gallon, the plant has been extremely profitable. Six years after it opened, investors have more than doubled their money.
But Friedrichsen says there are two other key benefits to the plant: It gives him a local market for his corn, and the corn mash residue that's a byproduct of the ethanol process is high in protein and makes an excellent cattle feed.
"We are able to utilize the co-products from the ethanol plant, and so we've expanded our cattle operation a little bit every year for the last four years," Friedrichsen says.
He says the feed from the ethanol plant cuts his costs by $40 to $50 per steer each year, saving him at least $200,000 annually.
Friedrichsen estimates that the number of cattle being raised in the area has tripled as a direct result of the ethanol facility.
Farmland is also shooting up in value. A nearby farm sold last year for almost $7,000 an acre. Before the ethanol boom, an acre of farmland here would often go for less than $2,000.
About 30 miles northwest of Galva, the town of Marcus is also riding the biofuels boom. It has an ethanol plant, and a biodiesel plant is under construction.
"Now we are in the process of building a motel on the outskirts of our town," Marcus Mayor Darrell Downs says. "We were able to open up a business park."
Downs adds that a truck stop just opened nearby. These things are a big deal for a town of 1,100 people.
"I'm a great believer in renewable energy," he says. "I know there's pros and cons on it, but for rural America, it's been a great thing."
Downs says that as long as Washington mandates the use of biofuels like these, the future is looking bright. And for the first time in decades, he adds, young families are moving back to rural Iowa rather than moving away from it.
Related NPR Stories