Dude: 'High Times' Editor Explains High Holiday
Dude: 'High Times' Editor Explains High Holiday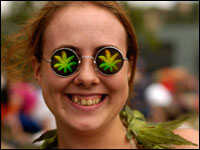 It's two days before April 20, otherwise known as 4/20. The number has long been code for smoking marijuana — but few people know why. Offering a definitive explanation is David Bienenstock, High Times editor and author of The Official High Times Pot Smoker's Handbook.
According to Bienenstock, 420 didn't become famous because it is:
The day Jimi Hendrix died
Jerry Garcia's birthdate
Police code for the act of smoking marijuana
Time to serve tea in polite British society
The number of molecules in marijuana
"The true story is stranger and nicer," says Bienenstock. Back in the 1970s, a small group of friends in San Rafael, Calif., used to light up every day at 4:20 p.m., he says. San Rafael is the home of the Grateful Dead, a cultural connection that helped spread "420" as slang.
But even with that resolution, marijuana remains illegal.
"That's why I didn't bring any," Bienenstock says. "I'm on National Public Radio ... On national pothead radio, that's another thing."