Why Do We Borrow So Much?
Why Do We Borrow So Much?
First of a five-part series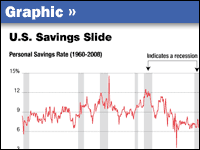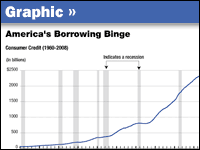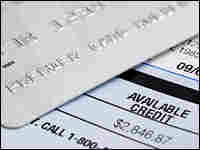 In Focus
In 1982, Americans saved more than 11 percent of their disposable income. The personal savings rate dropped to just 0.4 percent last year. An economist blames easy credit — and how we think about money.
Twenty to 40 years ago, economist and Financial Times columnist Tim Harford says, "a lot of people were denied credit" because of their income, their gender or their race.
"It seems to me that we've always been willing to borrow, we've always been keen to borrow, if the lenders have been willing to lend to us," Harford tells Steve Inskeep.
People have "suddenly been given the ability to borrow more — credit cards, mortgages, unsecured loans — and they've taken advantage of that," Harford says.
"It's been a good thing until recently. The availability of credit to people to buy their own homes ... [and] to smooth consumption, broadly that's a good thing. But clearly the last couple of years, it's just gone crazy and loans have been made that people couldn't possibly repay."
The availability of credit can cause people to make bad decisions. "We seem to be hard-wired sometimes just to make rash decisions in the short term," he says.
"You have the credit card, so you can buy it instantly with no consequences. The consequences come further down the track."
Economists are trying to convince people to take a longer-term perspective. For example, under a pension system called "save more tomorrow," companies offer their employees the choice of plowing future salary increases directly into the workers' pension plans.
"When people are given that choice, that's suddenly a lot more attractive ...," Harford says. "And it's been shown to be very, very effective in increasing savings rates."
If the national savings rate bounced back up, would we be better off?
It depends, he says. "How much do you want to sacrifice your income now for income later when you're richer?"
Harford says that as a college student, he worked and saved money, but sacrificed his own enjoyment in the process. "I made completely the wrong decision," he says. "That was crazy."
"Debt is your future self sending you money back in time. So the question is, are you and your future self both happy with the deal? Clearly you can borrow too much, but you can also save too much. We've just got to get the balance right, and that's not easy because the future is uncertain."
Web Resources