Making Changes to Head Off Credit Disaster
Making Changes to Head Off Credit Disaster
Second of a five-part series
Credit Card Tips
• Don't apply for new credit cards just because you've reached the credit limit on existing cards.
• When you've hit the card limit, pay off the balance and adjust your spending habits. Don't apply for more cards or ask for a higher limit.
• Don't rely on your credit cards to pay for living expenses.
• Sixty percent of cardholders carry a balance from month to month. Pay off at least one of your cards in full and stop using it.
• Start paying off the card with the highest rate, and don't add to the balance on that card.
• Alternately, if you need to boost confidence in your debt-reduction plan, pick the card with the lowest balance and pay it off first.
• Use a debt calculator to establish a paydown plan.
Sources: National Foundation for Credit Counseling, Bankrate.com, CreditCards.com
Minimum Payment, Maximum Cost
Credit counselors advise making more than the minimum monthly credit card payment — otherwise you're just paying interest and not the borrowed amount. They recommend paying at least double the required minimum each month.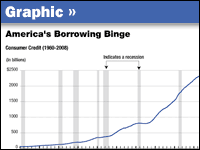 Warning Signs
You may be headed for financial trouble if you are ...
• Making mortgage payments 10 or more days late on a regular basis.
• Paying the monthly minimum amount on your credit cards every month.
• Consistently paying on the grace period day or waiting until the end of the month to make a payment by phone to avoid late charges.
• Increasingly relying on credit cards for daily living expenses and bills.
• Using cash advances or payday loans to cover bills.
• Receiving collection calls at home or at work.
• Constantly out of cash.
Source: ClearPoint Financial Solutions
Americans struggling to make ends meet can quickly find themselves in over their heads when credit card and other bills come due. Kim Love, 49, of Chesapeake, Va., was keeping up with her debt until she went on disability. Her income from working as a medical secretary was cut in half. Her husband also stopped working for medical reasons.
They soon had 11 credit cards, some with interest rates as high as 24 percent, and their bills topped $20,000.
"We didn't go out and buy a big plasma TV or anything like that," Love tells Renee Montagne. "It was just really things that we needed to try to survive on — medication, bills, clothes. So I don't think I would say that we [were] frivolous — just out there spending, taking a vacation and having a good time, because, no, we never did that."
Easy Credit Added Up
Love found it easy to sign up for credit. "I guess my credit was pretty good and they look at it and they say, 'OK, you're pre-approved ...'"
Love recalls that her thinking was motivated by pressing needs: "We need to get some medication in here this month or we've got to go to the doctor and we don't have the money to pay for it.
"So I accepted [cards] and that was not too good of a choice on my part," she says.
For help, Love turned to credit counselor Barbara Wright, with ClearPoint Financial Solutions, based in Richmond, Va. Wright says consumers come to her nonprofit community service organization with an average of nine credit accounts.
A combination of economic factors is landing Wright's clients in financial trouble, she says.
"We're seeing that a lot, with gas prices increasing, food prices increasing, housing increasing," Wright says. "But income is not increasing and people are more and more falling on their credit cards to make ends meet."
A Disciplined Approach to Reducing Debt
Wright reviewed Love's income and spending, and examined which expenses could be cut back. She developed a monthly payment plan to get Love and her husband out of debt. The couple moved in with Kim Love's parents, saving on rent, groceries, utilities and cable TV.
Love has reduced her bills from $21,000 in November 2006, when she first came to see Wright, to about $14,000 today.
"She's seeing that light at the end of the tunnel now," Wright says. "It's getting there. Slowly, but it's getting there."
Related NPR Stories