The Dirtbombs: Fierce and Funny, Draped in Fuzz
'Leopardman at C&A' by The Dirtbombs
Friday's Pick
Song: "Leopardman at C&A"
Artist: The Dirtbombs
CD: We Have You Surrounded
Genre: Rock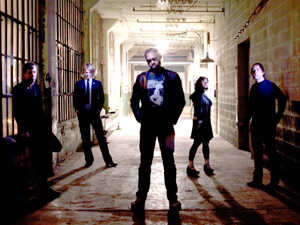 In 1978, George Clinton posed two critical questions: "Who says a jazz band can't play dance music? Who says a rock band can't play the funk?" Mick Collins' work with The Dirtbombs underlines Clinton's point emphatically. Refusing to honor any racially proscribed musical boundaries, Collins sounds equally at home covering Brian Eno's "King's Lead Hat," working as a house-music DJ, or fashioning a fierce, smart garage-rock record called We Have You Surrounded.
The disc's best track, "Leopardman at C&A," features an unlikely collaboration: Its words were penned by comics writer Alan Moore for use by his friends in Bauhaus. But Collins sets them to his own brisk Bo Diddley beat, so Moore's evocative depictions of a corporate world fallen into savagery ("We'll start a Jaguar cult and dress up like an XJ-6 / Turn our CDs into wind chimes turning slowly in the breeze") are showcased at their funny and despairing best. It also doesn't hurt to have Collins' deep, dry vocals; the buzzing, twitchy, fuzz-draped guitars; and the two rhythm sections pounding out a rough-and-ready tribal beat, reminding listeners that it's an urban jungle, not an urbane one.
Listen to yesterday's Song of the Day, and subscribe to the Song of the Day newsletter.
Web Resources