Three-Dish Cure for the Dim Sum Blues
T. Susan Chang is a New England-based freelance writer and a former Kellogg Food and Society Policy Fellow. She also is a regular cookbook reviewer for The Boston Globe, and her articles on cooking, gardening and nutrition appear in a variety of national and regional publications. You can find more information at her Web site, tsusanchang.com.
I've always thought of dim sum as one of life's unreproducible pleasures. Dish after little dish of sweet and savory steaming treats, dim sum (which literally means "to touch the heart") is served piping hot from carts, washed down with hot tea and as cheap as it is delicious. And behind that is an army of cooks folding, pinching, stuffing, steaming, frying and shouting — most likely in Cantonese — at a pace that would confound even most seasoned restaurant cooks.
But dim sum is so much more than Chinese food on carts. It's cavernous, deafening parlors in competing restaurants in a big-city Chinatown. It's a quick-witted wait staff speeding by on wheels. It's getting over your uncertainty quickly and boldly flagging down the cart pushers before the last radish cake is gone.
I thought of these things when the craving first hit, weeks after I'd foolishly moved to the sticks in New England without doing a full dim sum cost-benefit analysis. We've got spring peepers — the young frogs that emit the first sounds of spring in the region — but no black bean ribs or sticky rice packets. The nights are clear and deep and filled with the scent of fresh maple syrup, but completely free of crystal pork and leek dumplings. Wait staff and line cooks? Ha! Count 'em: One, and she lives at my house.
In short, what we have here is a perfect storm of dim sum-lessness.
I finally came to realize that the choice is stark: Find a way to make dim sum at home — small and modest, perhaps, but dim sum all the same — or drive three hours with two small kids on your day off (in our case that essentially means life without dim sum). The prospect of life without dim sum doesn't bear contemplating. And this is how I arrived at Three-Dish Dim Sum.
Here are the rules: No having to fry two things at the same time. The cook gets to sit and eat with everybody else, because that's the whole point. Only one of the three dishes has to be served piping hot. And — sorry, folks — no dumplings. If you're making dumplings, you really won't be able to do much else. You can have an all-dumpling dinner sometime to make up for it. But that's another story.
So this is what I came up with: Pickled Cucumbers and Red Peppers, Sweet and Sour Glazed Spare Ribs, and Scallion Pancakes. One cold, one room temperature and one hot. One ridiculously easy, one easy and one really not all that hard.
I'm a realist. I know there are hardcore fans who will insist that it's not dim sum if there is no tripe or chicken feet. And there is really no substitute for the glistening pale pink, transparently wrapped har gao (shrimp and water chestnut dumpling). But since I don't see the inside of Jing Fong or Triple 8 Palace or Hunan Empire or any of the other great New York City Chinatown dowagers of dim sum more than once a year ... well, you do what you can.
Three-Dish Dim Sum is about making peace with what you can do on your own. It's about making the best of life's choices, even when they take you 150 miles away from Dim Sum Central. And, apart from being an object lesson in humility, Three-Dish Dim Sum is rockin' delicious.
So, if the pancakes are slightly less than circular, or you end up with glaze on your pants, or you have only an hour to make the cucumbers, it's OK. It'll still taste great, and you'll hit that special dim-sum button in your soul that cries out for hot, sweet, sour, crisp, salty, sticky, finger-licking religion at 11 on a Sunday morning. Failing that, load up the car and start the long trek to Chinatown — and don't forget to bring some back for me.
Pickled Cucumbers and Red Peppers
I learned to make these from my Aunty Sen. This is fast pickling — fresh, tart and sweet rather than slow, briny and sour. It's dead simple. You just salt the cucumbers for 15 minutes, until they weep. Then console them overnight in sweetened vinegar, along with the peppers. Aunty Sen says the amount of time is pretty flexible. You could take as much as two days to salt and soak them if you wanted. Then you eat them — a few or, if you can't stop yourself, a lot. That's pretty flexible, too.
4 servings
4 small cucumbers (preferably pickling or Kirby)
1 sweet red bell pepper
1 1/2 teaspoons coarse salt
2 tablespoons vegetable oil
1 large or 2 medium garlic cloves,
2 chunks of ginger, each about 3/4-inch-long, unpeeled, smashed
1 or 2 small dried red chilies. (Snip the ends and shake out and discard the seeds if you want to reduce the heat.)
1 teaspoon sesame oil
2 tablespoons granulated sugar
2 tablespoons rice vinegar
Salt and ground black pepper, to taste
Peel the cucumbers, seed and chop into 3/4-inch chunks. Smash them lightly with the side of a cleaver or chef's knife. Sprinkle the 1 1/2 teaspoons of salt over them and let stand in a colander for at least 15 minutes or up to an hour. This removes some water.
Seed and core the pepper and chop into 3/4-inch chunks.
In a wok or heavy skillet, gently heat the garlic, ginger and chilies in the oil, until the oil takes on their flavor but before any of them start to brown, about 3 or 4 minutes. Drop the salted cucumber into the flavored oil, stir and turn off the heat. Add the red peppers, sesame oil, sugar and vinegar. Salt and pepper to taste. Refrigerate (preferably in a sealed plastic bag) at least 1 hour or up to 2 days.
Sweet and Sour Glazed Spare Ribs
I discovered these in Revolutionary Chinese Cookbook: Recipes from Hunan Province (Norton 2006) by Fuchsia Dunlop, whom I revere. The ribs are sticky, sweet, fantastically addictive finger food. No problem eating them warm or room-temperature, so you can just set them aside while you're dealing with the pancakes. For the ingredients, it's best to hit an Asian supermarket. The riblets, chopped into knobby little chunks, will be in the frozen section. The black vinegar will be near the soy sauce. It might be hard to find them at first, but once you do you'll never have trouble finding them again. Asian groceries almost never re-organize.
If you can't find the pork riblets, here's an alternative: Buy some baby back or St. Louis-style pork ribs and ask your butcher to cut them crosswise, or "flanken-style," into 1 1/2 -inch wide strips. It will then be easy for you to cut the strips into segments, between the bones.
4 servings
1 pound meaty spare ribs, cut into bite-size sections (go to your nearest Asian grocery for these)
2 (1-ounce) pieces fresh ginger, unpeeled and crushed with the side of a cleaver or chef's knife
4 scallions, white parts only, crushed
3 tablespoons vegetable oil
1 tablespoon Shaoxing cooking wine (Chinese cooking wine, found at any Asian grocery store near the soy sauce and many regular supermarkets) or dry sherry
Salt
2 teaspoons dark soy sauce (thicker and darker than regular soy sauce; Pearl River is a popular brand. Regular soy sauce works as a substitute, but the color won't be as dark.)
4 tablespoons white sugar
1 tablespoon Chinkiang or "black" vinegar (available at Asian grocery stores)
1 teaspoon sesame oil
Vegetable oil for cooking
Place the ribs in a large pot filled with water and bring to a boil over a high flame. Skim the water then add one piece of ginger, two pieces of scallion, the Shaoxing wine and salt to taste. Boil for 15 minutes, until the meat is cooked and tender; strain and set aside, reserving the cooking liquid.
Place the oil in a wok over high heat. Add the remaining scallions and ginger and stir-fry until fragrant. Add the ribs and toss for a couple of minutes in the fragrant oil.
Add slightly less than 1 cup of the reserved cooking liquid, the dark soy sauce and the sugar, with a little salt to taste (take care not to oversalt, because the liquid will eventually be reduced to a glaze). Simmer over a medium flame, spooning the liquid over the ribs, until the sauce has reduced to a heavy, syrupy consistency.
Add the vinegar and cook for another 1 to 2 minutes, until the flavors have fused.
Remove from heat and stir in the sesame oil. Serve or keep warm in a 200-degree oven until ready to serve.
Aunty Sen's Scallion Pancakes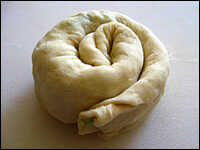 The scallion pancake, a street-food favorite in China, hit the American mainstream in the 1980s and was an instant hit. Oniony, salty, crunchy and served piping hot with a thin sweet sauce — who could resist? In our family, Aunty Sen's scallion pancake sets the gold standard. There are different schools of thought on how to construct the dough (boiling water vs. cold water, cake flour vs. bread flour, etc.), but none are difficult. To get those scallions properly entrapped in the dough, you have to roll it twice. First you roll a disk into a cigar, and then you roll the cigar up into a snail. Once you've mastered that, it's pretty simple. What's more, you can make them ahead of time, even freeze them if you want.
1 1/2 cups all-purpose flour
1 1/2 cups pastry or cake flour
1 1/2 teaspoons coarse salt
1/2 cup very hot water
1/2 cup very cold water
8 large or 12 slender scallions
1/4 cup sesame oil for brushing
Flour for dusting
3 tablespoons vegetable oil for frying
Sauce
2 tablespoons soy sauce
1 small garlic clove, minced
1 small scallion, minced
1 slice of ginger, 1/8-inch thick, peeled and minced
2 to 3 teaspoons sugar
1/4 teaspoon Asian chili sauce of any kind (e.g. chili bean paste, chili-garlic sauce, Sriracha)
1/2 teaspoon sesame oil
1/2 teaspoon rice vinegar
2 to 4 tablespoons water (depending on how thin you like your sauce)
For the sauce:
Combine all the sauce ingredients. Add the water last, to thin to the consistency you like. Taste and adjust the ingredients. Some people like more chili sauce or sugar.
For the pancakes:
Combine the two flours and salt in a bowl with a fork. Dump half out onto a sheet of waxed paper. Add the 1/2 cup of hot water to flour in bowl and stir with a fork until a ragged dough just comes together. Push it to the side. In the other side of the bowl, add the remaining flour and the 1/2 cup of cold water and stir with the fork to combine into a second ragged dough. Start kneading the two pieces of dough into a ball with floured hands, until you achieve a rough, but not shaggy, ball; you may need a bit more flour to make it work. Let rest for at least 15 minutes.
While the dough is resting, mince the scallions as finely as you can. Put the sesame oil in a small bowl.
Place the dough on the counter. Using your hands, roll the dough into a fat snake about 12 inches long. Divide the snake into 6 or 8 pieces.
Dust the counter and one piece of the snake with extra flour. Roll it into a ball with your hands. Then, again using your hands, flatten the ball into a circle. With a rolling pin, roll the circle out until it is about 1/8-inch thick (it will be 6 to 8 inches in diameter). Brush the entire surface with sesame oil and scatter generously with scallions.
Roll up the circle into a flattish cigar shape (see photos). With the seam side up, roll the cigar into a spiral or snail roll and press together to seal. Dip the roll in flour and set aside on a plate. Repeat with remaining 5 (or 7) pieces, separating the finished rolls with parchment paper.
At this point, you can make the pancakes right away or set them aside, covered, in the refrigerator, for up to 24 hours. (Don't let plastic wrap touch their tops while resting or it will stick.)
Place a rack onto a baking sheet. Preheat the oven to 200 degrees and place the sheet and rack into the oven, for keeping the pancakes warm later. Dip one of the rolls in flour. Lay the roll flat on your work surface, so that you're looking straight down at the spiral. Gently flatten the spiral with a rolling pin. At first, it will look like a spiral-patterned disk. Keep rolling until you have a 1/8-inch circle again.
Heat 1 1/2 teaspoons of oil in a 9- or 10-inch heavy skillet over high heat. When oil is hot, carefully lower the pancake into the pan. It should bubble a bit, and the layers may rise a little if the dough is well rested.
Cook until the first side is golden brown, about 2 minutes. Turn the heat to low and cook the other side, about 2 minutes. Lift out with tongs and transfer to a plate lined with paper towels. Slice into 8 pieces and serve immediately, with the sauce.
Note: They really are best piping hot, so you don't want to make all 6 at once. Two at a time will do. If you feel up to it, cook with two skillets at a time. If not, slide the first pancake onto the rack in the preheated oven, make the second one, and then rush them both to the table.
What You Can Do Ahead
Still seem overwhelming? Here are a few tips on how to divide up dim sum-making tasks.
Day Before:
Make the cucumbers and chill them.
Blanch the pork riblets.
Make the scallion pancake sauce.
Make the scallion pancakes up to the point where they're rolled up. Refrigerate them, separating the rolls with parchment paper.
Morning Of:
Chop the ginger, garlic and scallions for the pork glaze.
Make a big pot of rice in the cooker (or in a pot on the stove).
Preheat the oven to 200 degrees.
Glaze the ribs and slide them in the oven to keep warm.
Take the cucumbers and pancake sauce from the refrigerator and set the table. Pull the ribs from the oven.
Roll out the pancakes and fry a couple in two skillets. Drain on paper towels, cut each in 8 pieces and serve. (You can always make more later. They'll hold up on a rack in the 200-degree oven for 5 to 10 minutes, but they're best eaten right away.)