Long Lines at Women's Toilets? It's the Law
Long Lines at Women's Toilets? It's the Law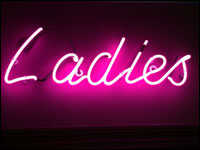 Designers of a new arena in St. Louis thought they were doing a good thing by putting more toilets in the women's restrooms. But as architecture professor Kathryn Anthony explains, their modest effort is only one small step in a direction that will require broad legislation.
"People always laugh," says Anthony, who is also on the board of directors of the American Restroom Association. "But it's an issue that affects all of us."
The problem hit planners of the new Chaifetz Arena at St. Louis University, who installed 120 toilets for women, compared with 103 toilets and urinals for men. It seemed like a gallant courtesy — but it may have been a violation of Missouri law.
Anthony says that, indeed, many states have laws on the books requiring equal numbers of fixtures. It's an example of bad laws with good intentions, she says.
To rectify those long lines, Anthony says, certain cities and counties around the country have passed specific regulations calling for double, triple or even quadruple the number of toilets for women's rooms. But she wants to see such laws nationwide.
Critics, meanwhile, say the last thing builders need is another set of regulations, but Anthony says the issue of restroom access is so important that the free market can't be trusted.
She calls the issue of restroom access a full-fledged public health issue, similar to laws for smoke-free environments. She says studies show that physiologically, women take longer to use the restroom. Moreover, forcing them to wait for long periods of time makes them susceptible to all sorts of problems, including urinary tract infections and other complications.
Anthony says Chicago's Soldier Field went too far in the opposite direction and that — now that men are finally confronted with the unfun situation of long lines — hilarity has not ensued. "We've seen some unpleasant behavior," she says. "We've seen men cutting in line, some men trying to enter through the exits."
"Until men have menstrual periods, until men get pregnant, or until men breast-feed or have babies, we'll always have a need for potty parity."
Related NPR Stories