Earthquake Rocks China's Sichuan Province
Earthquake Rocks China's Sichuan Province
A 7.8-magnitude earthquake hit China's Sichuan province on Monday, killing thousands. As many as 80 percent of the buildings in one county in the region have collapsed.
NPR's Melissa Block, who is traveling from the capital of the province, Chengdu, to the hardest-hit area to the northwest, says the roads are jammed with people. Fears of aftershocks have led many to camp outdoors for the night as radio reports urge people not to go back inside.
"Mostly, what you see are crowds and crowds of people alongside the road. It's now ... the middle of the night, and people are outside. I've seen people playing cards along the highway," she tells Alex Chadwick. "No one wants to be inside."
The quake hit at around 2:30 p.m. local time Monday. In Chengdu, buildings began to shake and rumble and people ran out into the streets, Block says.
"As we were walking through the city to try to get back across town, we saw patients from a hospital who'd been evacuated out into the street," she says. "We saw some people who had been injured by falling debris — a man with a big gash on his head, another woman whose foot was badly injured and was being carried on a friend's back to try to get medical help."
Gas lines were cut off because of concerns about aftershocks and there were reports of water-main breaks, but Block reports that Chengdu came through "remarkably unscathed." However, there are reports of devastation in the harder-hit areas. Communication in the region has been difficult.
Thousands Feared Dead as Earthquake Hits China
A Quake's Arrival
Melissa Block was in the process of recording an interview when Monday's earthquake hit. She then fled the building and reported on the scene in the city's streets.
Later, she headed to the scene of a collapsed middle school where children had been pulled from the rubble.
Melissa Block at Juyuan Middle School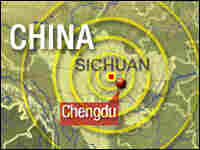 A Look at Chengdu
Relief efforts were underway Tuesday, a day after a powerful earthquake struck central China, killing as many as 12,000 people, officials said.
The magnitude 7.9 quake was felt as far away as Vietnam and Thailand. It appears to be the most devastating earthquake to hit China in more than three decades.
At a news conference Tuesday, China's disaster response director, Wang Zhengyao, said that 11,921 people have died so far from the quake centered in Sichuan province. The death toll from the quake is expected to rise even higher, with state media saying thousands are still trapped in collapsed buildings.
Approximately 80 percent of the buildings in Sichuan's Beichuan County were flattened in the quake, the official Xinhua News Agency reported Monday. A chemical plant in Shifang city also was destroyed, burying hundreds of people and spilling tons of toxic liquid ammonia.
Outside the city of Dujiangyan, at least 50 students were killed and 900 trapped after the three-story Juyuan Middle School collapsed. Buried teenagers could be seen struggling to break loose from under the rubble of the three-story building, while others cried out for help.
There were reports that army-led rescue workers had difficulty accessing the disaster area and were hampered by a lack of equipment. But large cranes outfitted with lights operated into the night to lift massive slabs of masonry, said NPR's Melissa Block, who was at the scene. Ambulances ferried away the survivors.
Dozens of bodies of children were laid out on the ground, waiting for parents to identify them, Block said. Once claimed, the bodies were wrapped in shrouds and brought under plastic tarps. Hundreds of parents waited for hours in the rain for word of their children.
Parents built makeshift shrines and placed the bodies of the dead on pieces of cardboard or plywood as they grieved over the small lifeless forms. Some lighted red candles or burned paper money to send children into the afterlife. Others set off firecrackers to ward off evil spirits. The grim ritual played out by dozens and dozens of families as they kept watch over their babies one last time.
Students also were buried under five other toppled schools in Deyang city.
The earthquake struck in the middle of the day, around 2:28 p.m. local time. People flooded into the streets as the ground shook, and many were trapped in collapsed buildings.
One man said he felt the road start to buckle when the earthquake began.
"The road started swaying as I was driving. Rocks fell from the mountains, with dust darkening the sky over the valley," a driver for Sichuan's seismological bureau told Xinhua.
Two girls were quoted as saying they escaped because they had "run faster than others."
In Dujiangyan, 45 miles north of Chengdu, a hospital collapsed with an estimated 100 people, NPR's Robert Siegel reported. Crane crews worked to rescue those trapped. Tents at a Red Cross center were set up to tend to the wounded as they waited for ambulances to take them to other hospitals.
The earthquake crashed telephone networks in Chengdu and plunged parts of the city of 11 million into darkness. Residents slept outside in cars or fled to the suburbs — far from the city's high rises — as more than 300 aftershocks rattled the area throughout the day, according to state-run media.
The devastation comes as China is preparing to host the Olympic Games, which begin in Beijing on Aug. 8.