Play Ball And Play Bop
Hear Five Classic Songs Below
The first month of baseball season belongs almost exclusively to hardcore fans who don't mind the inclement weather that sometimes accompanies early-season games. But now that spring is at hand and it's safe for the rest of us to head out to the ballpark, here's a chance for all baseball-loving jazz fans to get into the swing of the season with a few jazz songs that take their inspiration from the boys of summer. It's America's greatest art form celebrating the Great American Pastime.
Did You See Jackie Robinson Hit That Ball?
Buddy Johnson
Song: Did You See Jackie Robinson Hit That Ball?
from Jukebox Hits: 1940-1951
In 1947, Jackie Robinson put on a Brooklyn Dodgers uniform and broke the color barrier in baseball. That same year, bandleader and pianist Buddy Johnson wrote this song in celebration of that monumental achievement. When Johnson and his orchestra finally recorded the song in 1949 (after apparently updating the original words), it was a modest hit. It wasn't until Count Basie recorded it later that same year that it became a baseball standard — but it's Johnson's song, so let's hear Johnson's version.
Buy Featured Music
Song

Jukebox Hits: 1940-1951

Album

Jukebox Hits: 1940-1951

Artist

Buddy Johnson

Label

Acrobat

Released

2004
Your purchase helps support NPR programming. How?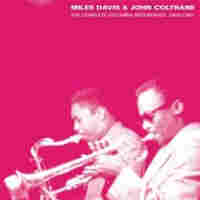 Miles Davis/John Coltrane
Song: Two Bass Hit
from Complete Columbia Recordings: Miles Davis & John Coltrane [2004 Reissue]
This song was originally written and recorded by Dizzy Gillespie and John Lewis in the late 1940s. While the original version was at least a solid two-bagger, it was Miles Davis, John Coltrane, Cannonball Adderley, Red Garland, Paul Chambers and Philly Joe Jones who finally punched it out of the park about a decade later, thanks in no small part to Jones' jaw-dropping drumming. The only thing this song has to do with baseball is the pun of the title, but any excuse to present playing of this caliber is worth pursuing.
Dave Frishberg
Song: Van Lingle Mungo
from Dave Frishberg Classics
One day in 1969, singer/songwriter/pianist Dave Frishberg was thumbing through a baseball encyclopedia when he came across the name Van Lingle Mungo. Mungo was a strikeout artist for the Dodgers and the Giants in the '30s and '40s and, for some reason, the sound of his name inspired Frishberg to compose a song using only the names of baseball players as lyrics. But what great names they are: Heenie Majeski, Johnny Gee, Eddie Joost, Johnny Pesky, Thornton Lee, Danny Gardella and (of course) Van Lingle Mungo. And that's just the first verse.
Mabel Scott
Song: Baseball Boogie
from 1938-1950
Given the equipment used in the sport of baseball, it's no surprise that songs occasionally use baseball as a metaphor for sex. What is surprising is that there don't seem to be very many of them. So thank goodness for big-band R&B singer Mabel Scott. In 1950, after years of working in bands led by Cab Calloway, Jimmie Lunceford, Johnny Otis and others, Scott recorded her delightful "Baseball Boogie" for King Records. Though now largely forgotten, Scott can still sometimes be heard on the radio around Christmastime — her "Boogie Woogie Santa Claus" has been widely anthologized — but this is how she sounded in the spring.
Take Me Out to the Ball Game
Dr. John
Song: Take Me Out to the Ball Game
from Baseball: The American Epic
At some point in just about every song ever recorded about baseball, either the singer or the band will quote the opening line from "Take Me Out to the Ballgame." It's become tradition, so for tradition's sake, here's "Take Me Out to the Ballgame" in full, performed by the high priest of New Orleans music, Dr. John. It's got to be one of the funkiest versions of this song ever recorded, so just pretend it's the bottom of the seventh, get up out of that uncomfortable stadium seat, and do what comes naturally.