Robert Rauschenberg, Art World's Tender Titan
Boundary-breaking pop artist Robert Rauschenberg died May 12 at the age of 82. Bettina Wiesenthal-Birch, who works at NPR's West Coast production facility, had known him since 1970, when she went to work for his lithography studio, Gemini G.E.L. — and she says his fearlessness helped change her life.
Sidney B. Felsen/Gemini G.E.L.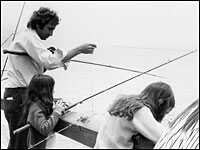 Sidney B. Felsen/Gemini G.E.L.
Bob Rauschenberg asked me two questions when I was 20 years old. "So what's so great about being right?" was one. And "What do you learn from being right?"
These questions rang deep, and they've influenced each day of my life. In answering, I realized that being right never made me happier or smarter. The questions gave me permission to make mistakes — which translated into a willingness to take chances.
Bob shared his curiosity, and I was able to see the bountiful results, which included lots of trys and retrys. And he witnessed many of my leaps of faith — and stumbles.
I thought about Bob when I opened my tiny garden shop, and then again as I supervised a huge landscape project, anxiously watching as a 50-ton crane, balanced on a hillside, lifted 35-foot trees over a house and a ravine. I thought about Bob when our family abandoned life in the city to start a certified organic farm. Bob inspired curiosity, and willingness — because he lived them.
Bob came by the enfant terrible label honestly. He stepped over lines, broke barriers, climbed trees; he juggled, erased, painted and built with tires, crimson silk, broken doors, open windows, macerated paper.
He loved materials, colors; he loved to touch, fold, look inside, turn it upside down, inside out, mix it up, take it apart, find the light — and share it. He collaborated with life.
And he loved the intimacy of working with people to find solutions. A friend of ours reminded me that in the late '60s, Bob got the idea to make a print using a full-body X-ray. It turned out the only place he could do that was in Rochester, N.Y.
But Bob had just arrived in Los Angeles from New York, and he didn't want to get back on a plane. Another friend knew an L.A. doctor with an ordinary X-ray machine — so the next day Bob went and had his body X-rayed in four parts, rather than the single scan he had originally envisioned. Thus was the iconic print "Booster" born.
Bob enchanted people. He loved engaging, be it with a good old buddy or a stranger in a crowd. He liked to rock the boat — as much as he loved to fish. (Reconciling those required both balance and inner quiet — two of Bob's most beautiful and best-disquised qualities.)
In 1976, we flew to Captiva, the Florida island where he lived and worked. We began our journey at the onset of a hurricane. There we were, squeezed into a four-seater plane, rocked to the left and to the right, bouncing around in the wind. It was scary, being in that metal object making its way through the sky, dodging big red lightning bolts.
But Bob had taught me to feel safe with uncertainty, to be all right with being uncomfortable. I realized suddenly that everyone I loved was in that plane — and that I was content with whatever lay ahead.
He'll be remembered as a pop-art pioneer, but his greatest creations include his kind, funny, talented son Christopher. Bob's kindness, depth and tenderness shone through, in his ebullient smile and sparkling eyes. I know that light still shines, in the galleries and museums where his work is enshrined — but oh, how I will miss his unmistakable embrace.