Poll: Rural Voters Not Reliably Republican in 2008
Poll: Rural Voters Not Reliably Republican in 2008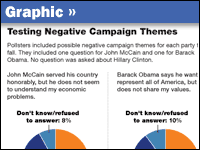 About the Survey
This week (May 13-15), 682 likely voters were surveyed by telephone in non-metropolitan counties in 13 "battleground" states (New Hampshire, Pennsylvania, Ohio, Michigan, Wisconsin, Iowa, Minnesota, Missouri, Florida, Virginia, Colorado, New Mexico and Nevada).

The polling was sponsored by the Center for Rural Strategies, a nonpartisan group trying to attract candidate and voter attention to rural issues. The Democratic polling firm of Greenberg Quinlan Rosner Research conducted the survey, which was jointly devised and analyzed with William Greener of Greener and Hook, a Republican political consulting firm.

The survey carries a margin of error of +/- 4.0 percent, at a 95 percent confidence level.
Overwhelming support in the nation's least populated counties was key to Republican victories in the last two presidential elections. But a new bipartisan survey indicates rural voters are not so reliably Republican in 2008.
The poll indicates that Arizona Sen. John McCain, the presumptive Republican nominee, cannot count on rural voters to provide him a winning margin in the November presidential election. Double-digit margins in places beyond cities and suburbs are credited with giving President George W. Bush his margins of victory in 2000 and 2004.
In head-to-head match-ups, the rural voters surveyed split evenly between Democrat Hillary Clinton and Republican McCain. Each garnered 46 percent of the rural vote in the poll.
That's a stunning reversal for Clinton, who rated as unpopular as "illegal aliens" in a similar rural survey done just last year. Clinton and her husband, former President Bill Clinton, have worked hard since then to win over rural voters.
But Democratic Sen. Barack Obama didn't fare as well, trailing McCain by nine points among the rural voters surveyed. McCain is favored by 50 percent of those polled; Obama gets 41 percent.
But a single-digit lead over Obama, who many consider to be the likely Democratic nominee, is not what Republicans expect or need from the voters in rural counties — which have been the reddest regions on the political map in the last decade.
"The message for Sen. McCain is, 'You're off to a strong start in rural America,'" says William Greener, a Republican political consultant who helped devise the survey. But McCain "can't take the region for granted," Greener adds. "If [McCain] doesn't continue to build upon the advantage, it's hard to see how the math comes up that we win on Election Day."
"Rural voters have been base supporters in the last two election cycles for George Bush," notes Anna Greenberg, the Democratic pollster who conducted the survey. "And if John McCain can't win rural voters by the same kind of margin that George Bush did, it's hard for me to see how he wins the election."
President Bush won rural counties by 16 percentage points in the 2000 election and 19 points in 2004. Those margins helped overcome Democratic dominance of urban areas and tighter contests in suburbs.
"This poll is more good news than bad news for Obama," says Alan Abramowitz, a political scientist at Emory University in Atlanta. "Because he's only losing rural voters by nine points. ... He's pretty well-positioned to do very well in these swing states."
Abramowitz analyzed the survey at NPR's request, including questions about issues. The responses indicate that the economy is the issue that can give Democrats greater gains among rural voters.
"That's where the Republicans are most vulnerable," Abramowitz concludes. "If the Democrats can't capitalize on that, particularly among these white working-class voters, they may as well pack up their bags and go home."
The survey asked whether Obama or McCain would do a better job with the economy. Forty-four percent of the respondents chose Obama; 36 percent chose McCain.
The rural voters polled were also asked whether they agreed or disagreed with this statement: "John McCain served his country honorably, but he does not seem to understand my economic problems." More than half agreed with that dismal assessment of McCain's economic sensitivity.
The economy, the price of gas and the loss of American jobs to foreign countries are the big issues for Chris DeYoung, who participated in the survey and works for a radio bible ministry in Dorr, Mich. He voted for President Bush twice, but he's leaning toward Barack Obama now.
"I think [McCain] has not been able to relate to what the American public is going through at this time," DeYoung says. "He has his head in the game more for foreign policy than Obama. But as far as the economy and jobs, I don't know that [McCain] has shown too much on that over the years."
"This is going to sound shallow," DeYoung admits. "But I'm also probably worried about [McCain's] age."
The survey didn't ask about age, gender or race as issues, but it did ask about values, which is what many Republican and Democratic strategists consider key to the Republican victories in 2000 and 2004, especially among rural voters.
When asked which candidate they saw as "sharing your values," 44 percent chose McCain and just one-third chose Obama.
This statement was also included in the poll: "Barack Obama says he wants to represent all of America, but he does not share my values." More than half of the people surveyed said they agreed with that statement, including Shirley Jarvis, a registered nurse in Van Wert, Ohio, who would vote for Hillary Clinton if she appears on the November ballot.
"I have a sense of distrust of Obama," Jarvis says, citing the controversial statements of the Rev. Jeremiah Wright, Obama's former pastor. "Barack Obama chose not to leave that church or not to speak up against [Wright] until it became a political issue."
So, Jarvis is leaning toward Republican McCain. "I can at least trust [McCain's] convictions more than I can trust Obama."
Republican political consultant William Greener says the survey responses indicate McCain can increase his rural margin.
"The challenge is to continue to build upon the matter of values, while at the same time, demonstrating the ability to address and solve the economic challenges that confront rural America."
The survey's sponsor plans to measure the success of the rural appeals of the candidates with two more rural polls before the November election.
Related NPR Stories