Hilary Hahn and Josh Ritter: An Uncommon Duo
Hear the complete New York concert below
Hilary Hahn and Josh Ritter: An Uncommon Duo
"Idaho"
"Best for Best"
"Folk Bloodbath"
"Kathleen"
Hilary Hahn and Josh Ritter: Trading Tunes
"Last Rose of Summer"(Ritter)
Heinrich Wilhelm Ernst: "Variations on the Last Rose of Summer"(Hahn)
Ernst: "Erlkonig" (after Schubert) (Hahn)
"The Oak King" (after Schubert) (Ritter)
Carl Nielsen: "Prelude, Theme and Variations"
J.S. Bach: "Sonata No. 2 for Solo Violin"
Eugene Ysaye: Sonata No. 5 for Solo Violin"
Hilary Hahn and Josh Ritter together
"Girl in the War"
"Thin Blue Flame"
"Bone of Song"
Nicolo Paganini: "Cantabile"
Two Worlds Collide
Hear Josh Ritter and Hilary Hahn discuss their colloboration with WNYC's Terrance McKnight.
Ritter: Hilary the Tornado
Ritter: Don't Call it Crossover
Hahn: What I Learned from Ritter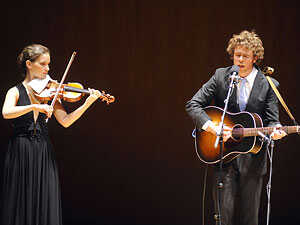 Musicians from the pop and classical music worlds always seem to be collaborating. The results — sometimes called "crossover" — can often be a mishmash of music that doesn't quite sound like classical or pop.
Hilary Hahn and Josh Ritter are unlikely collaborators who are crossing into each other's territory in different ways. Hahn is a top classical violinist. Ritter is a folk-rocker. The two shared a stage at New York's Metropolitan Museum of Art recently: She played classical pieces for solo violin, and he sang songs from his albums.
When Ritter plays a concert with Hahn, at least half the audience is used to hearing Beethoven and Bach. As the Met show began — in a museum that houses paintings by Picasso and Van Gogh — Ritter said he was "storming the gates of irony," and he later remarked that it was cool to play in a place without a neon sign behind him and without anyone throwing beer bottles.
While Ritter is warming to upscale classical venues, Hahn has a different challenge. She says she's still learning how to improvise around Ritter's gentle rock songs.
"It's especially nerve-wracking playing before audiences that know something about it," she says. "At the same time, though, I don't want to write out a part; I don't want to take a shortcut. So sometimes you have to take the risks and try new things, and sometimes they fall flat in a concert, but some nights they click, and it's those nights that click that you can keep in mind and try to learn from."
The concerts Hahn and Ritter give together are experiments. They each play their own music and come together only on a couple of tunes throughout the evening. It's not a crossover project marketed by a record company. Hahn and Ritter think of it more as a double bill. They first performed together at a club in Montreal, Ritter recalls. He invited her to improvise with his band and play a classical tune on her own.
"She's like standing next to a tornado when she's on stage and playing," Ritter says. "It's something I don't get the chance to see. I feel like I'm standing inside music."
When Ritter backs up Hahn on a classical piece, he says he is forced to do something he's not used to — read notes from a music stand.
"We do a piece together at the end of the night, the 'Cantabile' by Paganini, and that has been the biggest musical summit of my life so far," Ritter says. "When that song is over, I just feel this weight lift off me."
Ritter and Hahn ask a lot from themselves, and they ask a lot from their audiences. Half come for her; the other half, for him. By the time it's over, Hahn says, a few discoveries have been made.
"There are a lot of people I've met after a show with Josh who said, 'Well, you know, I'm not really a classical person — I don't listen to a lot of classical music — but I really loved that stuff you played.' "
Ritter and Hahn are both hugely successful on their own. Her new CD of violin concertos is at the top of the Billboard classical charts, and he's been widely compared to Bob Dylan and Bruce Springsteen. Ritter says they perform together for the musical connections, not the money.
"Our motive was to see if two types of music that were done very differently could be brought together for a single evening," he says. "But we really didn't want to meet each other on each other's grounds, because I can't play what she plays, and she can't play what I play. We want to trust that the audience is going to appreciate both of those things."
(Special thanks to the Music Division of WNYC in New York.)
Related NPR Stories
Web Resources