Booksellers' Selections for Summer Afternoons
Booksellers' Selections for Summer Afternoons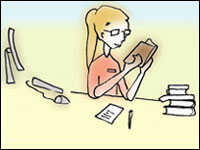 The Complete List
Novelist Henry James once said the two most beautiful words in the English language were "summer afternoon." And what better way to spend a summer afternoon — or a spring, fall or winter afternoon for that matter — than curled up with a good book?
To that end, we huddled with booksellers from three independent bookstores to get their selections for the very best reads this summer.
And the picks are in! This year's selections feature a little bit of everything: from Don Lee's wacky brussels spouts farmers in Wrack & Ruin to Irina Reyn's re-imagined (and thoroughly modern) Tolstoy heroine in What Happened to Anna K. Whatever your reading fancy, our booksellers promise many pleasant afternoons, summer or otherwise.
Last Year's Summer Suggestions
Rona Brinlee, The Bookmark
Recommendations from a store by the sea, The Bookmark in Atlantic Beach, Fla.
Steve Shapiro, Rainy Day Books
Steve Shapiro is the former Book Maven at Rainy Day Books in Fairway, Kan.
'The Guernsey Literary and Potato Peel Pie Society'
The Guernsey Literary and Potato Peel Pie Society, by Mary Ann Shaffer and Annie Barrows, hardcover, 288 pages
This curiously titled epistolary novel begins innocently enough: London, 1946. Juliet Ashton, having published a collection of quaint wartime newspaper columns, is searching for her next, more proper subject when a letter arrives from the small island of Guernsey off the English Channel.

The correspondent explains he has come into possession of a book of hers, and an exchange of letters begins. As they banter about books and life, Julia is soon exchanging letters with other islanders, too.

What might continue like an amiable BBC comedy turns more serious as the islanders reveal the origins of their unique literary society: Guernsey was occupied for most of the Second World War by German troops — the book (and baking) society was both a diversion to keep the Nazis ignorant of the islanders' activities and, it turns out, a life-changing development for many of the rural Guernseyites, who discovered such faraway authors as Seneca and Wordsworth.

The story of their island Occupation reads like a hidden piece of history, alternately moving and charming, but always memorable — as much for the human suffering as for the wartime humor that surfaces when needed like a forgotten gene.
'The Legal Limit'
The Legal Limit, by Martin Clark, hardcover, 368 pages
As old as Shakespeare, the courtroom drama is the perfect stage for a continuing parade of human follies. That theatricality appeals to author Martin Clark, a circuit-court judge in Virginia who uses his day job as serio-comic material for his rascally legal novels.

This story pits two brothers against each other in a Southern-style Cain-and-Abel saga. Gates Hunt is a something of a dope and a dope dealer; Mason, his younger brother, is a prestigious attorney.

A random killing by Gates in Mason's presence when both are younger provokes Mason to cover up the evidence. Twenty years later, with Gates in prison for dealing drugs and Mason the commonwealth's attorney, Gates hassles his brother to intervene.

Refused help repeatedly, Gates brings up the secret that has bound them together and now threatens Mason's public downfall. How the two face off — and especially how Mason suffers for his brother — makes for spirited reading. Gates' plea to Mason, "That's what you guys do, work the system and find loopholes. Twist words to make them different," is a painful truth with no easy moral loopholes.
'What Happened to Anna K.'
What Happened to Anna K., by Irina Reyn, hardcover, 256 pages
Irina Reyn's deft debut novel dusts off Tolstoy's great 19th-century romantic heroine and re-imagines her as a complex — yet still dreamy-eyed — modern woman of today.

All the elements of Tolstoy's moralistic epic are evident, transplanted to New York, particularly to the Russian émigré community in Queens: Anna enters a bland marriage to an older man (a regulation Russian businessman); she develops a passion for an enthralling lover (David, a would-be writer); and there is even a suggestion of a train station — naturally, Penn Station.

Yet this novel is no more a strict homage than a pale modernization; Moscow-born and Brooklyn-based Reyn creates in Anna a fully formed character, whose dreams and realities clash like the two cities that make Reyn such an observant, wry writer.

The felicitous flashes of outsider humor shimmer across the page, like a tour guide breezing by the shop windows on Fifth Avenue. Anna's past, both parental and personal, are ever-present, threatening to crowd out her yearnings to be Russian, American and womanly all. Caught between the Guggenheim and goulash and tugged between the pangs of love and duty, daydreams and day-to-day responsibilities, Anna K. is more comedic than her tragic counterpart.
'America America'
America America, by Ethan Canin, hardcover, 480 pages
Just as Henry James placed his honest American heroines in duplicitous European settings, Canin's novels situate good-hearted young men in foreign milieus, forcing them to discover their inner selves through learning about — or failing to understand — others.

In replaying the memories, regrets and lingering mysteries posed by Corey Sifter, a middle-aged newspaper publisher for a small New England town, this politically nostalgic novel hews along the lines of Robert Penn Warren's classic, All the King's Men, in which the narrator is at the seat of power but never able to grasp his own part in the intrigue.

As a teenager in the 1970s, Corey, the child of a middle-class, union family, is informally adopted by the wealthy Metarey clan. Old man Metarey is the mastermind behind a Democratic senator's presidential bid against Richard Nixon's re-election campaign. He represents the pawnbroker of old, a man who can do things for people just as easily as he can do things to people.

Canin explores power and influence — including the way a potentially damaging story can simply vanish from newspapers — in this expressive, impressive remembrance of politics past.
'The Prince of Frogtown'
The Prince of Frogtown, by Rick Bragg, hardcover, 480 pages
Rick Bragg's memoirs about his impoverished Alabama childhood — forever fighting with a father who drank, lied and (in the best instances) simply disappeared; forever doting on a mother who, famously, went 18 years without buying herself a new dress — read like the stuff of myth.

Yet even after All Over but the Shoutin' and Ava's Man, in which he etched loving portraits of his mother and of Southern families of the Depression era, Bragg's storytelling well has not dried up. If anything, this latest memoir feels as new as the first.

Here, Bragg writes of meeting a woman he finally feels serious about; it is her son from an earlier marriage, however, who threatens him. An instant stepson means Bragg must make instant decisions on whether he will be the shadow of his own father or the father he can be — if only he knew what that was.

In prose burnished by living the moment, the chapters interweave stories about Bragg's larger-than-life father and his stepson. But this book is plainly not about reveling in pain or exorcising sorrows; it is simply a book of facts. Tell your facts straight and you have your story.
Buy Featured Book
Title

The Guernsey Literary and Potato Peel Pie Society

Author

by Mary Ann Shaffer and Annie Borrows
Your purchase helps support NPR programming. How?
Buy Featured Book
Title

The Legal Limit

Author

Martin Clark
Your purchase helps support NPR programming. How?
Buy Featured Book
Title

What Happened Anna K?

Author

Irina Reyn
Your purchase helps support NPR programming. How?
Buy Featured Book
Title

America America

Author

Ethan Canin
Your purchase helps support NPR programming. How?
Buy Featured Book
Title

The Prince of FrogTown

Author

Rick Bragg
Your purchase helps support NPR programming. How?
Lucia Silva, Portrait of a Bookstore
Lucia Silva is the book buyer at Portrait of a Bookstore in Studio City, Calif.
'My Mistress's Sparrow Is Dead'
My Mistress's Sparrow Is Dead: Great Love Stories, from Chekov to Munro, edited by Jeffrey Eugenides, hardcover, 608 pages
If you only read one (gasp!) book this summer, make it this one. Like a great mix tape, My Mistress's Sparrow Is Dead is inspired and personal, a conceptually coherent gathering of seemingly disparate pieces that relies on Jeffrey Eugenides' artful curatorship to make it resonate as a whole.

By placing James Joyce next to Denis Johnson, Chekov next to Grace Paley, Nabokov next to Lorrie Moore and Stuart Dybek next to Miranda July, Jeffrey Eugenides makes familiar voices fresh and new and invites us to read authors we might not have picked up otherwise. He edits like a fan, not a scholar, and isn't afraid to pick favorites, which is exactly what makes this a book you'll want to keep forever and give to all your friends. Keep in mind, though, if it's romantic comedy you're looking for, you'll want to skip this collection and hit the movie theater instead. But if you're in the market for jaw-dropping, miss-your-train-stop, weep-in-front-of-strangers writing, you can do no better than this truly stellar collection.
'Mudbound'
Mudbound by Hillary Jordan, hardcover, 336 pages
Easily the best new novel I've read this year, Mudbound bears witness to some of the horrific, unjust beliefs and actions that stain our nation's history, offering a token of literary justice that resonates much deeper than a mere drop in the best-seller bucket.

Set in 1946, on a failing farm in the Mississippi Delta, Mudbound is narrated by six characters who trade brutal prejudices and curse the circumstance that determine their fates. Struggling to raise her children on a mucky, isolated farm with her pragmatic husband and his sour, bigoted father, city-bred Laura McAllan welcomes the unexpected arrival of her charming young brother-in-law Jamie. But when Jamie forms a tentative friendship with the soldier son of the black sharecroppers on the McAllans' land, the hateful precepts of the Jim Crow South draw the story to its inexorable conclusions.

Hillary Jordan swings nimbly from voice to voice. Each character is fully fleshed out and instantly distinct upon the page, and the drama moves forward with the force of a freight train. Mudbound is a finely wrought page-turner, a brave and beautiful book that signals the arrival of a great new talent.
'Today: 101 Ghazals'
Today: 101 Ghazals, by Suzanne Gardinier, paperback, 193 pages
Suzanne Gardinier takes a centuries-old poetic form — the ghazal — and injects its trademark themes of love and longing with words, references, metaphors and images that recall a more modern age: Manhattan, a country house, her lover's bedroom, the daily news. The resulting poems elicit a distinctly modern sexiness and political resonance from the inherently lyrical, lilting and musical form.

With endnotes that reference Joni Mitchell, Moby Dick, James Baldwin, the Bible and numerous news articles, these are the poems of a writer and a reader who prizes revelations of all kinds. They demand to be read aloud, given as gifts and photocopied for friends. They are poems that remind us that poetry is for everyone.
'Let the Northern Lights Erase Your Name'
Let the Northern Lights Erase Your Name, by Vendela Vida, paperback, 256 pages
The day after her father dies, 28-year-old Clarissa Iverton learns that he wasn't really her father. The only clue she has to the identity of her biological father is a stranger's name on a hidden birth certificate left behind by the mother who disappeared when Clarissa was 14. Completely adrift in the fast-dissolving narrative of her life, Clarissa's search for her real story takes her past the Arctic Circle, among the indigenous people of Lapland and their own secrets and mysteries.

Vendela Vida's sparkling, spare prose and emotionally cold characters match the darkly magical landscape of a perpetual winter and the northern lights. As much a captivating literary thriller as a thoughtful meditation on how much the stories we tell about ourselves define us — and how much we can reinvent ourselves by telling new ones — this is an unusually icy summer read.
'The Story of a Marriage'
The Story of a Marriage, by Andrew Sean Greer, hardcover, 208 pages
Pearlie and Holland Cook are like any other married couple in the early '50s — quietly loving, engaged in a polite dance of circumstance and genuine affection — until a friend from Holland's past shows up on their doorstep and changes everything.

Gradually, the Cooks' assumptions about their marriage — and each other — are thrown into question as the plot twists and thickens, the suspenseful pace slowed only by the inevitable savoring of Andrew Sean Greer's sumptuous prose. Ultimately, The Story of a Marriage is a well-crafted meditation on the extent to which one can ever know another, what knowing someone really means, and how much one can sacrifice in the name of self-preservation and the escape of loneliness. The brevity of this slim little gem of a book belies its emotional and psychological depth.