Five Albums I Can't Do Without
John Abbott/Courtesy of the artist
These are records that freaked me out when I first discovered the music we call jazz. Though not necessarily life-giving — you can't eat them, they don't give you shelter and, last I checked, I can't get paid for listening to them — they are life-defining. And what I've discovered is that these records don't grow stale, like so many others, but instead inform and help shape my work to this day.
Today, this list might seem basic, but these records were among the first jazz albums I listened to — and wore out — and they truly changed my life.
Five Albums I Can't Do Without
Relaxin'
Song: If I Were a Bell
by
The opening of Miles' solo on "If I Were a Bell" is what made me decide to become a jazz musician. The combination of Red Garland (piano), Philly Joe Jones (drums) and Paul Chambers (bass) seems to be the most relaxed, swinging-est rhythm section of all time. It's also great to catch John Coltrane in the period when he's just beginning to experiment with his concepts, but still plays lyrically.
Now He Sings, Now He Sobs
Song: Windows
by Chick Corea
Among the finest trio recordings ever. Chick's piano playing is so fluid, yet without histrionics and unnecessary virtuosity. It's lean and without gimmicks. I particularly love the way drummer Roy Haynes plays "around"; he never gets in the way and manages to elasticize the beat.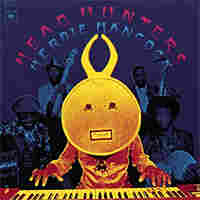 Head Hunters
Song: Watermelon Man
by Herbie Hancock
Beyond its incredible commercial success, this record is rife with great jazz playing. The middle section of "Chameleon" has an extended Herbie Hancock solo on the Fender Rhodes that is classic Herbie, but within a funk setting: It's rich with harmonic sophistication and swinging, round-phrased finger work. Harvey Mason's drum work is the definition of funk. Also, "Watermelon Man" opens with a combination of percussion sounds and effects by Bill Summers that really opened my ears to rhythms and concepts from around the world.
A Love Supreme, Pt. 1: Acknowledgement
A Love Supreme
Song: A Love Supreme, Pt. 1: Acknowledgement
by John Coltrane
Must-have listening for anyone who calls him or herself a jazz musician. The definitive work of a grand master: Even my dad (Latin jazz composer/arranger Chico O'Farrill) listened to this record, and he was as old-school as they come. The thing I love about this work is that John's lines are virtuosic, strong and pure, but never at the expense of his spiritual statement. It's not muscular jazz for the sake of showing off; it truly flows from within.
Mingus Ah Um
Song: Boogie Stop Shuffle
by
This record is pure genius, both compositionally and playing-wise. The combination of Charlie's bass and Dannie Richmond's drums is uncanny; their lockup is profound. Throw pianist Horace Parlan into the mix, and the time gets rubbery and grounded at the same time. Booker Ervin (tenor sax), John Handy (alto sax) and Jimmy Knepper (trombone) also play with unbelievable fire and poetry. What a great record: I turned my sons Zack and Adam onto it, and it freaked them out, as well.
Arturo O'Farrill leads the 18-piece Afro-Latin Jazz Orchestra. He took over the baton from his father Chico O'Farrill, a pioneer of Latin jazz during the 1940s and '50s.
Web Resources