Two Takes on Karachi from Leading Citizens
Two Takes on Karachi from Leading Citizens
The Urban Frontier:
About the Series
This year, according to the U.N., half the world's population lives in cities and the proportion will only increase. Morning Edition begins an occasional examination of the world's cities with a series of profiles from Karachi, Pakistan's economic powerhouse.
Essay: Karachi Calling!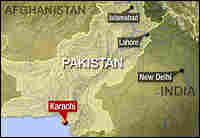 As many as half of the Pakistani city's 15 million or so residents live in squatter homes, even as foreign firms pour money into luxury developments. Morning Edition host Steve Inskeep writes about the contradictions of Karachi.
Pakistan's sprawling city of Karachi is one of the world's most-populous places, growing and changing at a breakneck pace. Two of its leading citizens — the niece of a former prime minister and a colorful newspaper columnist — offer their views of how this dynamic city has changed.
Both Fatima Bhutto and Ardeshir Cowasjee have found ways to speak out — even in times of military rule and political violence.
"Karachi is a city unlike any other I've ever visited," says Bhutto. "This is a city of immense importance. But it's also a very sad city because of what's happened here, because of what continues to happen here."
She is the niece of former Prime Minister Benazir Bhutto, who was assassinated in December 2007 in the city of Rawalpindi — two months after escaping an attack on her motorcade in Karachi.
A Young Bhutto
Fatima Bhutto, 26, sits in the home office formerly used by her late aunt. Her grandfather, former Prime Minister Zulfikar Ali Bhutto, had used the same office until he was hanged in 1979.
One wall of the office features a large painting of Zulfikar Ali Bhutto addressing a crowd. His granddaughter does her shouting in print. She's a writer, and some of her newspaper columns make clear that she was a vocal opponent of her own aunt's government.
The reason for that, she says, was a series of killings in Karachi.
Her father, Mir Murtaza Bhutto, died in 1996 during the last year of Benazir Bhutto's second term in office. He died under mysterious circumstances at the hands of police, Fatima Bhutto says.
"I last spoke to my aunt about that," she says. "I called her when I found out that the witnesses had been arrested and the police reinstated, and I asked her why that was."
Fatima Bhutto was 14 at the time. "She told me that I was very young and I didn't understand the intricacies of the law and it's not like the movies. We do things differently here. So I don't feel really that she answered my questions in any way that was meaningful. I wish she had because ... these are questions that resurfaced after she was killed."
Fatima Bhutto is frequently asked if she will follow her famous relatives into public office. She has dismissed the idea so often that the question wasn't asked during the interview. But perhaps that was a mistake: The local newspaper showed her working a rope line of admirers as her mother talked about placing her in the National Assembly.
The Eccentric Columnist
Ardeshir Cowasjee, 82, is a very different voice in Karachi. He is a columnist for the newspaper Dawn and has been involved in Pakistan's politics for decades. In the 1970s, he was briefly imprisoned by Zulfikar Ali Bhutto.
Amid a brilliant green lawn surrounded by trees and a stone wall is the cool, stone house where Cowasjee lives.
He opens the door wearing shorts and a bathrobe, and he invites a producer to remove her scarf and also, if she wanted, her shirt.
Without so much as a hello, the white-bearded man heads straight to the bar.
"Whiskey? Soda?" he asks, pouring himself a glass of orange juice and quinine.
Cowasjee, a native of Karachi, recalls when the city was a very different, much smaller place.
It was "a very nice city," he says. "There was discipline. There was law and order .... A chap got killed once in two years."
Born in 1926, he grew up in this port city. His family owned cargo ships, and Cowasjee has paintings of two ships on his wall.
Unlike other non-Muslims, he stayed after Pakistan was formed as an Islamic state. He stayed even after the government nationalized his family's shipping company.
"Why should I leave my home? Who the hell are you?" he says.
Cowasjee says Karachi is the only place for him.
"I'm 82," he says. "Where do you want me to end up — in an old people's home in America?"
In a recent newspaper column, he referred to Pakistan's founder, Mohammad Ali Jinnah, as "that man of great perception," then added, "there were no others to follow him."
People in Karachi take his columns seriously. He's the kind of writer who's willing to compare some provincial official to an out-of-touch French king. He's also become involved in one of Karachi's central issues: land usage. He has joined lawsuits to stop developers from misusing land. He fights to preserve open space, though he says he wins no more than one time in 10.
For him, the battle began close to home.
"You see the trees in my garden?" Cowasjee asks. "You see the little plot outside my garden? It's constant war all the time for the last 50 years."
A strip of land just outside his wall was marked off years ago for development. But Cowasjee planted trees there and has managed to keep it green ever since.
"I'm looking after my own backside," he says.
Cowasjee gestures into the next room "You see this wall? That's my library," he says.
He is looking at a floor-to-ceiling window that shows his lawn, and his trees. His dining room chair is positioned so that he can look out that window whenever he takes his meals alone.
Related NPR Stories
Web Resources