Bo Diddley Influencing Generations of Rockers
Bo Diddley Influencing Generations of Rockers
Blues legend Bo Diddley died yesterday at the age of 79, but his musical legacy lives on. Farai Chideya talks with Rob Fields, a music marketing executive and black rock blogger, about the musicians Diddley influenced and the current state of black rock and roll.
FARAI CHIDEYA, host:
With his rectangular guitar, Bo Diddley reshaped rock and roll. He died yesterday of heart failure at the age of 79. Born Ellas Otha Bates in Mississippi in 1928, Diddley influenced musicians like Buddy Holly, Bruce Springsteen, and the Rolling Stones.
We've got music blogger and marketing executive, Rob Fields, to talk about Bo Diddley's contribution to American music. Rob blogs about black rock at boldaslove.us. Thanks for coming on.
Mr. ROB FIELDS (Blogger, boldaslove.us): Thanks for having me, again, Farai. How are you today?
CHIDEYA: I'm doing great. So, people like Bo Diddley and Little Richard and Chuck Berry are royalty in the rock music world. And some people forget that African-Americans were the original pioneers of rock and roll. Why was Bo Diddley important?
Mr. FIELDS: Bo Diddley was important because he did something that was completely unheard of at the time, and that was, he used his guitar as a percussion instrument, not as melody or color, but as something that was an extension of what drums would be doing.
So, his famous Bo Diddley beat, that bomp a bomp a bomp, bomp, bomp, you know, has been used for music throughout the last 40 years. And it has been in songs as diverse as, you know, "Not Fade Away" by Buddy Holly on up to "I Want Candy" by the Strangeloves to the Stoogies 1969 to "Faith" by George Michael, to U2's "Desire." I mean the list goes on.
CHIDEYA: I actually want to play you a little bit of Led Zeppelin because, recently, we talked on our show about the ways that that group appropriated blues and early black rock.
Mr. FIELDS: Mmm hmm.
(Soundbite of song "Talk About Love")
LED ZEPPELIN (singing): Talk about love. Talk about love. Talk about...
CHIDEYA: So, you know, Led Zeppelin added a little bit of - there was a heavy bottom and, you know, a fullness to Led Zeppelin's sound...
Mr. FIELDS: Mmm hmm. Right.
CHIDEYA: But, you know, how do you think a group like that, you mentioned so many already, and now I have "I Want Candy" stuck in my brain...
Mr. FIELDS: Right. Exactly.
CHIDEYA: But how do you think Bo Diddley influenced Led Zeppelin?
Mr. FIELDS: I mean, I think that that whole, I mean, part of the Led Zeppelin mystique was sort of Robert Plant's front man status, and Bo Diddley's also known for his sort of larger than life personality, his braggadocio, his, what shall we call this? Self-mythologizing. I mean, you see it today in artists like Kanye West.
So, but he was this kind of dangerous guy and that was his persona. I mean, he's a nice guy, but his on stage persona was dangerous and, sort of, full of sexual come on, and, you know, that was a lot of the Led Zeppelin mystique.
CHIDEYA: Speaking of the sexuality, how do you think that was perceived culturally, during the era when, you know, really, African-Americans created and ruled rock and roll and, yet, were so popular with a multi-racial audience?
Mr. FIELDS: It really, I think, hurt him because what was more palatable to white audiences was sort of the more sexually ambiguous artists. You know, sort of like, you know, Little Richard, I mean, Little Richard was not sort of this threatening black man. You know, he was sort of flamboyant and sort of, more of a show man kind of thing.
But that really hurt him and, in fact, there's one story where Bo Diddley almost got into a fight with Ed Sullivan because of some misunderstandings on the "Ed Sullivan Show" about what song he was supposed to play. Ed Sullivan wanted him to play one song, but he wanted to do his "Bo Diddley" song, so that's what he did. And Ed Sullivan ended up calling him, boy, and said, boy, first time a black boy's double crossed me. Imean, they had to pull Bo Diddley out of there because he was about to jump on Ed Sullivan.
CHIDEYA: Wow. Well, you know, we've talked about how Bo Diddley affected the paths of white musicians, but, also, there's a black rock movement. It was started really in the 1980s with the black rock coalition. You helped play a role in its creation. And, now, we've seen something where there are new black rock acts emerging.
Spoken word artist and actor Saul Williams' CD "The Inevitable Rise and Liberation of Niggy Tardust!" is getting critical acclaim.
(Soundbite of song "Bloody Sunday")
Mr. SAUL WILLIAMS: (Singing) We can be as one tonight. Broken bottles under children's feet.
CHIDEYA: Now, that's his rendition of the U2 classic, "Bloody Sunday." So, do you see things kind of going in full circle right now with the evolution of rock out of the African-American community and kind of a reclaiming of it?
Mr. FIELDS: Yeah, definitely. I mean, I think that, you know, we are in the midst of this huge cultural shift right now. And, you know, Barack Obama's only the largest and most visible aspect of that, but one of the things that Bo Diddley represented was this artist who was very clear from the beginning that he wanted to do his own thing and have his own sound. He was clear that he did not want to sound like anyone else.
And what you're finding now, particularly amongst black rock artists and black audiences, is that they want artists to be individuals and create a new sound. And they don't want them to be cookie cutter.
And that's what black rock artists in the larger sense of the term have always been about, sort of exploring their own personal taste, but filtering it certainly through, you know, a black cultural sensitivity, but, you know, really embracing the fullness of American music and international music and just being themselves.
CHIDEYA: Give me a quick hit on how you think the internet and iPods are changing the game?
Mr. FIELDS: Oh, my god! I mean, this cultural shift is being driven by the internet, by broadband connections, by the fact that, you know, you can find and more easily discover music today than at any point in the past.
Certainly, it's also being driven by, you know, these, what we call the millennial generation, folks in their 20s, who have much different attitudes than the boomers did about race and gender and sexuality, and just their whole attitude is sort of beginning to be felt.
And so, that's opening up areas of experimentation, of music discovery from one person to another on an individual basis. It's happening even as we speak.
CHIDEYA: And you can get yourself a little Bo Diddley while you're at it. Rob, thanks.
Mr. FIELDS: Thank you.
CHIDEYA: Rob Field is a marketing executive. He also blogs about black rock at boldaslove.us. He joined us from our NPR studios in New York City.
(Soundbite of song "Road Runner")
Mr. BO DIDDLEY: (Singing) Oh, yeah. How am I doing? Oh, beep beep. Take my hand, baby. I want to prove to you that I'm a...
CHIDEYA: That's our show for today. Thank you for sharing your time with us. To listen to the show or subscribe to our podcast, visit our website nprnewsandnotes.org. To join the conversation or sign up for our newsletter, visit our blog at nprnewsandviews.org.
News & Notes was created by NPR News and the African-American Public Radio Consortium.
NPR transcripts are created on a rush deadline by an NPR contractor. This text may not be in its final form and may be updated or revised in the future. Accuracy and availability may vary. The authoritative record of NPR's programming is the audio record.
Rock Pioneer Bo Diddley Dies at 79
Rock Pioneer Bo Diddley Dies at 79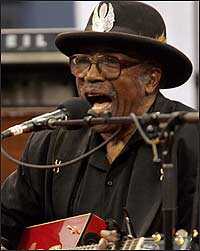 Michael Ochs Archives/Getty Images
Allen Toussaint on Bo Diddley
Allen Toussaint Remembers Bo Diddley on WBGO
One of the fathers of rock 'n' roll died Monday at the age of 79. Bo Diddley was born Ellas Bates in Mississippi and grew up in Chicago, where he played guitar on street corners before being discovered by Chess Records. He leaves behind a sound that helped build a musical movement.
Diddley's signature rhythm, among the most distinctive beats in rock 'n' roll, can be heard on songs like "Who Do You Love?" and "Bo Diddley." Scholars trace the pattern to church tambourines, West African drumming, and a hand-patting rhythm called Hambone that goes back to slavery. But Diddley told the public radio show American Routes that he found it someplace else.
"I was trying to play 'I Got Spurs That Jingle Jangle Jingle' by Gene Autrey, and stumbled upon that beat," Diddley said.
The beat may have come from a television cowboy, but later, Diddley described it as "basically an Indian chant."
"Just picture dancing around a daggone big fire, dancing around with their spears," he told Morning Edition in an interview.
Regardless of the beat's source, music historian Peter Guralnick says that Diddley made it big enough for everyone.
"That was just an invitation for people to step into," Guralnick says. "Lots of people imitated it; lots of people carried it on."
These people included Eric Clapton, The Rolling Stones, Jimi Hendrix, and Bruce Springsteen.
"It's almost as if he foreshadowed James Brown in the sense in which rhythm predominated over melody and the usual conventions of pop songwriting," Guralnick says. "I think it's a tribute to Bo Diddley that it has lasted as long as it has."
But Diddley said that while rhythm was important, the secret to good songwriting lay in something else.
"A story with some funny lyrics, or some serious lyrics, or some love-type lyrics," Diddley said. "But you gotta think in terms of what people's lives is based on."
He took his own advice: Many of Bo Diddley's most famous songs were about Bo Diddley. Diddley was sent to Chicago as a child and adopted by his mother's sister. Deeply religious, she tried to steer the young man from the devil's music with violin lessons. He built violins and guitars at a vocational high school.
Diddley later met Gene Barge, a staffer at Chess Records.
"He was gifted with his hands," Barge says. "He loved to work on things: cars, record players, amplifiers. And he made his guitars. He crafted his whole sound."
Some of Diddley's guitars were custom-built to his specifications by the Gretsch company: shaped like stars or covered in fur. Barge says that long before Diddley worked audiences, he worked odd jobs and construction.
"He told me he was working one of the air hammers in the middle of the street that makes all this terrible noise," Barge says.
Diddley's music drew from the sounds of the Chicago streets where he first performed, and his name came from street-corner slang.
"Bo Diddley means that a guy was something extra-special or a real pistol," Barge says.
Barge says that in addition to playing rock, blues inspired by John Lee Hooker, calypso, and Latin-tinged blues, Bo Diddley was something of a comedian. He joined up with a female sideman –- the Duchess -– and Jerone Greene on maracas for songs like the 1958 hit "Say Man," which featured Greene and Diddley trading playful insults.
"Say Man" was Diddley's only Top 40 pop hit. His other classic tunes never crossed over from the R&B charts, and his style of rock eventually fell out of fashion. Diddley became bitter over how others had profited from his sound. He sold the rights to his songs to pay his bills, and his living came from constant touring. Toward the end of his career, Diddley toyed with rap and even returned — more or less — to his early classical training.
"I wrote a concerto that I wrote on the guitar," Diddley said. "It's called 'Bo's Concerto.'"