RFK Assassination Sparked Secret Service Change
RFK Assassination Sparked Secret Service Change
Who Was Bobby Kennedy?
Read a brief snapshot of his life and accomplishments and listen to excerpts from some of his speeches and interviews.
Library of Congress/U.S. News & World Report
Library of Congress/U.S. News & World Report
Audio Extra
Special Agent Jerry Parr was with President Ronald Reagan during his attempted assassination in 1981.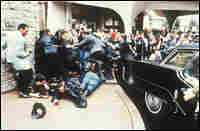 Mike Evens/AFP/Getty Images
The U.S. Secret Service came into existence nearly 150 years ago, but the agency as it's known today was essentially created June 5, 1968 — the night Sen. Robert F. Kennedy was shot at the Ambassador Hotel in Los Angeles.
Kennedy had several bodyguards with him, including football star Roosevelt "Rosey" Grier, as he addressed a crowd gathered to support his bid for the White House. But there were no Secret Service agents present because before 1968, their services weren't afforded to presidential candidates.
That policy changed after Kennedy's assassination.
The Secret Service wasn't always in the business of protection. It was created in 1865 as part of the Treasury Department, and it had one mission — to prevent counterfeiting of U.S. currency. Then, in 1901, President William McKinley was shot and killed by an anarchist in Buffalo, N.Y., and Congress changed the agency's mandate.
"We then stepped up and began to protect the president," says Special Agent Edwin Donovan. "And then, of course, in 1968 with the assassination of a major presidential candidate, we began to protect all the major presidential candidates."
Total Security Package
Donovan has been in the Secret Service for 17 years. He helped guard Bill Clinton and Steve Forbes in their bids for the White House and describes the protection the agency provides as "incredibly thorough."
"They get 24 hours, seven days a week protection from Secret Service at their residence, all the campaign stops, all the places they go, the vehicles they drive in, the planes they fly in [and] we check their mail," Donovan says. "We just provide total security package for that person."
After Kennedy's death on June 6, the Secret Service was hurriedly called upon to protect the men who were still running for president in 1968.
"We only had 547 agents at that time," Donovan says. "We already had the president and the vice president and their families to protect, so that made it even a smaller number of agents to draw from."
The large number of candidates overtaxed the agency's resources, according to Jerry Parr, one of the special agents assigned to protect Hubert Humphrey — a sitting vice president as well as a presidential candidate — in 1968. Parr says it was a violent, volatile time and that protecting candidates wasn't easy.
The situation was exacerbated because there were no criteria for choosing who else would receive Secret Service protection.
Parr says the agency also assigned agents to prominent figures including Georgia Gov. Lester Maddox and Shirley Chisholm, the first black woman elected to Congress. The many assignments took a toll on the Secret Service. In 1968, agents put in more than 270,000 hours of overtime.
Tougher Rules
The decision of who gets protection has gotten more stringent. Today, a presidential candidate has to have some degree of prominence in opinion polls to warrant Secret Service presence, Donovan says.
"They have to be actively campaigning and entered in at least 10 state primaries," he says. "They have to be seeking the nomination of a qualified party. They have to have qualified for matching funds in the amount of $100,000 and received contributions totaling $2 million."
Even if a candidate meets those requirements, he or she may refuse the agency's services. Republican Sen. John McCain of Arizona, for example, resisted Secret Service protection until just a few weeks ago.
Oppressive and Impressive
Democratic strategist Joe Trippi has worked on several presidential campaigns, ranging from Sen. Edward Kennedy's in 1980 to former Sen. John Edwards' in 2008. He says that while Secret Service protection can be quite oppressive, it can also be impressive to the media and to voters because it can give a candidate a presidential aura.
"I mean it's sort of the same feeling people would have if they were near a president of the United States," Trippi says. "So it helps in that regard, but it hurts particularly in the early states like Iowa [and] New Hampshire, where mingling with voters ... is pretty important."
Unless a candidate is an incumbent and therefore already being protected, the Secret Service often isn't around for early contests like those in Iowa and New Hampshire. The law says candidates are required to have protection within 120 days of the general election. In an election year, that means people in the suits and dark glasses usually start showing up in July.
However, this year is anything but usual. Illinois Sen. Barack Obama has been under Secret Service protection since May 3, 2007 — the earliest point in a campaign that such protection has been given to a presidential candidate.
Rival Democratic Sen. Hillary Clinton had Secret Service protection long before she announced her candidacy because she's the spouse of a former president. And for that same reason, the New York senator is the only one who'll be guaranteed protection after the party selects its nominee, regardless of who wins.
A Brief Snapshot of Robert F. Kennedy's Life
Art Shay/Time Life Pictures/Getty Images
RFK - In His Own Words
Excerpts from speeches and interviews given by Robert F. Kennedy during the 1960s.
Robert Francis Kennedy
(Nov. 20, 1925 – June 6, 1968)
Education:
Milton Academy, Harvard University, University of Virginia School of Law
U.S. Counsel (1953-1960)
Robert Kennedy joins the Senate Subcommittee on Investigations in 1953 under the tutelage of Sen. Joseph McCarthy. He eventually resigns from the committee over disagreements with Senator McCarthy's anti-communist campaign against federal officials. Once McCarthy is deposed from office in 1954, Kennedy rejoins the committee as chief counsel and director. He goes on to lead aggressive campaigns against union corruption and organized crime, and successfully prosecutes famed union leader James R. "Jimmy" Hoffa.
The Kennedy Campaign (1960)
Robert Kennedy leaves the Senate subcommittee to manage his brother John Fitzgerald Kennedy's successful bid for the presidency.
Attorney General (1961-1964)
President John Kennedy appoints Robert as attorney general, where he continues to focus on combating organized crime and racial discrimination. He becomes his brother's most trusted adviser on legislative issues ranging from civil rights to the Cuban Missile Crisis. His older brother's assassination in 1963 devastates him, and he remains in office only briefly thereafter.
Senator, New York (1964-1968)
Following a widening rift with John F. Kennedy's successor, Lyndon Johnson, Kennedy resigns from the federal cabinet in 1964. He pursues and wins the Senate seat from New York. By 1966, he becomes a vocal critic of President Johnson's domestic programs and the ongoing war in Vietnam.
The Last Campaign (1968)
After a period of speculation and doubt, Robert Kennedy launches his campaign for the presidency in March 1968. Drawing on an anti-war message and calling for racial reconciliation, Kennedy leads a whirlwind campaign across the country. He defeats opponent Eugene McCarthy in the Indiana and Nebraska primaries, but loses the Oregon primary in May.
June 5, 1968
After midnight, shortly after winning the South Dakota and California primaries and announcing " ... now it's on to Chicago," Kennedy is shot in the Ambassador Hotel by Sirhan Sirhan, a Jordanian immigrant. He dies the following day in Los Angeles.
Robert Kennedy is buried in Arlington National Cemetery in Arlington, Va.