NASA's Future Spacesuits Are Made for Walking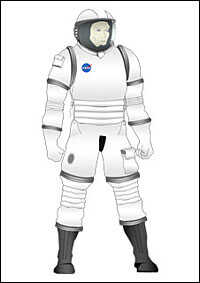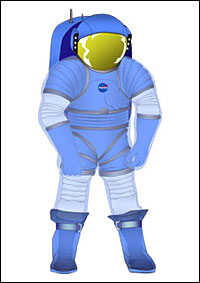 Spacesuits Over the Years
The next astronauts to step out onto the dusty gray surface of the moon will be wearing a suit that's very different from the bulky white armor worn by the Apollo explorers.
NASA has selected the company that will be designing and constructing the spacesuits for its Constellation program, which is building a new spacecraft to take astronauts back to the moon by 2020.
NASA awarded the contract, worth up to $745 million, to Oceaneering International Inc. of Houston.
"We're ready to put them to work and get ready to put bootprints back on the moon," says Glenn Lutz, NASA's project manager for Extravehicular Activity Systems at Johnson Space Center in Houston.
Lutz said that the current suits worn by spacewalking astronauts on the space shuttle and international space station "do great, but they are built for floating in space."
He says moon explorers need to be able to climb ladders, walk long distances and scramble over rocks. That's especially important because NASA wants future moonwalkers to spend far more time roaming about than the Apollo astronauts did during their short visits. Eventually, a moon base could let explorers live on the moon for weeks or months.
The new suits should allow far more natural movement than suits did in the Apollo era.
"Our design goal would be to make the astronauts, when they're doing geology, look like a geologist on the surface of the Earth," Lutz says. "They won't be hopping like they needed to do in Apollo."
As for how the suits will look to folks watching on TV, Lutz says, "it won't be my father's spacesuit, so to speak," but it won't look drastically different from what people are used to seeing astronauts wear.
That's because even though designers have new materials and technologies, they still have to solve the same problems that astronauts face whenever they leave the safety of a spacecraft.
Each suit has to act like a minispaceship that fits closely around the astronaut's body. The pressurized suit has to protect its wearer from extreme cold and heat, while providing oxygen and communications. The suit needs to be durable, so it can't be torn. But it also has to be flexible and lightweight.
Spacesuits have evolved over the years. The original Mercury spacesuits were a modified version of pressure suits that pilots wore in high-altitude jet aircraft. The astronauts wore them uninflated, and they were just a backup in case the capsule lost pressure.
Suits became more technologically sophisticated as Gemini astronauts started spacewalking and Apollo astronauts went moonwalking. And while the early suits were custom-tailored for each astronaut, NASA knew that lots of different people would be riding on the space shuttles. So for the shuttle, the agency developed a system of mix-and-match suit parts that come in different sizes.
Some smaller astronauts have had trouble fitting into those standard sizes, leading to charges that female astronauts don't have as many opportunities as men to do spacewalks. Lutz says the design specifications for the new suit system say it should be able to fit almost everyone.
"Size should not be a discriminator," says Lutz. "I will have to deal with that in the coming weeks and months."
Related NPR Stories
Web Resources