Clinton, Obama Unite in Unity, N.H.
Clinton, Obama Unite in Unity, N.H.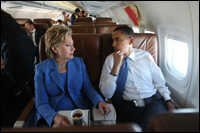 Illinois Sen. Barack Obama and New York Sen. Hillary Clinton officially put their hard-fought battle behind them Friday with their first big joint rally held in the very small town of Unity, N.H.
The tone of the event was one of mutual admiration, even as polls suggest some reluctance among Clinton supporters to switch allegiance to Obama, the presumptive Democratic nominee.
The crowd was full of enthusiastic supporters of both senators, and there was an explosion of applause when the guests of honor took the stage. Many waved signs for Clinton, and — just in case anyone missed the message of the day — giant painted plywood letters hung at the top of the bleachers spelled out the word UNITY. The town was selected not only for its name but because it's where both Democrats won exactly the same number of votes in January's primary.
Clinton, who spoke first, told her supporters that backing Obama was important, since he will need their help this fall in battleground states such as New Hampshire.
She also addressed the Democratic Party's fractured state, saying, "If you are considering not voting or voting for John McCain, I strongly urge you to reconsider."
Clinton's endorsement of Obama left nothing out. She described his agenda as her agenda –- the only option for those who believe in the things she fought for when she campaigned.
When she finished speaking, the crowd chanted her name. Clinton and Obama embraced and held their clasped hands high. Then Obama took a turn at the microphone.
He praised Clinton for the race she ran, for the barriers she broke and for the inspiration she gave to women. He also praised her decades of public service. Then he turned his attention to the day's theme.
"It's fitting we meet in Unity because that's the only way we can change things," he said in his pitch to Clinton backers.
Obama made it clear that the voters who supported both Democrats in the New Hampshire primary were really voting for the same goal.
At the end of the rally, many Democratic voters were already looking ahead to the general election. And many said they thought the rally could be a first step toward a Democratic ticket that includes both Obama and Clinton.