Patricia Barber: When Life Gives You Pop Songs
Funny how time flies. To think that '60s pop hits are now 40 years old and entitled to be considered "standards." For my money, no one working today makes a better case for them than Patricia Barber.
It takes a major artist to find new meaning in songs that have been around forever. I can hear Barber taking jazz vocals to the 21st century in these five tracks. Only a couple of the songs date back to the '60s, but they were all bona fide pop in their day. I'm hoping that one day she will come upon Leonard Cohen's third verse to "Tennessee Waltz" ("She comes dancing through the darkness / To the Tennessee Waltz / And I feel like I'm falling apart / And it's stronger than drink / And it's deeper than sorrow / This darkness she's left in my heart"), and be tempted to work her magic on that sturdy old chestnut. Here's why.
Patricia Barber: When Life Gives You Pop Songs
She's a Lady
from Modern Cool
by Patricia Barber
Paul Anka wrote it in his middle period, and it became Tom Jones' biggest hit in 1971. Chances are the latter finds it difficult to sing today, in these politically correct times, without tongue planted firmly in cheek. When Patricia Barber sings the song, with her signature gender-bender spin, the Lady in question becomes hers, and hers alone.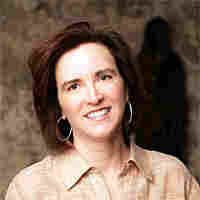 Light My Fire
from Modern Cool
by Patricia Barber
Jim Morrison sounded downright smug when he sang it in 1966 with The Doors, bad boys of American rock. So it's safe to assume he had no idea that some 30 years later, Barber would drop the song's temperature to a burning chill with a built-in caveat: highly flammable, approach with caution.
The Beat Goes On
from Companion
by Patricia Barber
Sonny Bono, of Sonny and Cher fame, penned this ditty — the title is inscribed in his tombstone — that tried to encapsulate the '60s in three-and-a-half minutes. Riding the bass line for all its worth, Barber makes it sound prescient today ("The grocery store is the super mart / Little girls still break their hearts / And men still keep on marching off to war").
Use Me
from Companion
by Patricia Barber
Surely Bill Withers had the blueprint for this blithe invitation to sexual masochism when he took his own composition to the #2 spot in the R&B charts of 1972. For the first minute and a half, Barber lets the bass set the tone. Then she lets you in on the sweet consequences ("If it feels this good getting used / You just keep on using me / Until you use me up").
You Don't Know Me
from Night Club
by Patricia Barber
It was a hit for Jerry Vale and for its co-author, Eddy Arnold, in 1956. The cover you probably remember came six years later, by way of Ray Charles. Then Mickey Gillis took it to the top of the country charts at the beginning of the '80s. Barber delves into the song's encroaching darkness as an acrobat of the heart: She sings it proud and defiant, defeated and very much in love all at once.
Nat Chediak is a Grammy Award-winning record producer and Latin jazz historian.