Comic Cheech Marin Champions Chicano Art
Comic Cheech Marin Champions Chicano Art
Comic Cheech Marin, one half of the pothead duo Cheech and Chong, has one of the largest collections of Chicano art in the world. By sharing his favorite works with the public, he hopes to help push Mexican-American art into "the mainstream," he tells Madeleine Brand.
Cheech, whose grandparents immigrated to California from Mexico, says he is realizing one of his lifelong goals by showing pieces from his collection in his hometown museum, the Los Angeles County Museum of Art.
At the height of Marin's comic fame in the 1970s, tensions were high between the museum and Mexican-American artists; several famously spray-painted the institution to protest their exclusion from its walls.
Seeing a vast array of Mexican-American art from his collection hanging there today is "more than a dream, it's a fantasy," Marin says, "considering the attitude of the institution toward Chicana and Chicano art" not so long ago.
Cheech Marin offers his interpretation of Vincent Valdez's "Kill The Pachuco Bastard" (2001), part of his extensive collection of Chicano art.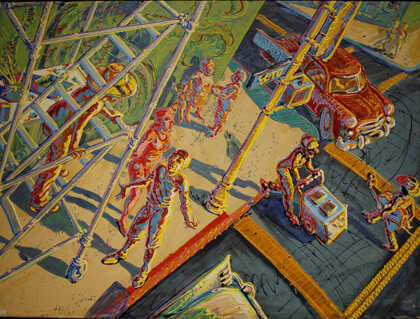 Cheech Marin offers his take on Wayne Alaniz Healy's "Beautiful Downtown Boyle Heights" (1993).