Congress Members Fight For The Right To Twitter
Congress Members Fight For The Right To Twitter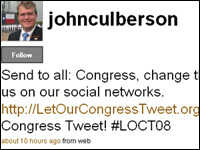 Like many other employers, the U.S. Congress has a policy that governs what its employess may do online. In the case of Congress, the rules extend to the activities of elected representatives — regardless of whether they're using public or private computers. Those rules have created a conflict over representatives' use of social networking sites such as Twitter, YouTube and Facebook.
In essence, members of Congress are forbidden to post on any Website that might include politicking or advertising, at least in their capacities as representatives. Communications on external sites must be clearly identified as coming from a House of Representatives official for official business.
For Rep. John Culberson, a Texas Republican, the rules amount to a virtual gag order. Culberson opened a Twitter account to help him stay in touch with his consituents. Because the microblogging service allows only 140 characters per post, adding the required language is almost impossible. Faced with an official crackdown, Culberson began working to change the rules. "Send to all: Congress, change the rules," he posted on the site this week. "Talk to us on our social networks. http://LetOurCongressTweet.org Let our Congress Tweet!"
Andrew Noyes, a writer at Congress Daily and the blogger behind the Tech Daily Dose, reports that Culberson is joined in his quest to follow his constituents online by Rep. Tim Ryan, an Ohio Democrat. Noyes says a proposal now on the table would regulate the way representatives can post video to Web sites.
Noyes says the story began a year ago, when House Speaker Nancy Pelosi asked Rep. Michael Capuano (D-MA) to consider revising the rules for members' communication with constituents. Currently, those communications are covered under the Franking Commision, which was set up to deal with the use of postage stamps.
"He's trying to do a good thing here," says Noyes, who recently interviewed Capuano. "In his words, he's trying to make it easier, really, for members to communicate without tarnishing the reputation and the integrity of the chamber — which is what he thinks can be done if folks are Twittering and blogging and posting videos on Web sites that have commercial or political advertising."
Given the rules in place, this clash between the old ways of talking to Congress and the potential new ones may have been inevitable. Noyes says Culberson and Ryan are active users of the Internet. "They have been Twittering all over the place," he says. "They've been Twittering back and forth, engaging one another in debates over politics and policy." The reporter describes Culberson, in particular, as something of a Web maverick and a poster child for the issue.
The cause of the Twittering representatives has been taken up by bloggers like Aaron Brazell of Technosailor. "Frankly, we're in 2008, and we have a government for the people and by the people," says Brazell, who lives in Baltimore. "Right now, all the evidence shows that people are getting their news increasingly on the Internet, and increasingly engaging with each other online, and that's where Congress should be."
Related NPR Stories