Photo Of Iran's Missile Launch Was Manipulated
Folkenflik talks about the doctored photo with Renee Montagne.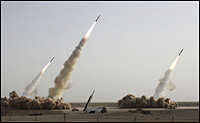 It's been proven that a photo showing Iran's launch of four missiles is fake. A defense analyst says he believes only three missiles launched and the fourth malfunctioned. Renee Montagne talks with NPR's David Folkenflik about the newspapers that printed the photo and how the discrepancy was detected.
Related NPR Stories
Correction
July 11, 2008
In some broadcasts, we did not note that the Web site Little Green Footballs had posted an item Wednesday evening declaring that the photograph of the Iranian missile launch had been doctored — before The New York Times published its analysis Thursday morning.