McCoy Tyner: A Walking Spirit In Concert
Set List
I Should Care*
Mellow Minor
Walk Spirit, Talk Spirit
Passion Dance
Angelina
Moment's Notice
*identified in the program as "For All We Know"
Personnel
McCoy Tyner, piano
Dave Holland, bass
Joe Lovano, tenor sax
Lewis Nash, drums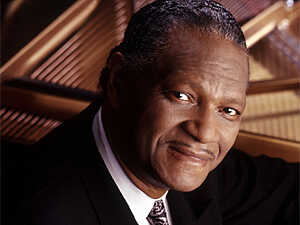 McCoy Tyner is known for his muscular, percussive jazz piano style, so it's surprising to hear that he doesn't have a piano in his Manhattan apartment –- just a synthesizer with headphones.
"Yeah, because I don't want to wake up the neighbors," he says, laughing. "If I hear something, like, late at night or 2 o'clock in the morning, I put the earphones on and nobody hears a thing."
Tyner has long been a good neighbor on stage, as well. His big break came nearly 50 years ago, when saxophone great John Coltrane asked him to join his quartet. Tyner was only a teenager.
"He was such a tremendous influence on me and we got along very well," Tyner says. "He was like a big brother and family, you know? I'd call him big brother and teacher."
The pupil learned from the master and, in the mid-'60s, Tyner left Coltrane to form his own bands. Bass player Christian McBride, creative chair for jazz at the L.A. Philharmonic, says nobody writes or plays like McCoy Tyner.
"McCoy is very much a force of nature," McBride says. "You know, it's like you see the mountains, you see the sky, you see the ocean. My wife put it really great: She said, "You know, McCoy Tyner's music is just big. It reminds you of, like, Ben Hur.'"
For a concert from Walt Disney Concert Hall in Los Angeles, Tyner gathered a band with the same instrumentation of John Coltrane's classic quartet. He also carves out some time to play alone.
"I always try to leave solo space in my set, 'cause I like to play by myself," he says. "You know, you're totally free to go where you want to go and do what you want to do, harmonically and rhythmically."
Discoveries at Walt Disney Concert Hall is an eclectic mix of concert specials, recorded live at Walt Disney Concert Hall in Los Angeles and hosted by Renee Montagne. From singer-songwriters to classical, world music, and Broadway stars, it's a celebration of the diversity of our thriving musical culture.
Web Resources