Are You Sure You Own Your Stuff?
Are You Sure You Own Your Stuff?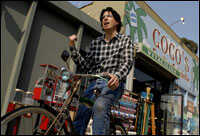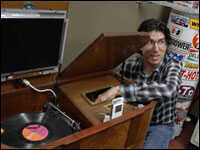 Mr. Jalopy describes himself as a mediocre welder, a fair mechanic and a clumsy designer — not the type of fellow one would expect to create what he playfully calls the "biggest iPod in the world," a beautiful retro stereo, re-wired with an iPod so it can transfer songs from old vinyl records to MP3s.
"I wanted to listen to a Dinah Washington song that I knew I had on an album, and I thought, why should I keep buying the same music over and over every time a new format comes out?" Mr. Jalopy — who doesn't use a first name — explains from his workshop in Los Angeles.
By continually asking such questions, Mr. Jalopy has become a leader in the Maker Movement, a push to re-imagine the objects we own rather than throw them away.
Although the movement started with just a few techno geeks, artists and hobbyists, it has attracted thousands over the decades. A record 65,000 people waited in traffic for two hours to get to the Maker Faire in the San Francisco area this spring. Make Magazine now has a circulation of 110,000.
Maker's Law
On a basic level, the movement is about reusing and repairing objects, rather than discarding them to buy more. On a deeper level, it's also a philosophical idea about what ownership really is.
"If you're not able to open and replace the batteries in your iPod or replace the fuel-sender switch on your Chevy truck, you don't really own it," Mr. Jalopy argues. "The terms of ownership are still dictated by the company that assembled it and glued the iPod shut so that you couldn't get into it."
Mr. Jalopy helped codify these ideas in 2005 with the Maker's Bill of Rights. The list of 17 directives includes: "If it snaps shut, it shall snap open," and "Ease of repair shall be a design ideal, not an afterthought."
Like many of his fellow makers, Mr. Jalopy is simultaneously an artist, a tinkerer and a craftsman. For him, it's a lifestyle. His garage is lined with cabinets full of parts, an unimaginable number of widgets, wires and springs. There are broken sculptures, pinball machines and dozens of bicycles and old cars in various states of transformation.
Next to the giant iPod is his version of a drive-in movie theater: a sturdy wooden box, which he has wired with various found parts and mounted on a Schwinn adult tricycle. The result: He can project movies onto a 12-foot surface anywhere within riding distance.
Throw-Away Culture
The Maker Movement is about far more than whimsical objects. Lately, some corporations have shown interest.
Mr. Jalopy has been consulting with Disney, Apple and other major corporations, preaching the gospel of open source manufacturing. He tells them to use screws instead of glue, and to make schematics readily available so consumers can fix and re-imagine the objects they buy. He also urges technology companies to create forums for consumers to share ideas, and pushes car companies to sell patterns so people can create accessories like seat covers.
Mr. Jalopy says when a company engages with consumers, it gets passionate advocates of its products — true believers who will give them free publicity and increase sales with very little effort. It's the true believers, he says, who have turned the iPod into a huge success.
Corporate moves aside, the economy may soon force people to alter their approach to objects, says artist Nemo Gould, who makes shiny sculptures out of objects he finds at the San Francisco dump.
Gould says he is continually astounded by what he finds discarded in the trash. He yearns for the 1950s, he says, when people held onto their things for many years, fixing rather than discarding them.
"A lot of average suburban men would have a metal lathe in their garage. That's something you can't even conceive of today. But it was sort of common. ... 'Oh, well, if my lawn mower breaks, I'll want to fix it, won't I?' " he says.
He wonders if the high price of gasoline will make people reconsider the practice of throwing objects away and buying new ones.
"The bitter medicine of super expensive gasoline," he says, could be just the motivation people need to stop and think before they toss.