Songs For The Gas-Guzzling Blues
Hear Five Songs Below
Stephanie Howard/iStockphoto.com
No road trip is complete without a great car. And while classic wheels aren't great for your carbon footprint — not to mention your travel budget — here are five songs that go well with a ride in an old-fashioned luxury gas-guzzler. All are by blues and R&B artists, and all deal with those great, gaudy, chrome-laden land-yachts of yesteryear. So climb in, fire it up, drop it into drive, and watch those Burma-Shave signs fly by.
Read and hear more entries in the Take Five: A Weekly Jazz Sampler series.
This list is also in the Road Trip: Songs to Drive By series.
Songs For The Gas-Guzzling Blues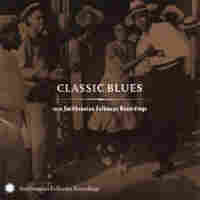 K.C. Douglas
Song: Mercury Blues
from Classic Blues from Smithsonian Folkways
Mississippi-born guitarist and singer K.C. Douglas (1913-75) was living in Vallejo, Calif., and working odd jobs in the Oakland shipyards when he recorded his classic "Mercury Blues" in 1949. Douglas was an influential figure among the younger generation of blues musicians who lived in the Bay Area in the '60s and '70s; the song was also recorded by Steve Miller, David Lindley, and Roy Rogers & Norton Buffalo, among others. In 1992, Alan Jackson turned "Mercury Blues" into a chart-topping country hit — it's also popped up in car commercials, naturally — but not many have heard the original version. Here it is, stripped down and ready for the road.
Jackie Brenston and His Delta Cats
Song: Rocket 88
from Chess Rhythm & Roll
Someone should write a book about this classic recording. For one thing, there was no such band as "Jackie Brenston & His Delta Cats." The band that entered producer Sam Phillips' studio in 1951 to record this song was Ike Turner and His Kings of Rhythm; Jackie Brenston was one of Turner's sax players and the lead singer on "Rocket 88." For some reason, when Phillips sent the song to Chess Records, he decided to give Brenston top billing and made the name up, a move that caused trouble and influenced the history of rock 'n' roll. When the song started selling, Brenston took some of Turner's band members and hit the road, so Ike took another path that eventually led to Tina. And Phillips took the money he made from recording the song and started Sun Records — where, one day, a kid named Elvis walked in and asked if he could record a song for his mom.
Guy Forsyth
Song: Cadillac
from Steak
Guy Forsyth is a hard musician to pigeonhole. He's an Austin-based multi-instrumentalist and vocalist who's firmly rooted in blues, but who freely experiments with other genres. His greasy blues-rocker "Cadillac" gleefully promotes the idea that a bigger car makes you a more interesting and enviable person — a notion that, for some reason, has always had considerable traction in the world. "It's a '56, with the electric eye / Gonna wish you was me when I pass you by in my Cadillac." Step out of the way and watch 'er roll.
Big Joe and the Dynaflows
Song: Big Long Buick
from I'm Still Swingin'
Here we go again. A guy walks into a car dealership with a pocketful of money and the firm conviction that if he gets a great big car, he'll immediately become more appealing to women. Big Joe Maher and The Dynaflows have been a mainstay on the D.C. club circuit for years, and they give this song a nice, T-Bone Walker-style shuffle groove. It sounds just like a big long Buick ought to feel.
Sonny Landreth
Song: U.S.S. Zydecoldsmobile
from Levee Town
"Port of call, Opelousas. Port of call, Lawtell. Port of call, Frilot Cove..." Out of all the songs presented here, this is the cruiser that really puts the wind in your hair. Slide guitarist and vocalist Sonny Landreth has lived in the heart of Louisiana's zydeco country for most of his life, and the U.S.S. Zydecoldsmobile was actually his car for some of that time. According to Landreth, it was an inherited '82 Oldsmobile 98 that he and his friends used as a means of gliding from one zydeco club to another on hot Louisiana nights. "A car that size won't stretch your gas mileage, but at least you can dance on the trunk," Landreth says. Presumably only when the car is parked, but maybe not.