'Dark Knight,' A Cheerless Blood-Drenched Allegory
Stephen Vaughan/Warner Bros.
The Dark Knight
Director: Christopher Nolan
Genre: Action
Running Time: 142 minutes
Rated PG-13: Aesthetic violence and enough "menace" to cut to the bone.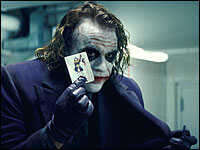 Stephen Vaughan/Warner Bros.
'You're A Hard Man To Reach'
Media no longer available
'This Town Deserves A Better Class Of Criminal'
Media no longer available
'He Can't Endure This'
Media no longer available
'There's A Batman'
Media no longer available
Before I talk about The Dark Knight, I should say I've been pilloried on the Internet for publishing a negative review — with most of the pillorying from people who hadn't seen the movie. They'll probably love it when they do; they've invested a lot of emotional energy in it. Other critics have called it a crime epic worthy of comparison to The Godfather Part II and Michael Mann's Heat. And while it's not fair to judge a film against hype its makers didn't create, it's a measure of how high the director and co-writer, Christopher Nolan, aims.
The Dark Knight is an impressive flight: huge in scope, nothing less than a blood-drenched allegory. In Nolan's predecessor, Batman Begins, Christian Bale's Bruce Wayne grappled with the classic urban vigilante conundrum: How, in a corrupt society, can you go outside the law to enforce the law — and also maintain social harmony?
Batman's counterforce, the Joker, played as everyone knows by the late Heath Ledger, functions as a terrorist, a one-man insurgency, with no motivation except bringing chaos. The Joker manipulates gangsters to keep crime alive, and assassinates or corrupts do-gooders like Aaron Eckhart's cleft-chinned district attorney, Harvey Dent. Meanwhile, Batman's hands — or wings — are tied by pesky ethics. He can't stanch the madness.
On paper, this morality play is fascinating, but a lot of the movie doesn't transcend its talking points. The psychological twists are dubious and the plotting herky-jerky, with leaps in logic. The Dark Knight plays as if it were written by Oxford philosophy majors trying to tone up American pop. Maybe that wouldn't matter if the action weren't spectacularly incoherent. I defy you to make spatial sense of a truck/Bat-tank/police car chase, or the climax with Batman, the Joker, hostages, SWAT teams, fake Batmen and Morgan Freeman on some kind of sonar monitoring gizmo.
The movie is really bleak, but that's not a criticism: Batman should be dark. But it doesn't need to be so sadistic, to work you over so crudely from scene to scene. The Dark Knight has no wit, visual or otherwise. It doesn't achieve what Tim Burton's Batman, for all its screw-ups, did — creating a Gothic urban landscape that was a breathtaking correlative for Batman's inner world. Nolan sets it in the real world, and while it's shocking — and effective — to see the Joker's opening heist pitched like Michael Mann, the novelty of the realism wears off. Even the most wondrous visions — Batman's plunges from skyscrapers, bat-wings snapping open, unbelievably cool in IMAX — can't keep the movie airborne.
Bale is entertaining: His Batman rasps his lines in a voice that's deeper and hammier than ever, and everyone else is fine — but never mind them. Everyone wants to know about Heath Ledger.
His Joker is a psychopath — a clown-demon with smudged greasepaint who bugs his eyes and licks at the gashes extending his mouth. First he sounds like Cagney in White Heat, then throws in Brando flourishes. He's scary-fast with sharp objects — but, apart from a gruesome bit with a pencil, not terribly prankish. This is rave and rage and purge acting. Ledger works so very hard to fill the screen that he's both riveting and exhausting to watch. He's the first Joker who doesn't look like he's having fun. And it's contagious.
Related NPR Stories