Joe Wambaugh: The Writer Who Redefined LAPD
Joe Wambaugh: The Writer Who Redefined LAPD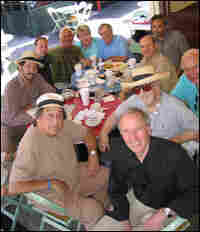 Morning Edition resumes its Crime in the City series.
Joe Wambaugh is treated like a star when he visits the Hollywood police station he helped immortalize. Framed posters of his movies hang on the walls, and when he shows up, he's invited to address the baby-faced officers during roll call.
On a recent morning, he takes the opportunity to offer some advice from his book Hollywood Station.
"There's a line in there that the sergeant, who I call the Oracle in the book, says that's true," Wambaugh tells them. "It's that doing good police work is the most fun you will ever have in your lives."
Wambaugh, now 71, is the son of a police officer. He joined the LAPD in the early '60s, after a stint in the Marines. For 14 years, he worked his way up from patrolman to detective sergeant at Los Angeles' Hollenbeck station. When he wasn't on duty, he wrote two successful fiction novels about the LAPD, The New Centurions and The Blue Knight, both of which were made into movies.
Onion Destiny
Wambaugh also wrote the best-selling book The Onion Field, which he later adapted for a 1979 movie. It's the true-life story of two LAPD officers who were kidnapped by two suspected robbers and taken to an onion field outside Bakersfield, Calif. That night, one of the cops, Ian Campbell, was murdered.
Decades later, Wambaugh stands outside the Hollywood police station, which features sidewalk stars like the ones on Hollywood's Walk of Fame. Only rather than movie stars, these stars memorialize cops killed on duty. Wambaugh stops near a star with Campbell's name on it.
"I was put on Earth to write The Onion Field. That's how I felt about it," he says. "It was such an emotional experience for me. I took a six-month leave of absence from the police department to write that book. I read 40,000 pages of court transcripts; I interviewed about 63 people and wrote the book in three months. I went back to my detective table at Hollenbeck station, and stayed a cop for another year."
Throughout that year, Wambaugh's celebrity grew. Sometimes he was even hounded for autographs by the people he put in handcuffs.
The pull of writing eventually trumped police work, and he quit his day job to write and to create, among other works, the hit '70s TV series, Police Story.
Bye, Bye Joe Friday
With his realistic portrayals of cops, Wambaugh transformed the clean-cut "Joe Friday" image of the LAPD.
"Before I came along, Dragnet and Adam 12 were good public relations vehicles for the LAPD. But they didn't attempt ever to tell how the job acts on the cop," he notes. "The cops in those stories were stick figures. There was no third dimension. No inner life to them. No back story to them. We didn't know who they were and what they felt."
The cops in Wambaugh's books, and the TV shows and movies they gave rise to, have feelings and flaws. Early on in his writing career, this almost got him fired by the LAPD police chief.
Attitudes have changed, however. The current chief of police, William Bratton, warmly embraces him, and his books have become must-reads at the Police Academy.
Two Cops And A Bottle Of Rum
Hollywood Detective Sgt. Vicky Bynum says it's difficult to get police officers to open up. But she's among the scores of cops Wambaugh has interviewed over the years to collect their stories, which he then fictionalizes.
"Joe's thing is to take you out to dinner, and cocktails flow and the stories start to flow also," Bynum says from her detective desk at the Hollywood station. "He's found women more conversant than men. With the guys, it usually takes a few more cocktails."
Wambaugh's Los Angeles is populated not only with complex cops, but also wannabe actors and drug-addicted tweakers, wealthy immigrants, gawking tourists and colorful street thugs. He says his characters and plots are unlike most police thrillers, with their flamboyant master criminals or extravagant serial killers.
"All of the bad guys or bad women in my stories are ordinary little criminals," he says.
Take for instance, characters from Wambaugh's latest books about Hollywood. Costumed celebrity look-alikes greet tourists in front of the famed Mann's Chinese Theater and sometimes get into scuffles. In one scene, Batman fights with Spiderman, and Marilyn Monroe has to call 911. Real-life Detective Brett Goodkin, who helped Wambaugh with his research, says this sort of thing happens all the time in Hollywood.
"You do get those calls: suspects dressed as Bart Simpson. And you show up and, sure enough, there's a really angry, high Bart Simpson that wants to fight," says Goodkin. "The majority of street performers have criminal histories, and they get in their little squabbles among themselves."
Other scenes in Wambaugh's newest books take place at L.A.'s legendary Farmers Market, where show-biz veterans hang out every morning. The group includes actor/producer Paul Mazursky, artist Charles Bragg and assorted comedians, who kibitz and cavort every morning.
When Wambaugh visits, they rib him about how he portrayed them as "geezers" and "codgers" in his books. He says he had to include them.
"As a matter of fact, if I hadn't used them, they'd never speak to me again," he jokes. "The only thing they're angry [about is], they all wanted to be named in the book with their agent's name, phone number, available dates."
For lunch, Wambaugh heads to East L.A. for some Mexican food. At the popular restaurant El Tepayac, he meets up with another old pal, Mike Diaz. They both sit with their backs to the wall in case of any trouble — an old cop habit. Then Wambaugh reminisces with Diaz, a recently retired Hollywood station sergeant. Some of Diaz's stories will be in Wambaugh's next book, Hollywood Moon.
"He is the Godfather," Diaz says of Wambaugh. "He's the one that brought us to the screen and let people know what police work was really like. We have problems, we have heartbreaks, we have divorces, we have kids that run away, we have kids that use drugs. We're just like you."
Wambaugh is now working with Sony Pictures to turn his Hollywood trilogy into a TV series. He says he plans to continue writing about the cops in Los Angeles, "because I'm an LAPD cop, now and forever."
Excerpt: 'Hollywood Crows'
Nathan Weiss, called Hollywood Nate by the other cops because of his obsession, recently waning, to break into the movie business, had left Watch 5, the midwatch, eight months earlier, shortly after the very senior sergeant known as the Oracle had died of a massive heart attack there on the police Walk of Fame in front of Hollywood Station. Nothing was the same on the midwatch after they lost the Oracle. Hollywood Nate had been pulled out of trouble, usually involving women, and spared from disciplinary action more than once by the grizzled forty-six-year veteran supervisor, who had died just short of his sixty-ninth birthday.
Everyone said it was fitting that the Oracle had died on that Walk, where stars honoring Hollywood Division officers killed on duty were embedded in marble and brass just as they were for movie stars on Hollywood Boulevard. The Oracle had been their star, an anachronism from another era of policing, from long before the Rodney King riots and Rampart Division evidence-planting scandal. Long before the LAPD had agreed to a Department of Justice "consent decree" and gotten invaded by federal judges and lawyers and politicians and auditors and overseers and media critics. Back when the cops could be guided by proactive leaders, not reactive bureaucrats more fearful of the federal overseers and local politicians than of the street criminals. The day after the Oracle died, Nathan Weiss had gone to temple, the first time in fifteen years, to say Kaddish for the old sergeant.
All of them, street cops and supervisors, were now smothered in paperwork designed to prove that they were "reforming" a police force of more than ninety-five hundred souls who ostensibly needed reforming because of the actions of half a dozen convicted cops from both incidents combined. Hundreds of sworn officers had been taken from street duties to manage the paper hurricane resulting from the massive "reformation." The consent decree hanging over the LAPD was to expire in two more years, but they'd heard that before and knew it could be extended. Like the war in Iraq, it seemed that it would never end.
The Oracle had been replaced by a university-educated twenty-eight-year-old with a degree in political science who'd rocketed almost to the top of the promotion list with little more than six years of experience, not to mention overcoming disadvantages of race and gender. Sergeant Jason Treakle was a white male, and that wasn't helpful in the diversity-obsessed city of Los Angeles, where fifty-five languages were spoken by students in the school district.
Hollywood Nate called Sergeant Treakle's roll call speeches a perfect meld of George Bush's garbled syntax and the tin ear of Al Gore. During those sessions Nate could hear cartilage crackling from all the chins bouncing off chests as the troops failed to stay awake and upright. He'd hated the rookie sergeant's guts the first time they'd met, when Sergeant Treakle criticized Nate in front of the entire assembly for referring to Officer Ronnie Sinclair as a "very cool chick." Ronnie took it as a compliment, but Sergeant Treakle found it demeaning and sexist.
Then, during an impromptu inspection, he'd frowned upon Hollywood Nate's scuffed shoes. He'd pointed at Nate's feet with an arm that didn't look long enough for his body, saying the shoes made Nate look "unkempt," and suggested that Nate try spit-shining them. Sergeant Treakle was big on spit shines, having spent six months in the ROTC at his university. Because of his knife-blade mouth, the cops soon referred to him as "Chickenlips."
Hollywood Nate, like his idol, the Oracle, had always worn ordinary black rubber-soled shoes with his uniform. He liked to needle the cops who wore expensive over-the-ankle boots to look more paramilitary but then experienced sweaty feet, foot fungus, and diminished running speed. Nate would ask them if their spit-shined boots made it easier to slog through all the snow and ice storms on Sunset and Hollywood Boulevards.
And Hollywood Nate had given up suggesting that field training officers stop making the new P1 probationers call them sir or ma'am, as most did. The more rigid and GI of the FTOs seemed to be those who'd never served in the military and they wouldn't think of letting their probies wear the gung-ho boots before finishing their eighteen-month probation. Nate would privately tell the rookies to forget about boots, that their feet would thank them for it. And Nate never forgot that the Oracle had never spit-shined his shoes.
Before the midwatch hit the streets, every cop would ritually touch the picture of the Oracle for luck, even new officers who'd never known him. It hung on the wall by the door of the roll call room. In the photo their late sergeant was in uniform, his retro gray crew cut freshly trimmed, smiling the way he'd always done, more with his smart blue eyes than with his mouth. The brass plate on the frame simply said:
THE ORACLE
APPOINTED: FEB 1960
END-OF-WATCH: AUG 2006
SEMPER COP
Hollywood Nate, like all the others, had tapped the picture frame before leaving roll call on the first evening he'd met his new sergeant. Then he'd gone straight downstairs to the watch commander's office and asked to be reassigned to the day watch, citing a multitude of personal and even health reasons, all of them lies. It had seemed to Nate that an era had truly ended. The Oracle—the kind of cop Nate told everyone he had wanted to be when he grew up—had been replaced by a politically correct, paper-shuffling little putz with dwarfish arms, no lips, and a shoe fetish.
At first, Hollywood Nate wasn't fond of Watch 2, the early day watch, certainly not the part where he had to get up before 5 A.M. and speed from his one-bedroom apartment in the San Fernando Valley to Hollywood Station, change into his uniform, and be ready for 0630 roll call. He didn't like that at all. But he did like the hours of the 3/12 work shift. On Watch 2, the patrol officers worked three twelve-hour days a week during their twenty-eight-day deployment periods, making up one day at the end. That gave Nate four days a week to attend cattle calls and harangue casting agents, now that he'd earned enough vouchers to get his Screen Actors Guild card, which he carried in his badge wallet right behind his police ID.
So far, he'd gotten only one speaking part, two lines of dialogue, in a TV movie that was co-produced by an over-the-hill writer/director he'd met during one of the red carpet events at the Kodak Center, where Nate was tasked with crowd control. Nate won over that director by body blocking an anti-fur protester in a sweaty tank top before she could shove one of those "I'd Rather Go Naked" signs at the director's wife, who was wearing a faux-mink stole.
Nate sealed the deal and got the job when he told the hairy protester he'd hate to see her naked and added, "If wearing fur is a major crime, why don't you scrape those pits?"
The movie was about mate-swapping yuppies, and Nate was typecast as a cop who showed up after one of the husbands beat the crap out of his cheating spouse. The battered wife was scripted to look at the hawkishly handsome, well-muscled cop whose wavy dark hair was just turning silver at the temples, and wink at him with her undamaged eye.
To Nate, there didn't seem to be much of a story and he was given one page of script with lines that read: "Good evening, ma'am. Did you call the police? What can I do for you that isn't immoral?"
During that one-day gig, the grips and gaffers and especially the craft services babe who provided great sandwiches and salads all told Nate that this was a "POS" movie that might never reach the small screen at all. After she'd said it, Nate knew that his initial impression had been correct: It was a piece of shit, for sure. Hollywood Nate Weiss was already thirty-six years old, with fifteen years on the LAPD. He needed a break. He needed an agent. He didn't have time left in his acting life to waste on pieces of shit.
On the morning after the midwatch surfer cops busted the wooden Indian, Nate Weiss was assigned to a one-man day-watch report car known as a U-boat, which responded to report-writing calls instead of those that for safety reasons required a pair of officers. At 8:30 A.M. Nate did what he always did when he caught a U-boat assignment: He went to Farmers Market at Third and Fairfax for a coffee break.
The fact that Farmers Market was a couple of blocks out of Hollywood Division didn't bother him much. It was a small peccadillo that the Oracle would always forgive. Nate loved everything about that old landmark: the tall clock tower, the stalls full of produce, the displays of fresh fish and meat, the shops and ethnic eateries. But mostly he loved the open-air patios where people gathered this time of morning for cinnamon rolls, fresh-baked muffins, French toast, and other pastries.
Nate ordered a latte and a bagel, taking a seat at a small empty table close enough to eavesdrop on the "artistes' table." He'd started doing it after he'd overheard them talking about pitching scripts to HBO and getting financing for small indie projects and doing lunch with a famous agent from CAA who one of them said was a schmuck—all topics of fascination to Hollywood Nate Weiss.
By now, he was almost able to recognize them from their voices without looking at them directly. There was the features director who, due to Hollywood ageism, complained that he couldn't even get arrested at the studios. Ditto for three former screenwriters who were regulars at the table, as well as for a former TV producer. A dozen or more of these would come and go, all males, the average age being seventy-plus, far too old for the youth-obsessed entertainment business that had nurtured them.
A formerly famous painter and sculptor, wearing a trademark black beret, wasn't selling so well these days either. Nate heard him tell the others that when his wife asks him what he wants for dinner, his usual response is, "Get off my back, will ya?" Then the painter added, "But don't feel sorry for us. We're getting used to living in our car."
A former TV character actor wearing a safari jacket from Banana Republic, whose face was familiar to Nate, stood up and informed the others he had to leave and make an important call to a VP in development at Universal to discuss a script he'd been deciding whether or not to accept.
After he'd gone, the director said, "The poor schlemiel. I'll bet he gets a 'Please leave a message' recording from the VP at Universal. That's who he discusses the project with—a machine. Probably has to call back a hundred and thirty-five times to get his whole pitch into the VP's voice mail."
"I've suspected he's calling the number for highway information when he pretends to be talking to HBO," the painter said, clucking sadly.
"He never was any good, even in his prime," the director said. "Thought he was a method actor. They'd run out of money doing retakes. Twenty tics a take on average."
"If he had more of a name, they could paint him like a whore and let him do arthritis and Geico commercials, like the rest of those has-beens," said the has-been TV producer.
"And women?" one of the screenwriters said. "He thinks we believe his daffy seduction stories. Instead of another face-lift, the old bastard should have his balls stapled to his thigh to keep them from dropping in the toilet."
"He could do it without anesthetic," said the oldest of the screenwriters. "At his age it's a dead zone down there."
All of the geezers, who tended to talk over one another in multiple conversations, went silent for a moment when a stunning young woman paused to look into a nearby shop that sold glassware and candles. She wore a canary cotton jersey accented by hyacinth stitching, and $400 second-skin jeans, and stood nearly six feet tall in her Jimmy Choo lilac suede pumps. She had a full, pouty upper lip, and butterscotch blonde hair so luxurious it fanned across her shoulder when she turned to look at a glass figurine and then fell back perfectly into place when she continued walking. Her amazing hair gleamed when spangled sunlight pierced the covered patio and provided honey-colored highlights.
The codgers sighed and snuffled and did everything but drool before resuming their conversations. Nate watched her walk out toward the parking lot. Her remarkable body said Pilates loud and clear, and he could see she wasn't wearing a bra. There in Hollywood, and even in Beverly Hills, Nate Weiss had not seen many showstoppers like her.
By then, Nate was ready to go back to work. It was getting depressing listening to the old guys railing about ageism, knowing in their hearts they'd never work again. He'd noticed that always around 9:30 A.M., they'd get up one by one and make excuses to leave, for important calls from directors, or for appointments with agents, or to get back to scripts they were polishing. Nate figured they all just went home to sit and stare at phones that never rang. It gave him a chill to think that he might be looking at Nathan Weiss a few decades from now.
Nate strolled to the parking lot thirty yards behind the beauty with the butterscotch hair, wanting to see what she drove. He figured her for a Beverly Hills hottie in an Aston Martin with a vanity license plate, compliments of a bucks-up husband or sugar daddy who drove a stately Rolls Phantom. It was almost disappointing when she got into a red BMW sedan instead of something really expensive and exotic.
Impulsively, he jotted down her license number, and when he got back to his black-and-white, ran a DMV check and saw that she lived in the Hollywood Hills, off Laurel Canyon Boulevard in the development called Mt. Olympus, where realtors claimed there were more Italian cypress trees per acre than anywhere else on earth. Her address surprised him a bit. There were lots of well-to-do foreign nationals on Mt. Olympus: Israelis, Iranians, Arabs, Russians, and Armenians, and others from former Soviet bloc countries, some of whom had been suspects or victims in major crimes. A few of the residents reportedly owned banks in Moscow, and it was not uncommon to see young adults driving Bentleys, and teenagers in BMWs and Porsches.
Around the LAPD it was said that mobbed-up former Soviets were more dangerous and cruel than the Sicilian gangsters ever were back in the day. Just five months earlier, two Russians had been sentenced to death in Los Angeles Superior Court for kidnapping and murder. They'd suffocated or strangled four men and one woman in a $1.2 million ransom scheme.
Mt. Olympus was pricey, all right, but not the crème de la crème of local real estate, and Nate thought that the area didn't suit her style. Luckily, it was in Hollywood Division and he'd often patrolled the streets up there. He figured it was unlikely that this Hills bunny would ever need a cop, but after finally getting his SAG card, Hollywood Nate Weiss was starting to believe that maybe anything was possible.
Copyright © 2008 by Joseph Wambaugh