Nolan, Bale: 'Batman' Franchise's New Dynamic Duo
Stephen Vaughan/Warner Bros.
Stephen Vaughan/Warner Bros.
The Dark Knight lived up to its hype. The latest installment in the Batman film series set records with its opening weekend, taking in an estimated $155 million at the box office. Spider-Man 3 previously held the record, taking in $151 million last year.
Director and screenwriter Christopher Nolan and actor Christian Bale are two of the driving forces behind the blockbuster's success.
The Dark Knight is the third collaboration for the pair, who previously worked together on Batman Begins and the dueling-illusionists thriller The Prestige.
Nolan first made a name for himself with the Oscar-nominated low-budget hit Memento. He went on to direct the murder mystery Insomnia before reviving the Batman franchise.
In addition to starring as Batman in the franchise's last two films, Bale has had major roles in the films 3:10 to Yuma, Rescue Dawn, American Psycho and The Machinist. He is slated to appear in the next Terminator film.
Related NPR Stories
In Gotham, A Long Look Into The Heart Of Darkness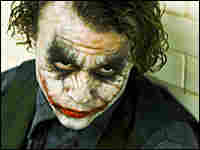 The Dark Knight
Director: Christopher Nolan
Genre: Action
Running Time: 142 minutes
Rated PG-13: Aesthetic violence and enough "menace" to cut to the bone.
Stephen Vaughan/Warner Bros.
'You're A Hard Man To Reach'
Media no longer available
'This Town Deserves A Better Class Of Criminal'
Media no longer available
'He Can't Endure This'
Media no longer available
'There's A Batman'
Media no longer available
'Batman' in Buenos Aires
So after Hollywood's spent the better part of a summer — and something like half a billion dollars — trying to find a new formula for the superhero flick, it turns out that jests (Iron-Man), alcohol (Hancock) and even a full reboot (The Incredible Hulk) aren't really the way to go. Just make an idea central, and the rest pretty quickly falls into place.
That, at least, seems like a reasonable conclusion to draw from The Dark Knight, an explosively provocative Batman installment in which exhilaratingly straightforward action sequences are matched by moral complexity of a sort not usually associated with comic-book movie franchises.
The film has barely begun when underworld figures gather in a parking garage, unaware that shadows in a corner are coalescing into a familiar form — hooded, blue and black, with a swirling cape and a ... is that a ...? No, he never uses ... but it is! It's a gun!?
Ah, but it's not him. It's an imposter-batdude, one of a slew of bat-suited vigilantes who'll have to be delivered up to the authorities by a bigger, badder, authentically gunless batguy — all of them wondering why, if Batman can be a superhero without superpowers and go after bad guys, they can't.
With that perfectly reasonable question — and perhaps 10 of The Dark Knight's 142 minutes gone — we have our plot-propulsive idea. Christopher Nolan's second Batman movie portrays vigilantism as centrally problematic even as it's practiced by the wealthy, more-than-mildly batty Bruce Wayne (Christian Bale).
As Gotham's citizens increasingly take up arms against a crime wave, officialdom finds itself dealing with would-be good guys who endanger the public nearly as much as the baddies they're fighting.
That way lies anarchy, as a freshly hatched Joker (Heath Ledger) pointedly makes clear by putting all his cohorts in clown masks that resemble his own scarred visage. (Where he got those scars becomes a running joke, with a new origin myth offered to each new victim).
Ledger's Joker is every bit as disturbing as he is disturbed — tongue-flickingly reptilian, and yet disarmingly commonsensical in the way he relies on the dark side of human nature to aid him in wreaking havoc.
He uses crowd psychology to endanger crowds, subverts legal niceties (wait till you see what he does with that one phone call he's allowed when arrested), and greets the perpetually self-doubting Batman as a fellow damaged soul. It's a heart-stoppingly unpredictable performance, haunted by the audience's knowledge of Ledger's death earlier this year — and rendering even darker what has to be as dark a superhero fantasy as Hollywood is likely to produce any time soon.
IMAX-ready special effects notwithstanding, very little light inflects the gloom — here a twinkle from Michael Caine's Alfred, there a glimmer from bat-gadget inventor Morgan Freeman (who was composing bucket lists with an elderly joker named Jack Nicholson just a few months ago).
Ever-weird Aaron Eckhart qualifies as strange casting for a heroic D.A. who will turn out to be, um, two-faced, but Maggie Gyllenhaal is effortlessly more interesting than Katie Holmes as the batguy's one true love.
Regardless, the real relationship here is between a Batman in existential crisis and a Joker who'd love to leap with him into the abyss — tight-assed yin and anarchist yang in a fantasy franchise that Nolan (in concert with his scriptwriting brother Jonathan) has made as riveting for its psychological heft as for the adrenaline rushes it inspires at regular intervals.
Related NPR Stories