Heavy Metal Road Trip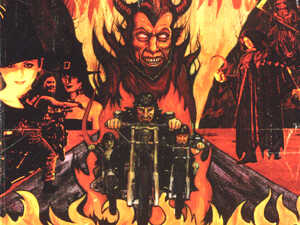 Nothing nourishes the road warrior like heavy-metal music. Metal awakens the primitive conqueror and forces a convenience-store Big Gulp down the gullet like little else. Epic highway battles can be fought on Black Sabbath and Slayer alone, but here are five more warrior-friendly head-bashers, each set to tear the road apart.
Sleep
Song: The Druid
from Sleep's Holy Mountain
In 1993, Sleep's Holy Mountain felt like the real follow-up to Black Sabbath's Sabotage. Sleep's Matt Pike scrapes a big, dumb chunka-chunka riff throughout "The Druid" as if channeling a caveman, before unfurling Sabbath's "Electric Funeral" bass line while his guitar solos emerge, clear out of the Stone Age. This is the kind of heavy metal that blasts from a 1987 Trans Am cassette deck: It's perfect for anyone peeling out of suburbia and into the unknown asphalt kingdom.
Harvey Milk
Song: Get It Up & Get It On
from Pleaser [Bonus Live CD]
Before Harvey Milk's first breakup, the band left metal fans with a surefire head-scratcher. All of its works until that point were oddball masterpieces of arty sludge and noise, detuned for total weirdness. But 1997's The Pleaser was a bona fide headbanger, with Creston Spier's tortured howl in full hard-rock mode. "Get It Up & Get It On" revs in high gear -- perfect for anyone with a six-pack in the cooler and a bearded cousin fist-pumping in the passenger seat. Thankfully, Harvey Milk is back, and still recording perfectly weird barn-burning rock anthems.
Serpent Throne
Song: Wheels of Satan
from Ride Satan Ride
Road trips aren't just for clunky Buicks on the road to ruin; they're also for bikers. If Easy Rider had actually been the biker B-movie it pretended to be, Serpent Throne could have recorded the soundtrack. Fortunately, the band went a step further and recorded its own companion piece to an imaginary biker B-movie about occultists, highway murder, and Hollywood dreams gone horribly wrong. It's too bad the movie doesn't actually exist, because it's a thrilling soundtrack: all Black Sabbath- and Blue Cheer-style instrumental riffage, complete with double lead guitars and a jackhammer rhythm section. Ozzy impressions are recommended -- and perhaps unavoidable -- as the cacti whiz by.
Electric Wizard
Song: Funeralopolis
from Dopethrone [Bonus Tracks]
Often called the heaviest band in the universe, Electric Wizard embodies the sheer force of volume. Car speakers have been left virtually splintered in the wake of Dopethrone's destruction, which makes it all the better for a full listen on the road. "Funeralopolis" opens as a detuned, doom-ridden dirge, with a fuzzed-out bass throbbing out Black Sabbath-style primitivism. As the track picks up speed at the five-minute mark, any given car is bound to follow suit, its driver head-banging in transfixed ecstasy.
Thor
Song: I Am Thor
from Triumphant
Metal is ridiculous. Many, if not most, metal bands are aware of this fact. More than any other, Thor represents the ultimate in novelty, as the semi-professional bodybuilder, on-stage wrestler, and "warrior metal" singer John Mikl Thor crafts perfect shout-along songs while pummeling the road the way a Viking ransacks a village. There's no subtlety to his Kiss-heavy rock: His favorite words include "metal," "tundra" and "sword." If you miss a word, try inserting one of those; you won't be too far off.