True Tales Of Piracy And Plunder
True Tales Of Piracy And Plunder
"Three Books ..." is a series in which we invite writers to recommend three great reads on a single theme.
Picture him: a swashbuckler standing on the bow of a boat with an eye patch, a wooden leg and a parrot on his shoulder. ARG! The Pirate!
Sadly, these figures of history have been relegated to caricatures of themselves, portrayed on the big screen as treasure-hunters with an effeminate streak. But — make no mistake — they existed in the past and they inhabit the modern world, too. It just turns out we have no idea exactly what is under that fabled eyepatch.
'Under the Black Flag'
Under the Black Flag, by David Cordingly, paperback, 336 pages
If Pirates of the Caribbean is the soda-and-popcorn version of pirates, then Under the Black Flag is the bottle of rum. Delving deep into the myths we've grown up with, David Cordingly dutifully destroys the happy face of pirates we've come to love. In its place, he leaves a history that is not only accurate, but considerably more fascinating.

As it turns out, pirates really did have parrots and monkeys; kept as pets, they were often used to bribe slippery government officials. And female pirates like Anne Bonny and Mary Read actually did spend years hiding themselves in men's clothing on ships — killing, plundering and being tried for crimes on the high seas alongside the men. Even the buried treasure some still hunt for today did actually exist. As Under the Black Flag shows: The truth behind the myths can sometimes be even better then the myths themselves.
'Dangerous Waters'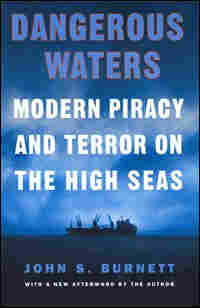 Dangerous Waters, by John Burnett, paperback, 346 pages
In Dangerous Waters, John Burnett hitches a ride on two cargo ships as they navigate the high seas and discovers that today's pirates are a far cry from the pirates we've come to know.
Forget the fleets of ships flying the Jolly Rodger. Modern piracy often takes the form of a high-seas mugging by a small number of men in canoes. As for loot, while some pirates aim to commandeer entire barges, oftentimes the pirates — poor young men of Nigeria or Southeast Asia — settle for whatever valuables the crew has on them. Deftly weaving in and out of the misconceptions and realities of the modern pirate, Dangerous Waters gives an honest, in-the-trenches view of piracy in the new millennium.
'Free Culture'
Free Culture, by Lawrence Lessig, paperback, 345 pages
Meanwhile, as Lawrence Lessig writes in Free Culture, a new breed of pirates is taking their battle to land. They spend their time surfing the Internet rather than the ocean, and their plunder — hardly as exciting as doubloons — is movies, music and software.

But Lessig writes that the pirates of the technological seas may actually be agents for freedom. Presenting a brilliantly thought-out argument, he takes us through the various worlds of Internet piracy and its implications — and shows us that perhaps we should avoid demonizing techno pirates, and instead embrace what they are doing. Lessig shows us that the caricature we've painted of pirates — as carefree lawbreakers who believe they are fighting against tyranny — actually exists. And it turns out they're all around us.

While the occasional bit of fiction on any type of pirate might be fun, the truth behind the tales is infinitely more interesting. Aye, me parrot concurs.

Three Books ... is produced and edited by Ellen Silva and Bridget Bentz.
Under the Black Flag
The Romance And the Reality of Life Among the Pirates
Paperback, 296 pages |
purchase
Buy Featured Book
Title

Under the Black Flag

Subtitle

The Romance And the Reality of Life Among the Pirates

Author

David Cordingly
Your purchase helps support NPR programming. How?
Buy Featured Book
Title

Dangerous Waters

Author

John Burnett
Your purchase helps support NPR programming. How?
Buy Featured Book
Title

Free Culture

Author

Lawrence Lessig
Your purchase helps support NPR programming. How?