Mo Willems, Radio Cartoonist
Mo Willems, Radio Cartoonist
Children's book illustrator and author Mo Willems had a confounding idea: He wanted to try his hand at cartooning on the radio.
It was a logic-defying feat presented by the six-time Emmy winner (for his work on Sesame Street) and master behind the Knuffle Bunny and "Pigeon" series of children's books, so who were we to get in the way?
We asked for your help captioning some of his work and received hundreds of suggestions.
Armed with your very funny contributions, Willems and Michele Norris took it to the studio to give the idea a go.
Below is the cartoon with Mo's caption and below that are some of your submissions.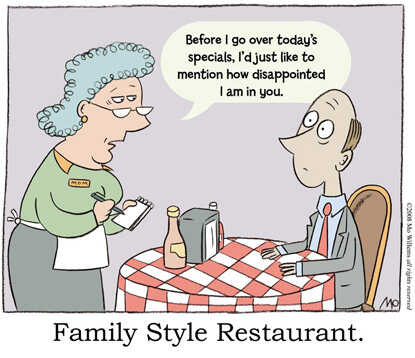 Listener Submissions
The staff misunderstood when told of the importance of "customer feedback."
George Atwood, Killingworth, Conn.

Why do I always get the usual, WHY?
Michael Huckabee, (yep that's his name) Tuscon, Ariz.

Whatever you order at Mom's Diner, it definitely comes with a side order of guilt.
Dawn Mooney, Greenbelt, Md.

Parenting tip #17: Go to all lengths possible to ensure your child does not move back home.
Debs Gardner, Seattle

Suddenly, Steve realized why Nelson Algren was sooooo correct, that you should NEVER, NEVER, NEVER, eat at a place called "Mom's."
Stephen Price, Seattle

So this is what happens when mom becomes a waitress.
Nicole Aranda, Seattle

Mom's Cafe. All of the calories, all of the guilt.
Heather Gray, Tucson, Ariz.

You dont go to Mom's for the atomosphere ... unless you do.
Robert Schwebel, Anchorage, Alaska

After years of therapy, shes still here.
Jaquelyn Matthews, San Antonio

"Mom's" Hard Love Café.
Bill Marston, Philadelphia