Self-Published 'Lace Reader' Began As A Dream
Read An Excerpt
More On Self-Publishing
Self-published author Brunonia Barry literally dreamed her first novel, The Lace Reader, into existence: "I had a dream that I saw a future event in a piece of lace," Barry says, "and it came true the next day."
If Barry had been able to see the future of The Lace Reader — a self-published work that she ultimately sold to a major publishing house — she probably wouldn't have believed it.
Barry's husband, Gary Ward, encouraged her to self-publish; she says if it had not been for him, the book might still be sitting in a drawer. Barry and Ward have their own software publishing business, which served as a base for the venture.
"We thought, 'We can do this, we're already publishers," Barry remembers. "It's kind of a laugh now, because you run into so many things you never anticipated."
Ward adds:
"We were emboldened by our ignorance. We knew just enough to get going, but not enough to stop us."
How'd They Do It?
Barry and Ward began by thinking local. The Lace Reader is set in Salem, Mass., and the picturesque seaside town plays a major role in the story. They went to independent bookstores and asked for the names of local book clubs that might be interested in reading a first-time author.
"The first two book clubs got just straight pages of the book ... in a box," Ward says. "We didn't have any real printed books yet."
Hilary Emerson Lay, manager of the Spirit of '76 bookstore in Marblehead, Mass., calls Barry and Ward's marketing efforts "revolutionary." She says Barry was genuinely interested in hearing how readers reacted to the book, and believes that the author's involvement with local book clubs helped generate a genuine interest in The Lace Reader.
"I've never known an author to come and give me an early draft of the book and say, 'I really want to know what you think,'" Lay says.
Eventually, Barry and Ward printed 2,000 copies of the book. Local bookstores talked it up, and word spread between book clubs around the country. Booksellers also helped Barry make important contacts in the publishing world that led to The Lace Reader receiving a starred review in Publishers Weekly.
The larger world of publishing and film began to take notice.
'This Book Was Different'
Self-publishing is still risky business — Rebecca Oliver, a literary agent with Endeavor talent agency, says people in the publishing world often assume that self-published books aren't up to the industry's standards.
"When I started reading The Lace Reader," Oliver says, "it was so clear that this book ... was different."
Oliver became Barry's agent and put the book out for auction in fall 2007. Before the bidding even got off the ground, Oliver turned down a seven-figure offer.
"The first bid came in, and Gary and I said, 'Yes we'll take it,'" Barry remembers. "And [Oliver] said, 'I don't think so.'"
Oliver doesn't turn down large offers lightly, but she was convinced the book could bring in a higher bid.
"People who were reading this book were falling in love with it," Oliver says. "I thought: We've just got to see this through to the end."
In the end, three major publishing houses were bidding on the book, and Barry was able to choose the one she liked best. She signed with William Morrow, an imprint of HarperCollins, for a deal that is reportedly worth more than $2 million.
"I remember walking around our living room ... putting my hand on my forehead, stumbling around saying, 'What just happened to us?'" Ward recalls.
In addition to the original deal, the rights to the book have also been sold in more than 20 countries, and there is interest in adapting the story into a film. Barry says the whole experience is a fantasy come true. But Ward cautions that his wife's experience with self-publishing isn't typical; some of the old prejudices are fading he says, but it's still a tough road.
"The process is a little more democratic today," Oliver says. "But it's awfully, awfully competitive, and I wouldn't want anyone to spend their life savings or anything like that, saying, 'I'm going to get The Lace Reader type deal.'"
Barry and Ward say that luck played a big role in their success, and — just like a delicate piece of lace — the whole thing could have unraveled if even one thread had been out of place.
The Lace Reader
Paperback, 353 pages |
purchase
Buy Featured Book
Title

The Lace Reader

Author

Brunonia Barry
Your purchase helps support NPR programming. How?
Excerpt: 'The Lace Reader'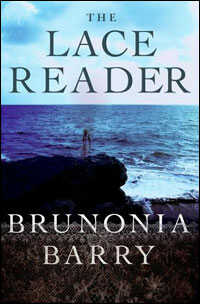 The Lace Reader
By Brunonia Barry
Hardcover, 400 pages
William Morrow
List Price: $24.95
Chapter 1
My name is Towner Whitney. No, that's not exactly true. My real first name is Sophya. Never believe me. I lie all the time.
I am a crazy woman. ... That last part is true.
My little brother, Beezer, who is kinder than I, says the craziness is genetic. We're from five generations of crazy, he says, as if it were a badge he's proud to wear, though he admits that I may have taken it to a new level.
Until I came along, the Whitney family was what the city of Salem fondly refers to as "quirky." If you were old Salem money, even if that money was long gone, you were never referred to as "crazy." You might be deemed "unusual," or even "oddball," but the hands-down-favorite word for such a condition was "quirky."
Throughout the generations the Whitney men have all become famous for their quirks: from the captains of sea and industry all the way down to my little brother, Beezer, who is well known within scientific circles for his articles on particle physics and string theory.
Our great-great-grandfather, for example, parlayed a crippling preoccupation with ladies' feet into a brilliant career as a captain of industry in Lynn's thriving shoe business, creating a company that was passed down through the generations all the way to my grandfather G. G. Whitney. Our great-great-great-grandfather, who was a legitimate captain in his own right, had a penchant for sniffing cinnamon that many considered obsessive. Eventually he built a fleet of spice-trading ships that traveled the globe and made Salem one of the richest ports in the New World.
Still, anyone would admit that it is the women of the Whitney family who have taken quirky to a new level of achievement. My mother, May, for example, is a walking contradiction in terms. A dedicated recluse who (with the exception of her arrests) hasn't left her home on Yellow Dog Island for the better part of twenty years, May has nevertheless managed to revive a long-defunct lace-making industry and to make herself famous in the process. She has gained considerable notoriety for rescuing abused women and children and turning their lives around, giving the women a place in her lace-making business and home-educating their children. All this from a raging agoraphobic who gave one of her own children to her barren half sister, Emma, in a fit of generosity because, as she said at at the time, there was a need, and besides, she had been blessed with a matching set.
And my Great-Aunt Eva, who is more mother to me than May ever has been, is equally strange. Running her own business well into her eighties, Eva is renowned as both Boston Brahmin and Salem witch when, really, she is neither. Actually, Eva is an old-school Unitarian with Transcendentalist tendencies. She quotes Scripture in the same breath as she quotes Emerson and Thoreau. Yet in recent years Eva has spoken only in clichés, as if use of the tired metaphor can somehow remove her from the inevitable outcomes she is paid to predict.
For thirty-five years of her life, Eva has run a ladies' tearoom and franchised successful etiquette classes to the wealthy children of Boston's North Shore. But what Eva will be remembered for is her uncanny ability to read lace. People come from all over the world to be read by Eva, and she can tell your past, present, and future pretty accurately just by holding the lace in front of you and squinting her eyes.
In one form or another, all the Whitney women are readers. My twin sister, Lyndley, said she couldn't read lace, but I never believed her. The last time we tried, she saw the same thing I saw in the pattern, and what we saw that night led her to the choices that eventually killed her. When Lyndley died, I resolved never to look at a piece of lace again.
This is one of the only things Eva and I have ever vehemently disagreed about. "It wasn't that the lace was wrong," she always insisted. "It was the reader's interpretation that failed." I know that's supposed to make me feel better. Eva never says anything to intentionally hurt. But Lyndley and I interpreted the lace the same way that night, and though our choices might have been different, nothing that Eva says can ever bring my sister back.
After Lyndley's death, I had to get out of Salem and ended up in California, which was as far as I could go without falling off the end of the earth. I know that Eva wants me to come home to Salem. It's for my own good, she says. But I can't bring myself to do it.
Just recently, when I had my hysterectomy, Eva sent me her lace pillow, the one she uses to make the lace. It was delivered to the hospital.
"What is it?" my nurse asked, holding it up, staring at the bobbins and the piece of lace, a work in progress, still attached to it.
"Some kind of pillow?"
"It's a lace maker's pillow," I said. "For making Ipswich lace."
She regarded me blankly. I could tell she had no idea what to say. It didn't look like any pillow she had ever seen. And what the hell was Ipswich lace?
"Try holding it against your sutures if you have to cough or sneeze,"
she finally said. "That's what we use pillows for around here."
I felt around until I found the secret pocket hidden in the pillow. I slipped my fingers in, looking for a note. Nothing.
I know that Eva hopes I will start reading lace again. She believes that lace reading is a God-given gift, and that we are required to honor such gifts.
I imagine the note she might have written: "Of those to whom much is given, much is expected–Luke 12:48." She used to quote that bit of Scripture as proof.
I can read lace, and I can read minds, though it isn't something I try to do; it is something that just happens sometimes. My mother can do both, but over the years May has become a practical woman who believes that knowing what is in people's minds or their futures is not always in anyone's best interest. This is probably the only point upon which my mother and I have ever agreed.
When I left the hospital, I stole the pillowcase off one of their pillows. The Hollywood Presbyterian label was double stamped on both sides. I stuffed Eva's lace pillow inside, hiding the threads, the lace, and the bonelike bobbins that were swinging like tiny Poe pendulums.
If there was a future for me, and I was not altogether certain there was, I wasn't going to risk reading it in the lace.
Buy Featured Book
Title

The Lace Reader

Author

Brunonia Barry
Your purchase helps support NPR programming. How?