Former U.S. Olympians: Then And Now
Day after day, year after year, athletes train — rigorously, religiously, repetitively — for the Olympics. On Friday, nearly 11,000 competitors in 28 different sports will gather in Beijing for the Summer Games. Only 302 first-place medals will be awarded. That means a fraction of all participants will win a gold medal.
And only a handful of those will be able to parlay the prize into some kind of Dorothy Hamill or Mark Spitz level of fame. What happens to the rest? What about all those young Olympians who train and train only to come in second or third, or not place at all? For answers, we look to a quartet of former Olympians who lost the gold but took home plenty of mettle.
A Pie-In-The-Sky Dream
For years, Beth Barr Isaak practiced six days a week, swimming five hours a day. It was "a grueling lifestyle that you become accustomed to," she says. By the time Isaak was 12, she was smashing national swimming records. At 16, she won a silver medal at the 1988 games in Seoul for the 4x100m Medley Relay.
"My biggest sacrifice — by far — was the damage I did to my body," says Isaak. "I've ... always been a bit on the delicate side. I was, and still am, very susceptible to injury."
In 1989, for example, Isaak was thrown from a horse. She suffered a compound fracture and broke her arm in four places. She was back in the water a few months later. By 1996, Isaak was swimming faster than ever. Then calamity came from out of nowhere. Two weeks before the Olympic trials, Isaak got food poisoning. "I didn't have health insurance, so I couldn't go to the doctor," she says. "With no treatment, it went into bacterial pneumonia, and by the time my race came around, it was systemic." She didn't qualify.
A few months later, her younger sister, Becky, was killed by a drunk driver. "I'd give up all my success to have her back. My life lesson from that was that 'swimming,' in the larger scheme of 'life,' is pretty trivial.
Today, Isaak is a wife and a mother and lives in Phoenix. She runs a company, Barracuda Swim Works, that offers swimming instruction to triathletes, masters swimmers and beginning adult swimmers. She hopes to design her own line of swimsuits. "That's my pie-in-the-sky dream," says Isaak, 36. "But hey, the Olympics was a pipe dream at one point and I accomplished that, so you never know!"
Core Values
Jair Lynch first saw gymnasts on television in 1980 at the age of 9. By the time he was a teenager, he was practicing 15 to 20 hours a week in the Washington, D.C., area.
He received a scholarship to Stanford University and won five gold medals at the Olympic Festival in 1991. The following year, he won the National Collegiate Athletic Association's all-around title in 1992 and went to the Summer Games in Barcelona, but won no medals. In 1993, he again took the NCAA all-around.
Lynch graduated from Stanford in 1994 and faced a tough decision.
"I was at a crossroads," he says. He was no longer on the national team. He was receiving no support from the USOC. "It was a dark moment in my life." Lynch had to decide whether to continue to pursue his dream of winning an Olympic medal or grow up and join the workaday world. He stayed with gymnastics.
At the 1996 Olympics in Atlanta, Lynch finished second on the parallel bars and became the first African-American man to take home an Olympic medal in gymnastics.
"The most important thing to me wasn't the games," Lynch says. "It was recognizing that I had learned to love the process, the training, the improving."
Today, Lynch, 36, runs Jair Lynch Urban Development Partners, a Washington D.C.-based company that helps rebuild urban neighborhoods. "Our core values are commitment, innovation and excellence," he says. "These values translate across sports and business."
The Unorthodox Shooter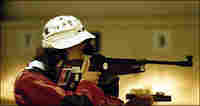 Growing up, Mary Anne Schweitzer Lewandowski's two older brothers loved to shoot rifles, so it only made sense that she would also gravitate toward firearms. She started shooting when she was 9 and competing in national competitions at 12.
"I remember watching the Olympics in 1968 on our black-and-white television — seeing Olga Korbut compete and win, and thinking that I wanted to be an Olympian, too." Lewandowski recalls.
It was a little unusual for a girl to shoot, she says, but she was drawn to it because shooting is one of those sports in which men and women compete on a level playing field. In fact, she says, there wasn't a separate women's event in shooting until the 1984 Olympics in Los Angeles.
She trained at home by practicing "dry firing" (repeating position and follow-through without actually firing a shot), and she went to the range one night a week. There was a local competition every Friday and regional or national events on the weekends.
"At the time, I felt like I was making sacrifices," Lewandowski says. "It was difficult to give those things up when you would see your friends doing things that you really wanted to do."
She adds: "In retrospect, it was my parents who were making the real sacrifices to give my brothers and me the opportunity to compete at a very high level."
She medaled in a 1984 international rifle competition in Cuba and at a world championship match in Mexico. She didn't win any medals at the 1984 Olympics. But she did meet diver Greg Louganis, gymnast Mary Lou Retton, singer Joan Jett and President Reagan.
In 1986, she married her college sweetheart, also a shooter. They continued to shoot competitively for a few years, but their interests drifted toward cars. "We enjoy Corvettes especially," Lewandowski says, "but are interested in all facets of automotive excellence from racing to restoration.
Today, Lewandowski, 47, works for an electronics company in Harrisburg, Pa. "Even though shooting is an individual sport," Lewandowski says, "all of my accomplishments were a result of many, many people who sacrificed, gave me support and opportunities — even when I didn't necessarily deserve them."
One Massive Goose Bump
Bill Belden got into rowing when his high school started a team. For the next 10 years, he trained to be in the Olympics. "I was a scrawny, 138-pound kid," he says. "But I was a fan of the Olympics. Everything about them. They were awe-inspiring."
He rowed at LaSalle University and in Philadelphia rowing clubs. By the time he made the U.S. Olympic team in 1976, he was logging about two hours of rowing, six days a week, "plus a lot of off-water training," he says. "My workouts were more intense than other rowers because I didn't have a lot of time." He often went out at 5:30 a.m. to pound the water up and down the Schuylkill River.
Besides his dream of winning a gold medal, Belden also had a family and a full-time job at a bank. He didn't have a personal trainer or dietitian. But he did have the support of his wife, Cathy.
When he marched into the Olympic stadium that summer of '76, "I was one massive goose bump."
He remembers walking with basketball coach John Thompson and player Adrian Dantley and decathlete Bruce Jenner. He watched gymnast Olga Korbut eat dinner.
Belden rowed in the doubles but didn't win a medal. He continued to train and made the Olympic team again in 1980. But because of the U.S. boycott of the Moscow games, he didn't get to compete.
"That was my last shot," Belden says. Still, he took an everlasting life lesson from his experience.
"You don't need to have all the gifts in your life to succeed," says Belden, 59, who is now an investment counselor at PNC Bank in Lancaster, Pa. "What you really need is determination. I watched more talented people walk away because they didn't have the determination to do what it takes. Whether it's rowing or having a career, that's the way it is. You have to have determination. And a lot of luck."
And is he still inspired by the Olympics? He takes a breath and says, "You get older."