Heirloom Tomato Farmer Finds Beauty In The Ugly
Heirloom Tomato Farmer Finds Beauty In The Ugly
Book Excerpt
Read an excerpt from Heirloom.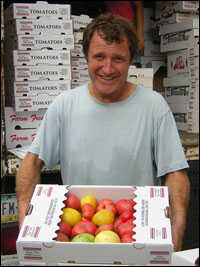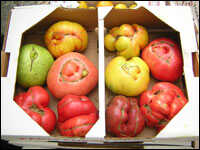 It's peak tomato season, which means it's the busiest, sweatiest, most backbreaking time of the year for self-described "accidental tomato farmer" Tim Stark.
This week, Stark trucked 100 varieties of tomatoes from his farm in Pennsylvania to the Union Square market in Manhattan. His tomatoes are sliced and diced and stacked on dinner plates of the finest restaurants in New York.
Stark tells NPR's Melissa Block that it's the ugly tomatoes — the ones that "tend to split and crack and get beaten up a lot" — that taste the best. "The uglier, the better," he says.
Stark did not imagine he would be a tomato farmer. He started out as a management consultant and would-be writer. In 1996, he started growing tomatoes on a whim, growing several thousand plants in his fourth-floor walk-up. That's when tomatoes took over his life, as he describes in his new book, Heirloom: Notes from an Accidental Farmer.
Twelve years later, he farms tomatoes like Cherokee Purple, Green Zebra and Garden Peach on 12 acres.
Stark considers himself lucky because his first year was surprisingly smooth.
"We had an incredible crop of, say, 60 varieties of tomatoes," he says. "At that time, nobody was growing that kind of variety ... so it really caught the eye of restaurants and a lot of customers. ... I was really lucky; if we'd had a dry year like this year in that first year, because I had no irrigation, I wouldn't be here. I'd be back in Brooklyn thinking of my next scheme."
Stark enjoys walking through restaurants during peak dining time in his dirty farmer's clothes. And times have changed. In the early years, he got thrown out trying to go through the front door. But now, he says, restaurant owners like it.
"If you want to be a restaurant that counts, you got to have some filthy farmer walking in with something just picked," Stark says. "You gotta have that. That's part of the look."
Excerpt: 'Heirloom'

A Farm Grows in Brooklyn
An unsustainable writer's life — hunkered down at a desk on the top floor of a Brooklyn brownstone — proved to be the soil in which the farmer within me took root. Out in the street one wintry March evening, pacing and frothing over poverty, injustice, and those politely worded impersonal rejection letters quarterlies dispense the way banks hand out toasters, I came upon a trash bin loaded with basement scraps: water pipes, furring strips, two-by-fours studded with nails that could be straightened out and reused. From these scraps, I saw in a flash of insight, I could construct a seed germination rack. In the gardening catalogs, a deluxe seed starting kit, complete with full-spectrum light and soil heating mats, cost about eight hundred dollars. Which I didn't have.
What I did possess — or so I fancied — was a farmer's resourcefulness. Four years earlier, I had started a vegetable garden on the land I had grown up on in Pennsylvania. Road trips in a battered Toyota pickup kept me and my landlord seasonally flush in tomatoes and pesto. I had never given serious thought, until this moment, to expanding into a truck patch. It was an idea so impractical it bordered on fantasy. Most everything I planted — peas, lettuce, carrots, beans, sweet potatoes, beets — got chewed down to nubs by deer and groundhogs.
Whether these fur-bearing gourmands were susceptible to primitive superstitions about nightshades, I don't know, but come August, you'd look at my garden and think the only thing I'd planted was tomatoes. The vines strafed the basil and thyme, shaded the sun-loving peppers, and strangled the zucchini, which, only weeks earlier, armed with baseball-bat-sized fruit, had conquered the same ground. As for the tomatoes plumping up on those vines, some looked more like peaches, pears, lemons, or Cinderella pumpkins. There were purple, white, pink, and green orbs of musky softness whose rich, acidic juices colonized the canker sores that throbbed in my mouth until my addiction petered out in September. This jungle of sumptuous, mismatched love apples had its origins in winter days spent poring over the annual yearbook of the Seed Savers Exchange, a phonebook-like compilation of nonhybrid, heirloom seeds offered for a small fee by the gardeners, master and amateur, without whom the tomato would be red for eternity. Cherokee Purple, Green Zebra, Garden Peach, Plum Lemon, Radiator Charlie's Mortgage Lifter. I could not help noticing how these tomatoes responded to me in ways that women, bosses, and literary editors never had. It took five trips to drag my lumber and water pipes up three flights to my apartment. I already had soil heating mats, seeding trays, soil mix, and seed for some sixty tomato varieties. I bought cheap shop lights and hung them from the water pipes an inch above the seeded trays.
A week later, my writer's garret was home to three thousand fledgling tomato plants, tightly organized in labeled rows, stretching toward fluorescent bliss. Alas, you can't file away three thousand tomato seedlings like another so-so draft. I had always replenished my writer's war chest with freelance consulting gigs, so to support my tomatoes, I took on a consulting job that required frequent trips to Albany. When the seedlings outgrew the four trays in which they were crowded together, I spent a weekend potting them up into individual plugs, which meant I now had to accommodate forty plug trays. I bought more shop lights — enough to satisfy the photosynthetic needs of half my seedlings — and put the tomatoes on two twelve-hour shifts, half the trays soaking up the fluorescent rays while the other half slept. Since a sliver of light will keep a seedling awake until it keels over of insomnia, I went out to the street and hauled home four refrigerator- sized boxes so the slumbering trays could be placed in the pitch dark.
I was keeping farmer's hours now, especially when I had to catch the 6:00 a.m. train to Albany. Up at four thirty in the morning to put my tomato seedlings through the Chinese fire drill, transferring the sleepers from the boxes to the fluorescent lights, bedding down the ones that had been up all night, watering and inspecting, readjusting my circulation fans, and checking on the chile peppers germinating on the heat mats. Another Chinese fire drill when I got home in the evening. My bedroom was a humid microcosm, bugs helicoptering here and there, the damp smell of tomato musk everywhere.
Once, during a meeting in Albany, I convinced myself I had forgotten to insert the thermometer into the soil of my chile peppers that morning. Horrific scenarios preyed on my imagination: with the thermometer exposed to air, the heat mats would grow hotter and hotter, the chile seedlings would fry, the refrigerator boxes would ignite. I left the meeting early and flew home to New York City, convinced I would have to rescue my seedlings from a burning brownstone.
As it turned out, the thermometer was lodged snugly in the soil, where it belonged. City life agreed with my tomatoes. Unharried by the elements, they had their first brush with adversity on an April day when I carried them up to the roof. The real sun was no forty-watt bulb. The seedlings nearly wilted to death.
For two weeks, I spent every free moment weaning them from the fluorescent lights, hauling them onto the roof, then back down when the wilting started. Adaptation to the sun brought with it a burst of growth: my seedlings needed larger containers. The rooftop was big enough to hold ninety trays, but I needed to construct cold frames to protect the seedlings from the unstable April weather.
My landlord intervened when I found a trash bin full of windows for my cold frames. This was a landlord who, during lean months, had kindly accepted tomatoes and zucchini in lieu of rent. Concerned, and for good reason, that the windows of my cold frames would take flight in the wind, he evicted my tomatoes.
Two trips in my Toyota pickup brought all of the seedlings back to my boyhood home in Pennsylvania, to Eckerton, where I laid claim to a couple of acres of shaley ground and tracked down an old high-school classmate who managed to start up the Ford 8N tractor that had sat unused for fifteen years. The only labor I could afford was pro bono, so I convinced all of my friends who were doctors and lawyers that it would be fun to come out to the country for a weekend and help transplant two acres of seedlings with garden trowels.
From there, my first season as a farmer unfolded as if the inverse of Murphy's law was at work. Although I had no irrigation, the clouds delivered almost every week. When buyers at the local produce auction refused to bid on my gangly, multicolored misfits, Greenmarket in New York City offered me space. And so, back to that beautiful mosaic of a city they went, these upstarts with the quirky immigrant names: Black Krim, Extra Eros Zlatolaska, German Johnson, Aunt Ruby's German Green, Zapotec Pleated, Rose de Berne.
The rest of that first season is a frenetic blur of pulling weeds and picking tomatoes and begging for people — my girlfriend, mother, father, friends, neighbors, anyone — to help me pick tomatoes. And hawking tomatoes. Pulling into Union Square Greenmarket in the morning, always late from having picked until dark, I would brace myself for the relentless questions. Because I was practically subsisting on the tomatoes myself — there was no time for a sit-down meal — the descriptions came literally off the tip of my tongue: Yellow Brandywine's nectarine-rich sweetness, Cherokee Purple's winey acidity, Green Zebra's salty tang, White Wonder's appeasing mildness. Trusting more to their own instincts, the chefs grabbed empty tomato boxes, climbed aboard the truck, and rummaged away in an urban version of pick-your-own.
Copyright (c) 2008 by Tim Stark. From the book Heirloom: Notes From an Accidental Tomato Farmer by Tim Stark, published by Broadway Books, a division of Random House, Inc. Reprinted with permission.