Jazz For The Front Porch
It's the end of a summer day, and the heat's been hammering you since you woke up. Now, at last, the sun has gone down, and it's time to seek a little relief. You go out into the backyard, or onto the porch or fire escape, in the hope of cooling off. You sit back under the night sky, take a sip of an icy beverage and kick off your shoes. All you need now is some music to help you chill out even more. Well, here it is: the sound of the cool at the end of the day.
Corcovado (Quiet Nights of Quiet Stars)
Stan Getz/Joao Gilberto
Song: Corcovado (Quiet Nights of Quiet Stars)
from Getz/Gilberto [Bonus Tracks]
"Corcovado" is a classic summer-evening song by Antonio Carlos Jobim. With Astrud Gilberto practically whispering the words in the listener's ear, accompanied by the saxophone of Stan Getz and the guitar of Joao Gilberto, it's guaranteed to start the cooling process immediately.
Miles Davis
Song: Summer Night
from Quiet Nights
If you're looking for cool, you're bound to encounter the guy who invented it, or at least personified it: Miles Davis. This performance of "Summer Night" is a beauty, featuring Davis in a quintet setting with George Coleman (sax), Victor Feldman (piano), Ron Carter (bass) and Frank Butler (drums).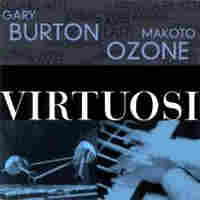 Gary Burton/Makoto Ozone
Song: Prelude II
from Virtuosi
In the mid-1920s, George Gershwin wrote three preludes for piano. "Prelude II" feels like it could have been written on a Manhattan fire escape during a hot, humid summer night. Gershwin's short piano piece has been expanded here by vibraphonist Gary Burton and pianist Makoto Ozone, but they remain true to the feel of the original, while adding liberal doses of their own coolness to take the edge off the heat.
Phil Woods
Song: Summer Knows
from Musique Du Bois
When it comes to playing jazz ballads on the alto saxophone, nobody stands above Phil Woods. Alan and Marilyn Bergman and Michel Legrand wrote this haunting song for the film The Summer of '42, and Woods explores all of its melodic possibilities. Of course, it helps that he's working with one of the most compelling and versatile pianists in jazz: the late, great Jaki Byard.
Stevie Ray Vaughan and Double Trouble
Song: Riviera Paradise
from In Step
Stevie Ray Vaughan in a list of jazz songs? You bet. Those who only know Vaughan as a Texas blues guitarist should find "Riviera Paradise" to be a very pleasant surprise. If you're looking for a cool breeze at the end of a hot day, this song will take you where you want to go and keep you there for a while.