Going To The Dogs: Books With Bark And Bite
Going To The Dogs: Books With Bark And Bite
Man's best friend. We go way back. Of all the animals on earth, only the horse has such a symbiotic relationship with people, and dogs have been with us longer.
A science-writer friend has a cocktail-party theory that canines and human beings actually co-evolved. He likes to say that we made a deal with them to protect their puppies if they would lend us their noses. They became our furry, walking olfactory lobes, freeing our forebrains to develop logic, spatial reasoning and Playstation 3.
Maybe all that ancient history explains why we're so fascinated by our four-legged friends, why we laud and demonize them, fear and love them.
I invite you to lie back in your hammock and enjoy the literature of three very different doggies.
'Cujo'
Cujo, by Stephen King, paperback, 320 pages
In Stephen King's classic, Cujo, a cheating wife is trapped in a broken-down car, assaulted by a rabid St. Bernard. King winks at the reader, as if to say: "Wanna bet I can't write a whole book set almost entirely in a car?" Trust me: He pulls it off.

King knows what we love, which makes it easy to attack our hearts with our greatest fears. By playing to our terror of loss and betrayal, and wrapping those nightmares in 200 pounds of fang and fury, he delivers a genuinely jolting fright-fest. A minor book by a major force in popular culture, King's hat-trick Cujo is perhaps the ultimate shaggy dog story.
'The Hound of the Baskervilles'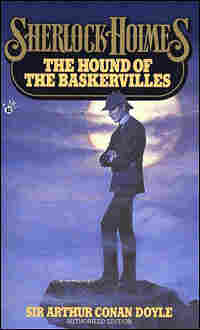 The Hound of the Baskervilles, by Sir Arthur Conan Doyle, paperback, 176 pages
Trotting back to the turn of the 19th century, we find The Great Detective himself, Sherlock Holmes. In The Hound of the Baskervilles, Holmes confronts a murderous demon dog avenging past wrongs. I suspect the book works because it echoes the complexities of the real-world human-canine relationship: Humanity domesticated wolves and bred them down to spaniels. On some deep and hidden level, do Chihuahuas remember when we feared them, rather than carried them in our purses? Do Pekingese pine for the days when they roamed free, tearing their meals from the steaming flanks of their terrified prey, rather than begging for table-scraps in little pink tutus? Do poodles ever wonder how we taste? We have an odd relationship with man's best friend, and on the moors of the Baskervilles, the ultimate man of logic meets the ultimate nightmare from our primeval past. The consequence is a timeless literary classic.
'Dragon Tears'
Dragon Tears, by Dean Koontz, paperback, 416 pages
Lastly, we come to one of my favorite guilty pleasures, Dean Koontz's Dragon Tears. This tale of a superpowered serial killer loose in Southern California is a nail biter. Five ordinary human beings struggle to stop the birth of a new, evil godling. The battle is horrendously uneven, but the humans have one unexpected advantage: Woofer, a wonderful mutt with a surprising nonhuman intelligence. It's Woofer's ability to perceive hidden emotion, his courageous loyal heart and ultimately the uncanny canine sense of smell that gives these frail mortals, and all humanity, a bare chance of survival. When he rises above his humble origins to risk life and all four furry limbs for the men and women who have shown him simple kindness, I promise you will cheer.

And there you have it: Three terrific books with both bark and serious bite, a perfect way to wind down the dog days of summer.

Three Books ... is produced and edited by Ellen Silva and Bridget Bentz.
Buy Featured Book
Title

Cujo

Author

Steven King
Your purchase helps support NPR programming. How?
Buy Featured Book
Title

The Hound of the Baskervilles

Author

Arthur Conan Doyle
Your purchase helps support NPR programming. How?
Buy Featured Book
Title

Dragon Tears

Author

Dean Koontz
Your purchase helps support NPR programming. How?