Scooter Sales Accelerate; So Do Thefts, Injuries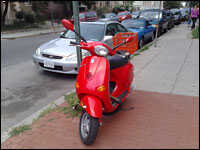 Finding The Right Scooter
Be Safe, Be Legal
It's easy to spot signs that America's scooter industry is surging: The little bikes are everywhere now, their appeal benefiting from high gas prices. Annual sales reached 131,000 last year, revved up from 83,000 in 2003, the Motorcycle Industry Council reports.
Two other markers of their popularity have emerged: higher rates of theft and injury.
A study released today by the National Insurance Crime Bureau shows a dramatic increase in the number of scooters stolen: from 2,728 in 2003 to 3,527 in 2007. That's a rise of nearly 30 percent, though sales increased by 58 percent over the same period. Thefts rose nearly 12 percent from 2006, when 3,155 scooters disappeared.
And the National Highway Traffic Safety Administration recently published 2007 data showing a 17 percent rise in injuries over the previous year — from 88,000 to 103,000. However, it doesn't separate statistics for scooters and motorcycles, because there's disagreement on what a scooter is beyond this simple definition. It's a cycle without pedals and with a step-through frame, powered by an engine of at least 50cc.
The rising injury rate doesn't surprise Thovas Brown, a manager at the Vespa Austin store in Texas. "Probably from 2007 to 2008, it's even more than that," he said, due to soaring sales figures posted by scooter dealers.
Scooters: A Bad Reputation?
In Denver, where the Sportique scooter store has grown from one location to four in 10 years of business, chain co-founder Adam Baker said his early fears of customers hurting themselves have been put to rest.
"It's turned out to be a nonissue, really, because the scooters are not fast enough to get you into trouble physically, and they're not slow enough to get passed all the time," Baker said. "So, they're kind of in this sweet spot where they just keep up with traffic, which is the safest place to be."
That means car drivers have more time to see and react to scooters on the road — and less temptation to pass them.
If that sounds like a convenient view for a scooter salesman to have, it may help to look at another recent statistic. In 2007, the number of pedestrians hurt in traffic accidents rose to 70,000 — an increase of 15 percent over the previous year. That's an alarming rise, but slightly lower than the increase in injured scooter riders.
Baker said many of the wrecks he knows about occur at low speed, resulting in scrapes, bruises and the occasional broken bone.
But one thing has surprised him, Baker said: The scooters have become very popular with local hospital employees.
"I don't know why that is," Baker said of the nurses and doctors who have bought scooters. "We even have a prominent local surgeon [who] rides between all the hospitals for emergency surgeries on a scooter."
That phenomenon stands in stark contrast to stories and anecdotes about fatal motorcycle crashes — events that have sometimes earned the bikes nicknames like "donorcycles."
Brown said it makes sense that mishaps involving scooters are on the rise, because there are a lot more of them on the street.
But, he said, the waiting line for body work and repairs at his shop doesn't stem from injury-causing collisions — the majority of accidents happen while the scooter is parked, Brown said.
"It's a myth that they're dangerous," Baker said. He blames that perception on a minority of scooter riders who jump in without any safety gear or training.
Accessorize For Safety
Those in the field agree that a safety course like that offered by the Motorcycle Safety Foundation should be mandatory for any new scooter owner. And along with training and practice, the right riding gear is crucial.
First of all, protect your head, experts say. Riders should wear a helmet, no matter where they're going. "I always tell people, 'Your head is a lot softer than the concrete on the ground,'" Brown said.
"My big things are closed-toed shoes – no flip-flops" said Mark Biechler, member of Piston Broke Scooter Club in Austin, Texas. "It's nasty what happens" to feet in a wreck, he said. Along the same line, Biechler recommends wearing leather gloves with padding in the palm area.
In California, Naomi de la Mora of the San Francisco Scooter Girls said her group has standard recommendations for riding: a full face helmet, an armored riding jacket, long pants and boots that protect the ankles.
"There are ways to gear up and still look good, of course," de la Mora wrote in an e-mail. "Many of our members buy their jackets from Corazzo, New Enough or Dainese."
"If I'm wearing a skirt or a dress that day, I just throw a pair of jeans on underneath for the ride to work and take them off when I arrive," de la Mora said.
Peace Of Mind: A Lock And Insurance
There's no way to guarantee safety from theft — after all, the scooters can be rolled away or picked up and put into the back of a truck. But some basic measures can help.
Adam Baker of Sportique recommends an inch-thick lock, paired with a long, thick chain — at least 6 feet, he said. "When you fold it in half, it becomes 3 feet," he said. Anything shorter won't be easy to anchor to a a pole, bike rack or another scooter, he said.
And use a nondescript gray scooter cover – not one with the brand of your scooter on it.
"Advertising what's under there, and how expensive it was, is probably not the best idea," Baker said. A good cover should have an eyelet for a lock, to secure the cover.
And be careful where you park, said Brown, of Vespa Austin. In large parking lots at malls and theaters, it's best to park at the rear of the space, not up next to the line. That way, car drivers can see the scooter early, instead of attempting to pull in — and hitting the scooter.
One final accessory can help if your scooter runs into a calamity: full insurance.
Brown said he pays $250 a year to insure his scooter, with a $100 deductible. While big firms such as Progressive and Geico insure scooters in many areas, Brown recommends looking into Foremost and Dairyland for the cheapest rates.
"It doesn't make sense not to do it," said Brown, who uses Dairyland. "It's going to take a lot more than that to fix your bike the first time somebody knocks it over."
In Denver, Baker says he pays $150 a month – a full-coverage rate that is lowered by his house and car insurance with the same agency. "It's just ridiculously cheap to have that peace of mind," he said.
Related NPR Stories