Jesse's Story: An Urban Teen Beats The Odds
Jesse's Story: An Urban Teen Beats The Odds
Doug Martin/Ohio Wesleyan University
NPR Follows Jesse Jean
Hear the previous two stories about Jesse Jean that were recorded in 2002 and 2004.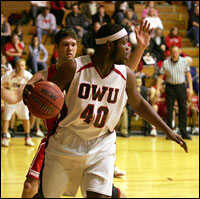 Doug Martin/Ohio Wesleyan University
Seven years ago, Jesse Jean was failing high school.
The African-American teenager from Washington, D.C., had no family support. He missed two-thirds of the 10th grade and was surrounded by what he called a "thug mentality."
Then two women from the local teen center were assigned as his mentors. They arranged a scholarship at a boarding school in New England and told Jean that attending was his last chance.
Jean refused — until he heard that 99 percent of the students at the boarding school enrolled in college. So he went. He got up for class every day and his F's changed to C's.
His mentors stuck with him. One became his legal guardian, and they were the only people he invited to his college graduation. In June, the 24-year-old Jean received his diploma from Ohio Wesleyan University.
While he was there, Jean studied anthropology and sociology and thought hard about where he came from — and how he avoided what seemed like a predestined life of violence and crime.
Jean's mother and father died in a murder-suicide when he was 2 years old. His two favorite cousins went to jail. Friends got high every day, but Jesse didn't.
"It was ascribed in me when I was born," he says. "I wasn't afraid to go against the grain, not have people accept me fully. There were times I was alienated."
Jean says he spent many years as a loner — a protection mechanism.
Why did Jean's sister and brother drop out of school, but not him? How was he able to accept help from his tutors, Teri Ellison and Toni Hustead, two white women from a radically different world?
Overcoming The Odds
Jean calls his tutors his "two moms." On the third floor of the house in Alexandria, Va., that he shared with Hustead, he opens a wooden trunk and pulls out a leather 8-by-10 leather with his diploma in it.
"That's what $40,000 a year looks like," he says.
Jean smiles and doesn't mention that he graduated with honors. He is always understating — whether he's teasing or remembering the time when no one saw potential in him.
"As a youngster, I went to different schoolings. And I was told, 'You'll never amount to anything,'" Jean says. "Me being the person I am, it motivated me."
Jean reacted against expectations, against the chaos he saw around him in his home and neighborhood. Jean grew up with his grandmother on 17th and Euclid Streets in Washington, where drug dealers — some of them relatives — anchored the street corner. A police camera pointed at the house.
"I just knew whatever was going on was not for me," Jean says.
This was Jean's survival plan: Stay in his room and play video games. When his grandmother and uncle started drinking, leave. Walk past the dealers with eyes cast down; just get up the block to the door of the local teen center.
The teen center was his refuge, and he comes back often still.
It's what lead him to college and the deep questions about his life.
Jean tackled questions about human behavior, while his tutors Ellison and Hustead listened.
"It was just so beautiful to watch that curiosity of learning, and so much of what he ended up studying helped him," Ellison says.
"We had some incredible discussions of man, and heredity and the environment; he put his own situation in a scientific context," Hustead says.
The more Jesse read, the more questions surfaced. What about Jesse's father, who in one terrible moment killed Jesse's mother — and then himself? Is violent behavior passed down? That was how his grandmother and uncles treated Jesse, accusing him of being just like his father.
"As I've read and heard things — there's different theories — the one I thought was relevant to me [was] because they were, understandably, angry," Jean says. "To a certain extent, I was a scapegoat. I'm not advocating what happened. [But] it has allowed me to understand why."
And when it came time to write his college thesis, Jesse chose to study neighborhood teen centers. He argued for more funding and volunteers for them, because the centers can — and do — change lives.
Life Beyond College
After graduation, Jean weeded his closets in Hustead's house. He donated old clothes and basketball shoes. He has a new suit and leather briefcase to take to Charlotte, N.C., where he'll live with his girlfriend. She is a kindergarten teacher, and Jean is looking for a job.
"I'm anxious about finding a job," Jean says, "because things get real now."
Jesse says he'll do anything; he just wants that first paycheck. And when it comes, he will pull out the three spreadsheets that Hustead made him to help budget his money.
Ed, Hustead's husband, comes in with the mail and shows Jesse the cover of The New Yorker magazine. It's a photo of a graduate heading out into the world with a rabbit's foot dangling from his cap. They chuckle together.
Yes, there was luck. Jean knows that was in the mix, along with the theories of human behavior. Little of his story has been predictable.
What if he had never walked up to the teen center and met the two women who have now become his family? It's a question that Ellison, his other tutor-turned-mentor, raises.
"If you think about all the things, the basic things — and how many things — were missing in his young life," she says, "how did he survive? How did he make it to us?"
Ellison says they have to figure out how Jean got to where he did, so they can make a map for others.