A Moment Of Loss For Women's Water Polo Team
A Moment Of Loss For Women's Water Polo Team
What happens when gold turns to silver for the U.S. women's water polo team?
SCOTT SIMON, Host:
Howard Berkes has also been covering the Beijing Games for the past couple of weeks. Here's a page from his Olympics Notebook about a moment of dramatic loss.
HOWARD BERKES: Before winning athletes get their medals, they gather at a staging area spectators and reporters aren't supposed to see.
(SOUNDBITE OF PEOPLE SINGING)
BERKES: That's the Dutch women's water polo team singing and dancing in orange warm-ups. They had just won the gold medal, beating the United States in the final 30 seconds of play. The American women were standing right next to them, silent, grim-faced and tearful, waiting for the medal ceremony. They had silver and bronze from the last two Olympics, and they were the gold medal favorites in Beijing.
The players were cautiously optimistic when I visited their California training pool last month. I had my 15-year old daughter, Casey(ph), with me because she plays water polo, too. She had her own questions for Natalie Golda, an Olympic veteran and one of the team's best scorers.
(SOUNDBITE OF PEOPLE SINGING)
CASEY BERKES: Well, did you swim before you did water polo?
NATALIE GOLDA: I did not. I played softball and then - that's why I've got the shot that I do.
BERKES: Casey the novice and Natalie the Olympian seemed to connect. So when the Americans did not get that cherished gold medal, when they had to bear their disappointment right next to the victory celebration, the reporter and the dad in me wondered what lessons there might be for kids like Casey. Golda gamely tried to respond while fighting back tears in that noisy staging area.
GOLDA: You can't be angry with them. No. The silver medal, it's a great thing and I think it's just - it's bittersweet right now. It's the way this sport is. If you knew you were going to win every game, you wouldn't play.
BERKES: A little later, with the tears dried and the gold medalists chatting with reporters nearby, Golda had something to add.
GOLDA: We only see people on top of the play. We only see the winners. We only see the champions. And so I think an important thing to take away is that if you came in and you gave it your all and you put your heart and soul into it, then that's all you can really ask.
BERKES: Golda got up to leave and said, say hi to Casey for me, and I did in a phone call home. That's cool, dad, Casey told me. That's really cool.
SIMON: NPR's Howard Berkes.
NPR transcripts are created on a rush deadline by Verb8tm, Inc., an NPR contractor, and produced using a proprietary transcription process developed with NPR. This text may not be in its final form and may be updated or revised in the future. Accuracy and availability may vary. The authoritative record of NPR's programming is the audio record.
U.S. Women Seek Water Polo Gold
U.S. Women Seek Water Polo Gold
Olympic Water Polo Basics
Four 8-minute quarters
30-meter pool
7 players on each side (includes one goalkeeper)
30-second shot clock
Players may swim up to 3 miles in a game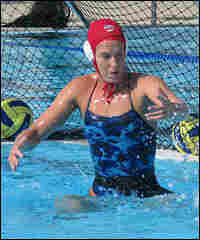 One of the nation's best chances for an Olympic gold medal this summer is in a sport relatively few Americans watch, even during the Olympics — women's water polo.
The 13 members of Team USA's Women's Olympic Water Polo Team are considered the best in the world in the sport. They're the world champions, won silver medals in the Sydney Olympics in 2000 and captured bronze at the Athens Games in 2004.
"They're in a class by themselves," says head coach Guy Baker. "But no one knows that except us."
Obscurity, But Excellence
This relative obscurity in the face of excellence may be due to the sport's name and the images it conjures, suggests Natalie Golda, a defender and seven-year veteran of international competition.
"First off, there aren't any horses," Golda says with a laugh. "We're not throwing mallets around in the water. It's a sport of strength and finesse."
It's also a sport with relatively few players and fans. Golda counts 35,000 members of USA Water Polo nationwide, compared to 600,000 signed up with USA Swimming.
"The running joke with our team was everybody who comes to our games was either our parents or our siblings or just our friends from school," Golda says.
Even the training pool for the U.S. women seems somewhat obscure — it is at a military airfield near Long Beach, Calif., where players and visitors pass through a security checkpoint before reaching the pool.
The twice-daily, three-hour practices are punctuated by military helicopters landing and taking off.
Baker notes a financial disparity for his successful athletes.
"We've got three-time Olympians who are the most decorated athletes [in women's water polo] over the last eight years internationally," Baker says. "[But] this is probably going to be the lowest paying job they'll ever have in their lifetime."
Water polo is more popular in Europe, where women play in professional leagues. Some of the American women have joined them. At home, the U.S. Olympic Committee provides a stipend of $2,500 a month, and Speedo provides free swimsuits and other team support. But there are none of the endorsement contracts that have made other Olympians millionaires.
A Fast-Paced And Demanding Game
Success in Beijing could help make the athletes and the sport more popular. Making it to the medal round would likely win new television viewers, who would see a fast-paced and demanding game that rarely stops.
Water polo players swim and tread water constantly, through four eight-minute periods. Regulation pools are too deep for standing, so there's no respite when playing — and the game continues right through most penalties.
There are elements of basketball, soccer and hockey, including: dribbling (between the arms while swimming); fast breaks; power plays with one team a player short (due to penalties); a shot clock; and centers directing the action.
There is also a bit of wrestling, as opposing players press each other for position. Underwater, where referees can't see illegal moves, there is grabbing, pulling and "sinking." Players also grab each other's swimsuits for leverage.
Wrestling is considered part of water polo, but Baker thinks it makes the sport less exciting for spectators.
"[With] wrestling," he says, "it usually becomes a defensive-oriented game — less goals scored, less action happens. It just becomes a stagnant game. [It] just grinds to a halt. It's just not enjoyable to the eye."
Drawing In New Viewers
The sport has adopted new rules to make it more appealing to television viewers and young people. Wrestling is more closely monitored and rules are more tightly enforced.
Some of these new rules, including penalty shots and shortening the time on the shot clock to 30 seconds, are now taken closer to the goal. Also, only the goalkeeper can use two hands to block shots, and defenders who block shots win turnovers if their blocks send the ball out-of-bounds.
"The game's faster," Baker says. "There's more action. There's more emphasis on defensive positioning instead of defensive wrestling. And with more action, it's more entertaining to watch."
There are also unique features of the sport that new viewers and players might like. Some shots on goal skip, like flat stones on water, making the trajectory unpredictable and blocking more difficult. Water polo players can also lift themselves high out of the water, like dolphins at Sea World, with an "eggbeater" kick.
During the Olympics, underwater cameras show how the "eggbeater" kick works. Veteran USA attacker Heather Petrie compares the kick to the motion of a kitchen eggbeater, with feet and toes tracing opposing circles in the water, toward each other and around and about.
"As you bring your feet around, it's pushing against the water," Petrie says.
Add a more conventional breast stroke kick at that moment, and a player launches up out of the water.
"Some people can get out to where you can see the bottom of their suits," Petrie says. "It's incredible." The move is effective for blocking and shooting.
Petrie is confident that television viewers and corporate sponsors will be impressed by eggbeater kicks, skip shots and the intensity of her sport, if they just give it a chance.
"And as we do well, people might take notice," she says. "Big companies will want to back us and see that we're these great, athletic and beautiful women who have something to offer for the community and for little girls everywhere."
Baker says the team has to meet one critical challenge before it can expect more attention.
"Our culture identifies with gold medals," he says. "We have to do a good job in Beijing. The first priority is we've got to take care of our end of the deal."
That quest begins August 11, when the American water polo women take on the Chinese team in the first round of Olympic competition.