Michelle Obama: Family Is Focus Of Denver Speech
Michelle Obama: Family Is Focus Of Denver Speech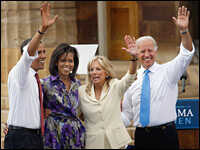 Michelle Obama takes the national stage tonight, giving the keynote speech on the first day of the Democratic National Convention. Her mission is to lay out Barack Obama's life story — and explain why its next chapter should take place in the White House.
"I know Barack better than anybody," Obama told Michele Norris. "I know him not as a politician, but as a husband, and a father and a man. And I want to talk about that and why I think he'll be an extraordinary president."
With her husband poised to become the first black presidential nominee of a major American political party, Obama said her prime time address will focus on how her family is similar to thousands of others in the United States.
"Our story is the great American story of success and pulling yourself up," she said.
Bid For Women Voters
Obama downplayed recent polls that have shown women who supported Hillary Clinton to be reluctant to support her husband.
"I don't know a woman on this planet who isn't a little bit concerned right now about the direction of this country," Obama said, citing her experiences on the campaign trail.
She then described the economic struggles of women, especially in terms of pay equity.
And, Obama said, women who are their family's primary breadwinners often face a dilemma between taking an extra job and paying for child care so they can work more.
"My life isn't following that tough trajectory, because we've been fortunate. But I know those struggles so clearly. And those struggles are universal."
Whether women voters have supported Hillary Clinton, or if they're independent or Republican, Obama said, she hopes "they'll understand that Barack gets these struggles in a way that his opponent doesn't get."
Her Reputation: Just Politics
Asked if her reputation as an "angry" woman has led her to dampen her demeanor on the campaign trail, Obama said, "Throughout my life, I have not paid much attention about what people say about me, who don't know me."
She wouldn't be able to function, Obama said, if she devoted time to worrying about how she is being labeled.
"Politics is a game. And it's all about mischaracterization," Obama said.
"But I don't let the game of politics influence what I say and who I will become, because in that way, this process would eat you up and spit you out."
Part of the reason for that, Obama said, is that voters deserve to know what a candidate's family life is really like.
And as for concerns that her reputation as an "angry woman" is rooted in a brand of racism, Obama would not speculate. And besides, she said, it isn't the most important issue in the campaign.
"I don't hear people asking me whether I'm angry or not" on the campaign trail, Obama said. "They want to know what Barack is going to do to put this country on the right track" — and help improve areas like the economy, education and health care.
Going Back On A Promise?
Barack Obama has said that he wouldn't use negative and cynical methods in his campaign. But a recent Obama ad took a swipe at Republican John McCain, portraying him as being out of touch — all to the tune of a Sam Cooke song, "Wonderful World," which includes the lyrics, "don't know much about history."
Asked about the ad's seemingly cynical tone, Michelle Obama was diplomatic.
"Folks are not doing this because they're cynical or believe that Barack is a cynical candidate," Obama said.
Citing a litany of her husband's proposals — from changes in education and national service to a revamped GI Bill — Obama said, "I know his plans and policies, and there's nothing cynical about it."
Instead, she said, Barack Obama's message is one of hope and change — two elements she says are at the heart of her husband's political movement.
Monday night, Michelle Obama will try to express that message and to give her audience a sense of the family man behind the candidate.
"I want people to understand who we are as a family, what our values are," she said.
Obama's speech will be a family affair in other ways, as well: she will be accompanied onstage by her daughters, along with her mother, Marian Robinson. Her brother, Craig Robinson, will introduce her.
Related NPR Stories